Escarole Caesar Salad with Parmesan Walnut Lemon Dressing
Escarole Caesar Salad with Parmesan Walnut Vinaigrette and Polenta Croutons – so much to love in this twist on caesar salad! A delicious addition to any holiday menu. Recipe created in partnership with Fisher Nuts.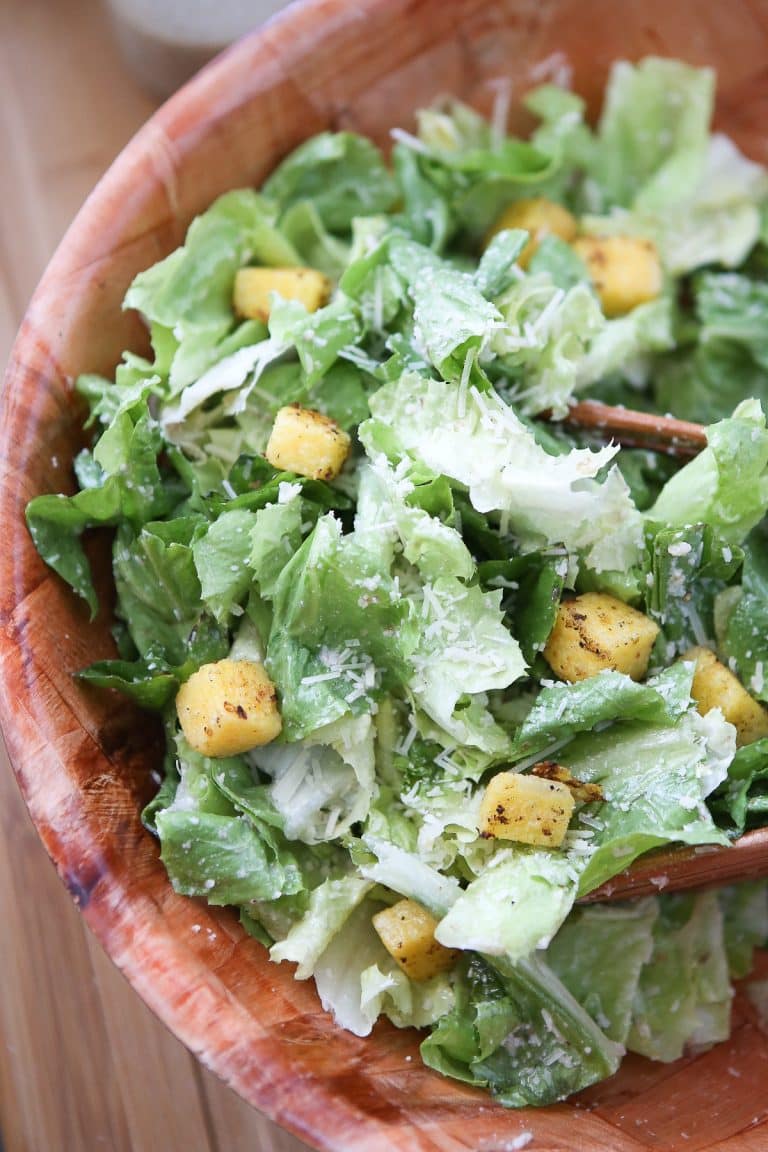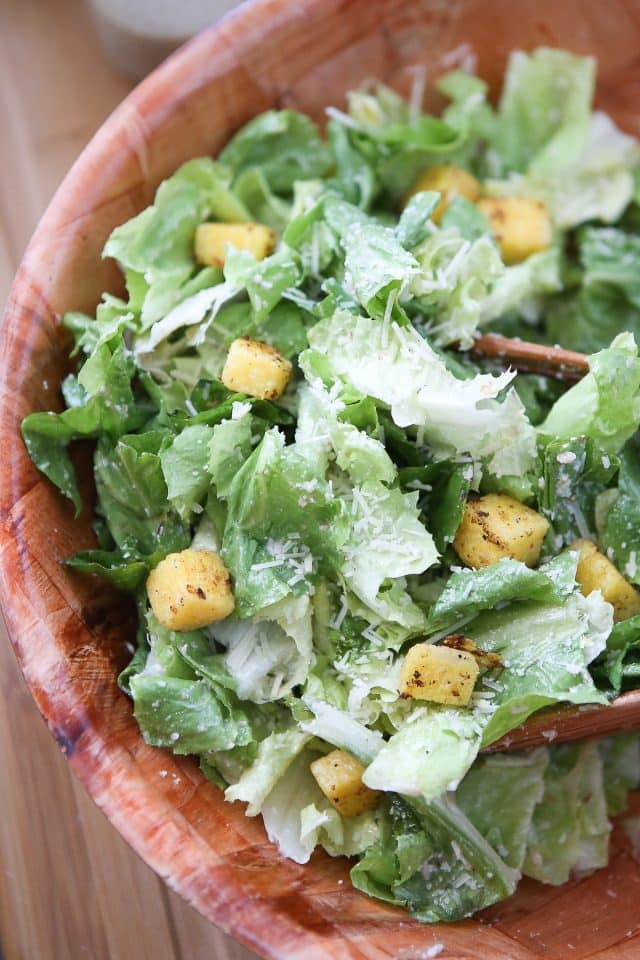 Whether we are ready or not, we are heading into the second week of December which means Christmas is right around the corner. Lots to think about and plan for – getting the house decorated and festive, shopping for gifts for the kids, getting together with family and friends and most importantly food. Planning holiday food is always on my brain.
When it comes to entertaining or hosting dinner over the holiday season, I try to keep things simple. The reality is, I have 3 young kids and most of my friends are in the same boat so we don't have much time to go over the top when it comes to cooking. Maybe it's because I'm Italian, but I love making pasta for family and friends, or honestly even hosting a pizza night if we are getting together with our kids and going the super easy and casual route. It's just nice to get together this time of year, so sticking to whatever you are comfortable with is important in my book. No pressure, no fuss, just enjoy.
With pasta (or pizza) there has to be salad in my opinion. Salad is a must for all meals and I am always making sure that I have salad ready to serve with whatever our plan is. Caesar salad is probably one of the most popular and loved salads by so many, myself included. I recently had lunch with my husband at a popular local Italian restaurant that is known for it's absolutely amazing craft menu – I was floored by the quality and creative food served there. We both ordered wood fired pizzas and shared an Escarole Caesar Salad, which is the inspiration behind this recipe today.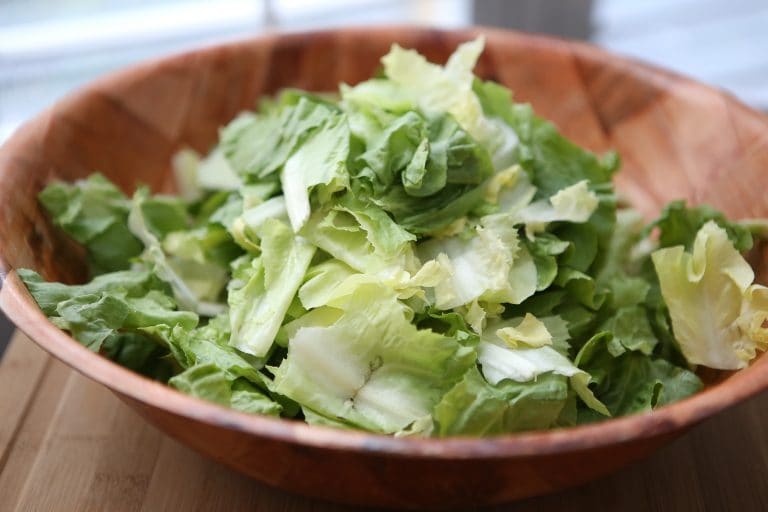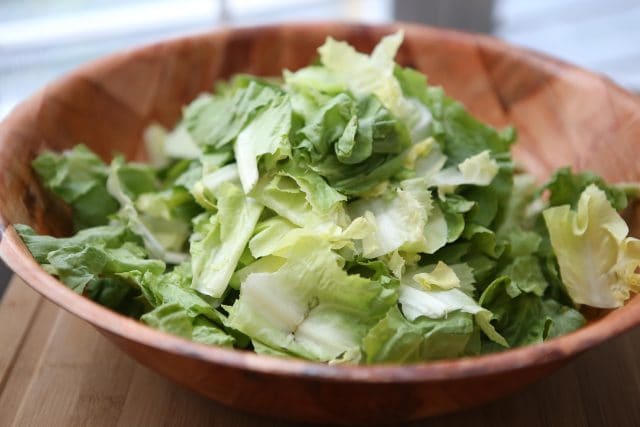 Escarole is not typically seen in salads (at least I haven't seen it), but often used in soup or sauteed with garlic as a side vegetable. I grew up eating escarole so to see it used in a salad got me a little bit excited and I couldn't wait to recreate it at home.
This unique twist on traditional caesar salad is a fresh and delicious addition to any holiday menu. The homemade Parmesan Walnut Lemon Dressing is bright and nutty, made with fresh lemon juice, olive oil, Parmesan cheese and lightly toasted walnuts (I use preservative free and non-GMO Fisher Walnuts). The blend of Parmesan and walnuts really make this light dressing creamy, yet not if you know what I mean. You'll want to make this all the time, I promise.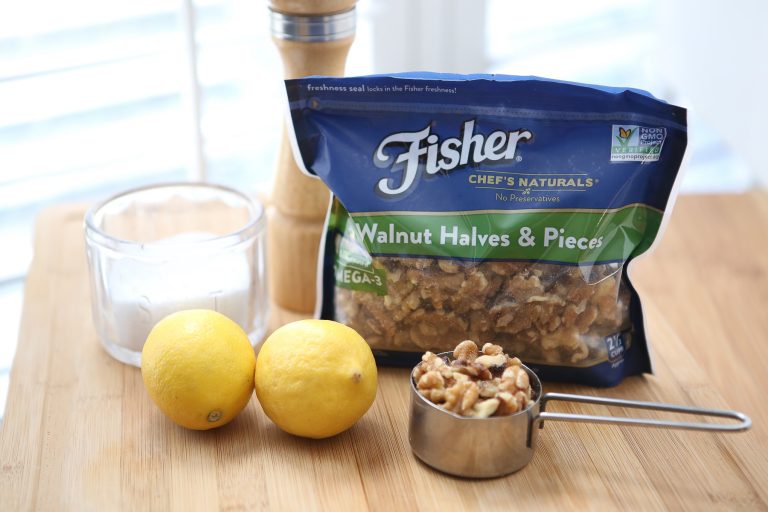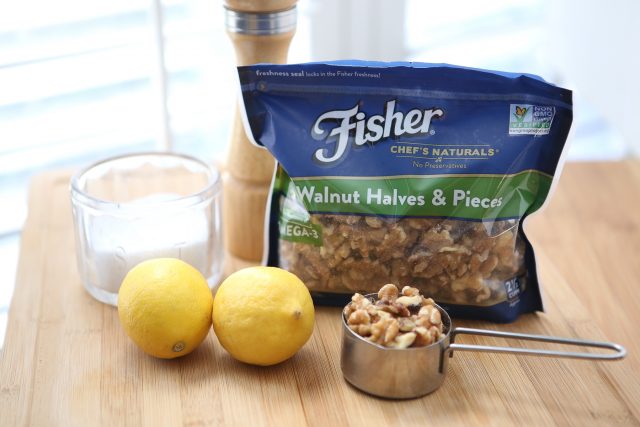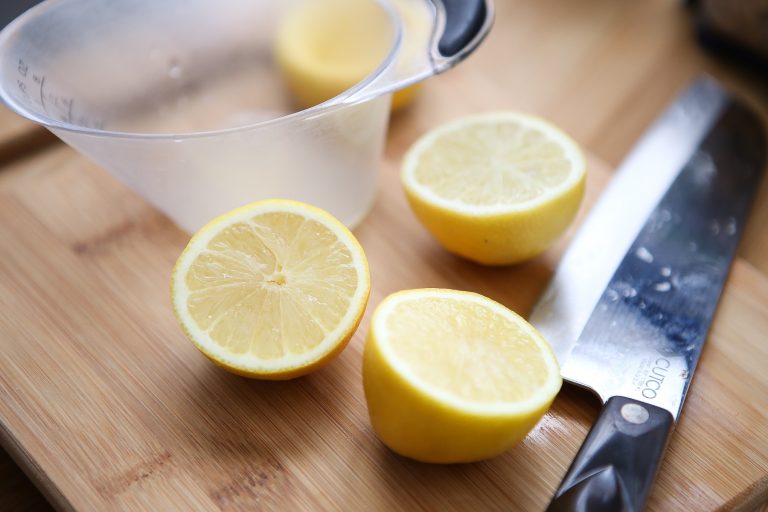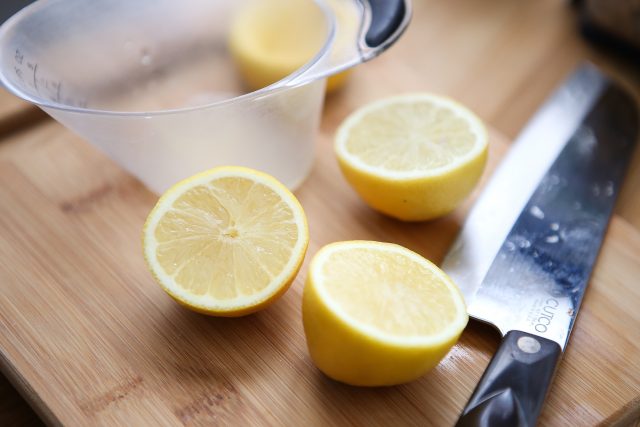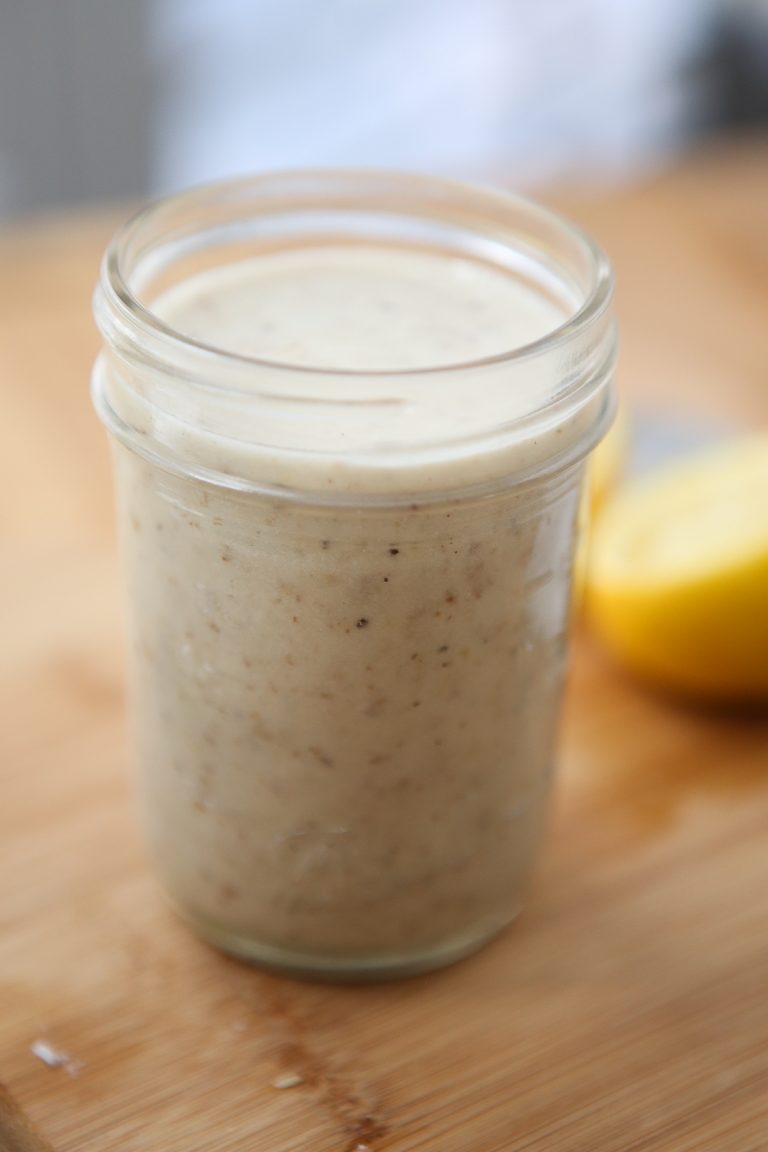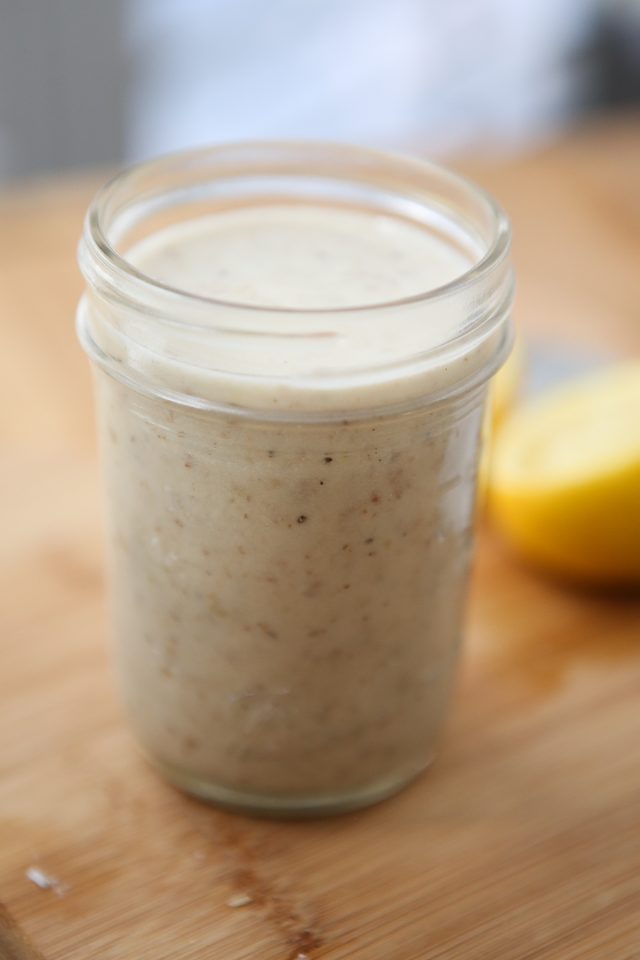 Oh, and can we talk about polenta croutons? I honestly can't remember if my salad at Prato had polenta croutons or not but I knew this salad HAD to have polenta croutons. They are easy to make with precooked polenta from the grocery store (the kind you find in the plastic wrapper tube). You literally cut it into cubes and gently crisp it up in a lightly oiled skillet. They aren't the toasted, crunchy croutons you are used to (you could always use those) but they are such a nice addition to this salad.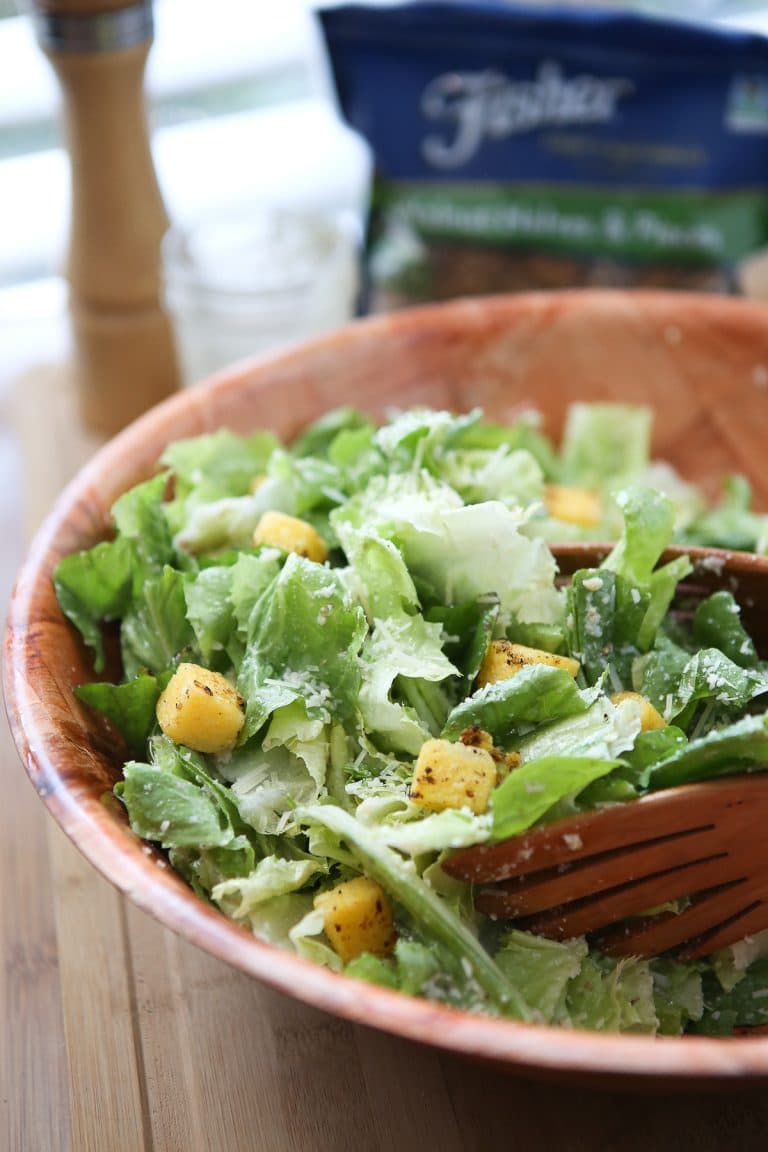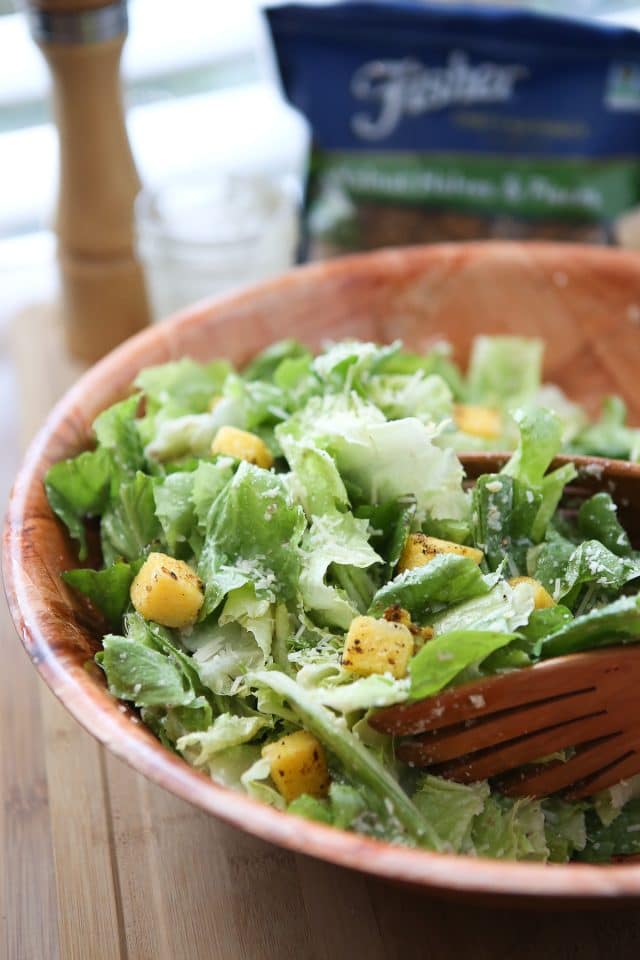 Let me know some of your go-to dishes you use when entertaining or hosting over the holidays!
Enjoy!
Print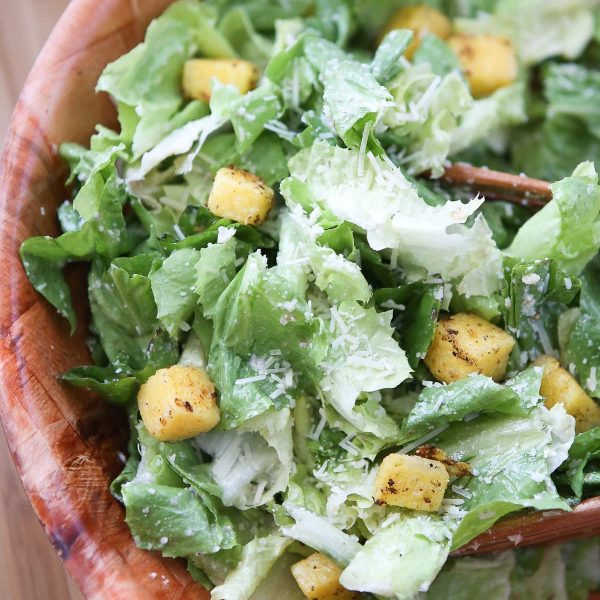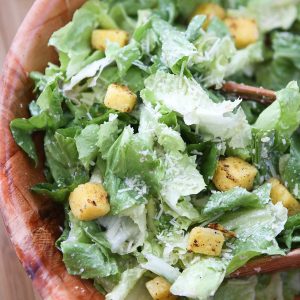 Escarole Caesar Salad with Parmesan Walnut Lemon Dressing
Author:
Category: Salads, Salad Dressings
Method: Stovetop
Escarole Caesar Salad with Parmesan Walnut Vinaigrette and Polenta Croutons – so much to love in this twist on caesar salad! A delicious addition to any holiday menu. Recipe created in partnership with Fisher Nuts.
---
Ingredients
For the vinaigrette:
1/3 cup Fisher Walnuts Halves & Pieces
1/4 cup freshly squeezed lemon juice, about 2 lemons
1/4 cup shredded Parmesan cheese
1/4 cup extra virgin olive oil
pinch coarse salt and freshly ground pepper, to taste
For the polenta croutons:
1/3 of an 18 oz tube of precooked polenta, cut into 3 even slices then cubed
1 teaspoon olive oil
coarse salt and fresh ground pepper, to taste
For the Escarole Caesar Salad:
1 head of escarole, washed and dried well and torn into bite sized pieces
1/4 – 1/3 cup shredded Parmesan cheese
1/2 cup Parmesan Walnut Vinaigrette
Polenta Croutons
---
Instructions
To prepare vinaigrette, first toast walnut pieces in a dry skillet over medium heat for 3-4 minutes. Set aside to cool. In a blender or small food processor add lemon juice, Parmesan, walnuts and oil. Pulse several times until well blended and creamy. Add coarse salt and fresh ground pepper and pulse 2 more times. Taste and adjust seasoning.
To prepare polenta croutons, heat 1 teaspoon of olive oil over medium heat. Pat polenta cubes dry with paper towel and add them to the skillet. Season with salt and pepper. Let each side brown, trying not to turn until each side starts to brown to prevent sticking. Polenta will not crisp up completely, just cook until lightly browned and set aside to cool.
Place escarole in a large salad bowl. Drizzle with vinaigrette and sprinkle with Parmesan cheese. Gently toss until salad is coated with dressing. Add polenta croutons to top of salad, season with freshly ground pepper and serve immediately.
---
Notes
If you have leftover dressing, store in the refrigerator for up to 3 days. When using again, be sure to let it come down to room temperature, then shake vigorously to blend before dressing salad.
This is a sponsored conversation written by me on behalf of Fisher nuts. The opinions and text are all mine.
Are you following me on Instagram, Twitter, Facebook and Pinterest? If you'd like to subscribe to Aggie's Kitchen and have each post delivered straight to your e-mail box, then please add your email here. Happy cooking!
There are affiliate links in this post. I make small earnings through any purchases made through these links. Thank you for supporting Aggie's Kitchen!