Chicken with Artichokes
This is one of those recipes that caught my eye in a magazine and I couldn't wait to make. I held on to this recipe for quite some time too, in search of frozen artichoke hearts. I can not find them for the life of me! I have looked in every grocery store as well as a health food store. Unfortunately no Whole Foods or Trader Joes nearby so I finally gave up looking and subbed in canned artichoke hearts. I love the flavors in this dish, its very light and easy to put together. The spice from the peppers is a great contrast to the light wine sauce.
If you haven't tried cooking with chicken thighs yet, you should really give them a try. I've always stuck to the white meat when it comes to chicken, but after trying chicken thighs out one time I realized what everyone was talking about. The chicken definitely is juicier and has more flavor. I'm not giving up on chicken breasts, but it's nice to have something different to switch up every now in then.
Enjoy!
Print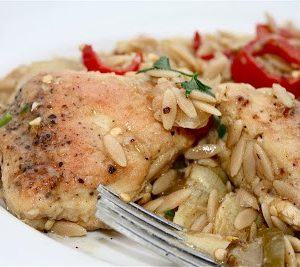 Chicken with Artichokes
Author:
Category: Chicken
Method: Stovetop
---
Ingredients
2–4 TB olive oil
8 boneless skinless chicken thighs (about 3 1/2 pounds)
salt and pepper to taste
1/2 pound orzo (I used whole wheat orzo)
2 cans artichoke hearts, drained
1/3 cup chopped parsley
1 large onion, chopped
4 cloves garlic, chopped
1/2 cup dry white wine
1/2 cup chicken broth
4 jarred hot cherry peppers, thinly sliced, plus 2 TB of their liquid
---
Instructions
In a large skillet, heat 2 tablespoons olive oil over medium heat. Season the chicken with salt, place in the skillet skin side down and cook until golden-brown, about 7 minutes on each side; transfer to a plate. Reserve the skillet.
Meanwhile, in a medium pot of boiling salted water, cook the orzo until al dente, about 5 minutes. Drain and add the remaining olive oil and 3 tablespoons parsley.
In the reserved skillet, cook the onion and garlic in the chicken drippings over medium heat until softened, 7 minutes. Add the artichoke hearts, wine, chicken broth and cherry peppers and boil until reduced by half, about 3 minutes. Add the remaining parsley, fresh ground pepper and hot pepper liquid. Return the chicken to the skillet and simmer until heated through, 1 minute. Transfer the orzo to a platter and top with the chicken and sauce.
Serve with sprinkled Parmesan cheese.
Are you following me on Instagram, Twitter, Facebook and Pinterest? If you'd like to subscribe to Aggie's Kitchen and have each post delivered straight to your e-mail box, then please add your email here. Happy cooking!
There are affiliate links in this post. I make small earnings through any purchases made through these links. Thank you for supporting Aggie's Kitchen!