Cheese & Onion Enchiladas with Verde Sauce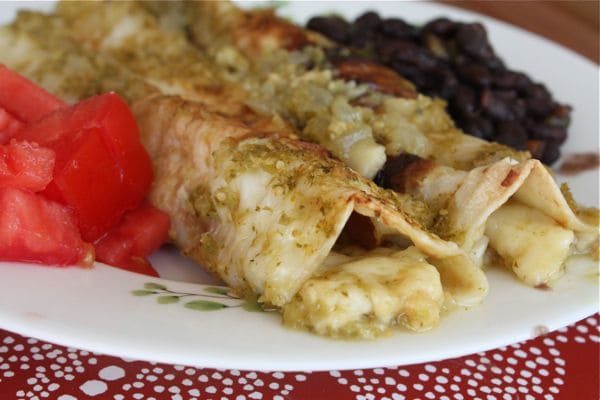 We have no trouble eating Mexican inspired meals in this house at least once a week. It's one of the easiest kinds of meals to put together for a family in my opinion. You can please pretty much everyone without too much additional effort. And if you are using fresh and whole ingredients, then it really isn't too bad on the waistline either.
Now, there's definitely some cheese in these enchiladas, so I wouldn't call this a diet meal by any means. I'm not really a fan of the word diet, or the feeling of what I can and can't eat…I just eat to feel good. And if my food is made of fresh, good for you ingredients, then it works for me. It's all about balance…and cheese is part of that balance. These enchiladas are an example of exactly how I like to eat.
First…let's talk about the tortillas. TortillaLand recently contacted me and asked if they could send me some of their authentic uncooked tortillas to try out. Uh…yes please. I have never made my own tortillas from scratch but I can only imagine how amazing they must taste…and I'm thinking they might taste pretty close to these tortillas considering they only have 5 ingredients….wheat flour, water, canola oil, salt and sugar. Good stuff.

They are kinda fun to cook up too…I took a dry skillet and heated it up, placed the uncooked tortilla in it and waited about 30 seconds then flipped it over for about another 30 seconds. I loved seeing it puff up…I have to tell you, my son and I were having trouble not eating these warm out of the pan. So good.
If you can find them near you, be sure to snatch some up.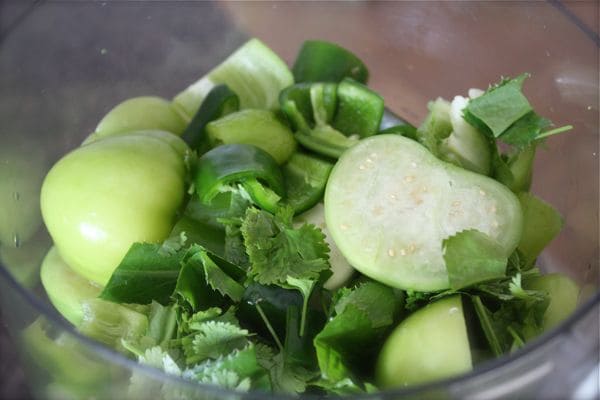 The verde enchilada sauce was another awesome part of this meal. I am in love with anything tomatillo and cilantro and have been craving green salsa lately. I bought a bunch of tomatillos at the store the other day and while looking up recipes for green salsa I came across this green enchilada sauce from Our Best Bites instead. The sauce turned out tangy and slightly sweet…so fresh and delicious…with a teeny tiny bit of kick from the fresh jalapenos. I knew I was serving this to the kids or else I would have added a little more heat…but that's what hot sauce is for right?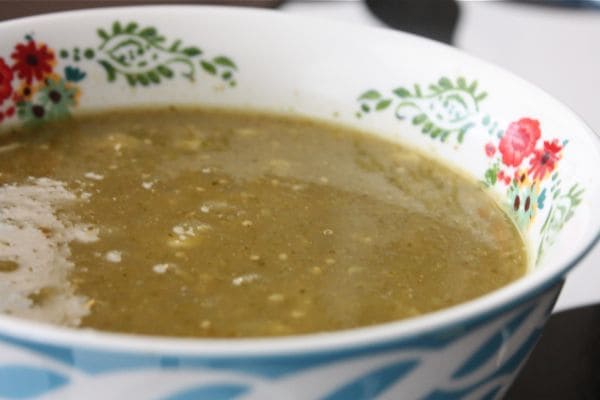 The recipe for the sauce makes a lot and I was happy to freeze what I didn't use for future meals.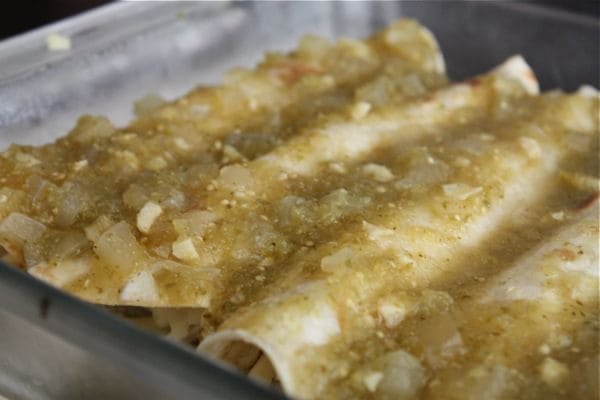 I served these simple Cheese & Onion Enchiladas with Verde Sauce with my favorite quickie black beans, chopped tomato and assorted hot sauces. If you want to save dinner time prep, make your sauce the day before and cook up your tortillas ahead of time and store in fridge.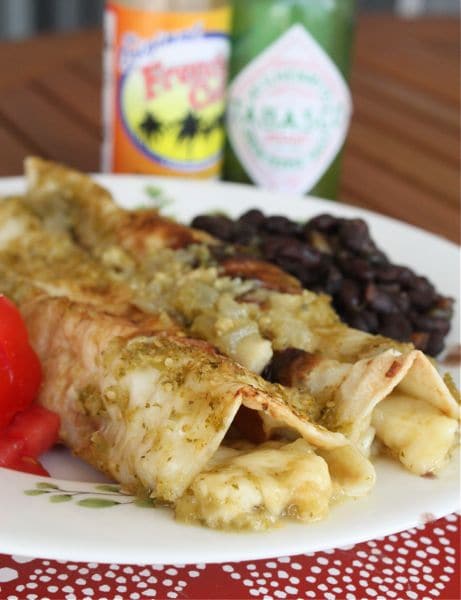 Cheese & Onion Enchiladas with Verde Sauce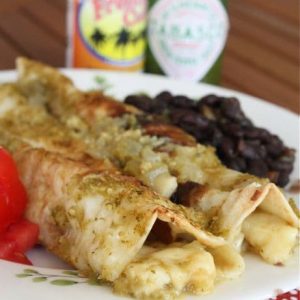 Ingredients:
8 flour tortillas (I recommend TortillaLand)
8 oz block of mild white cheese i.e. monterey, cheddar, american, shredded (I recommend shredding yourself over pre
shredded, melts so much better, a little goes a long way)
1/2 large vidalia or sweet onion, finely chopped
3-4 cups green enchilada sauce
Directions:
Preheat oven to 375 degrees.
In a bowl, combine shredded cheese and chopped onion. Lay tortilla flat on clean surface and place about two tablespoons of cheese mixture across tortilla; gently roll tortilla up like a cigar and place in lightly greased (with non stick cooking spray) large baking dish. Repeat with remaining cheese mixture. Pour enchilada sauce generously over the prepared enchiladas until completely covered in sauce.
Place in oven and bake for about 20-25 minutes until sauce is bubbly and cheese is completely melted.
Are you following me on Instagram, Twitter, Facebook and Pinterest? If you'd like to subscribe to Aggie's Kitchen and have each post delivered straight to your e-mail box, then please add your email here. Happy cooking!
There are affiliate links in this post. I make small earnings through any purchases made through these links. Thank you for supporting Aggie's Kitchen!