Candy Cane Chocolate Cupcakes
I have to tell you…this will be the last you see of my baking for a little while,
I need a serious detox from all the yummy food I've been eating this holiday. It's been wonderful, but I feel like I've been gaining weight by the minute.
These cupcakes were perfect for a last minute sweet to bring to a gathering. We were getting together with my husband's family, he is the youngest of 7 and there are lots of grandchildren and cousins in the family, 15 to be exact. Not everyone was able to make it this time, but there were plenty of us still. I wanted to bring something fun for all of the kids, and of course for the grown ups too. And really, I wanted to get rid of a bunch of candy canes hanging around the house.
Candy Cane Chocolate Cupcakes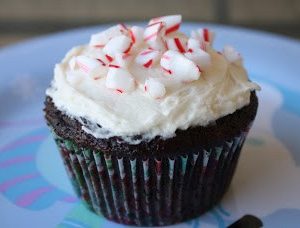 Ingredients:
One-Bowl Chocolate Cupcakes
3/4 cup unsweetened cocoa powder
1 1/2 cups all-purpose flour
1 1/2 cups sugar
1 1/2 teaspoons baking soda
3/4 teaspoon baking powder
3/4 teaspoon salt
2 large eggs
3/4 cup warm water
3/4 cup buttermilk
3 tablespoons vegetable oil
1 teaspoon pure vanilla extract
Easy Vanilla Frosting
1 1/2 sticks of butter, room temperature
2 1/4 confectioners sugar.
1 tsp of vanilla
splash of milk
Directions:
One-Bowl Chocolate Cupcakes
Preheat oven to 350 degrees. Line cupcake pans with liners; set aside. In a large mixing bowl, sift together cocoa, flour, sugar, baking soda, baking powder, and salt. Add the eggs, warm water, buttermilk, oil, and vanilla; mix batter until smooth, about 3 minutes. Scrape down the sides and bottom of bowl to assure batter is well mixed.
Divide batter evenly among liners, filling each about one-third full. Bake until tops spring back when touched, about 20 minutes, rotating pan once if needed. Transfer to a wire rack; let cool completely.
Easy Vanilla Frosting
Combine ingredients in a mixer, mix for about 4 minutes until smooth.
Top with crushed candy canes. (To crush, place candy canes or candy cane pieces in small ziplock bag. Using a the handle of a knife gently crush candy canes into small pieces.)

Are you following me on Instagram, Twitter, Facebook and Pinterest? If you'd like to subscribe to Aggie's Kitchen and have each post delivered straight to your e-mail box, then please add your email here. Happy cooking!
There are affiliate links in this post. I make small earnings through any purchases made through these links. Thank you for supporting Aggie's Kitchen!