Bush's Mediterranean Caesar Salad with Lemon Pepper Shrimp and Garbanzo Beans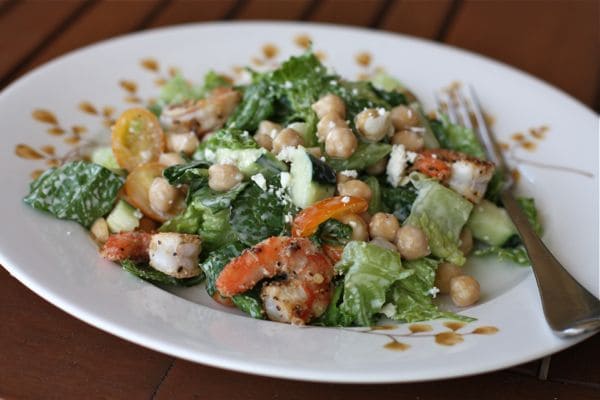 I'm all about quick and easy right now when it comes to dinner time (I don't have to mention healthy right?). This salad, inspired by this recipe from my friends at Bush's Beans, fit into our dinner plan perfectly this week.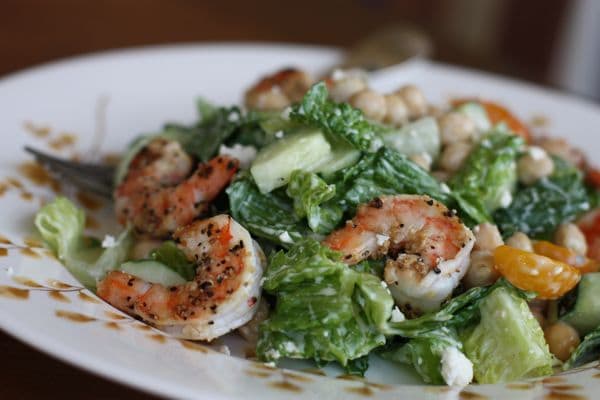 The shrimp and beans easily turned this salad into a "real" meal. I almost always have a bag of frozen shrimp in my freezer and beans in the pantry are just a given. After a quick defrost (I put the shrimp in a colander and run it under cool water in the sink for a few minutes), they literally cook up in just a few short minutes. I made things even easier on myself with this salad by cooking the shrimp earlier in the day and keeping them in the fridge until I was ready to make our salad at dinner time.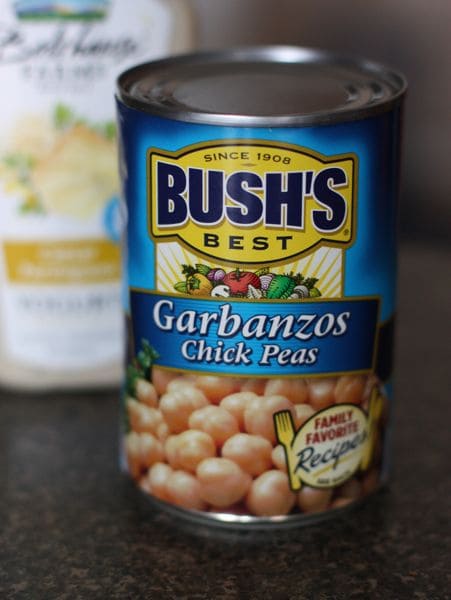 I have to be honest, I was afraid my husband wouldn't be satisfied with just a salad for dinner, but I was pleasantly surprised – he loved it and was full of compliments. The garbanzo beans and extra veggies really bulked it up and we happily ate it all – and felt great afterwards. The recipe as written can make 4 small portions, or 2 bigger salads that were perfect for 2 hungry people at dinner.
Healthy + easy + quick = Winner!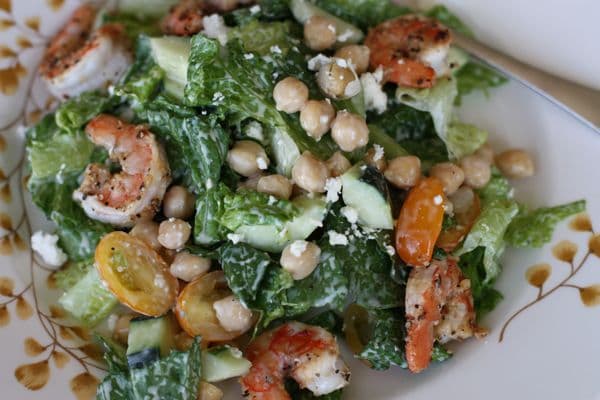 Bush's Mediterranean Caesar Salad with Lemon Pepper Shrimp and Garbanzo Beans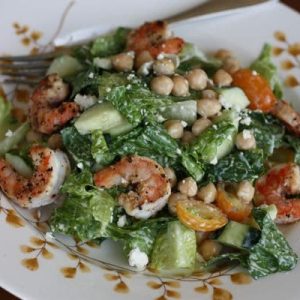 Ingredients:
1 16 oz can BUSH'S Garbanzo Beans, rinsed and drained
1/2 cup Caesar dressing (I like Bolthouse brand to keep things light)
1/2 head romaine lettuce, cut or torn into pieces
1/2 pint grape tomatoes, halved
1/2 cucumber, peeled, deseeded and quartered
1 lb shrimp, peeled and deveined
1 tablespoon olive oil
2 tablespoons lemon pepper seasoning
1/2 cup crumbled feta cheese
fresh ground pepper
Directions:
Heat a nonstick pan over medium heat, add oil. Pat dry shrimp and season liberally on both sides with lemon pepper seasoning. Add shrimp to pan and cook until pink, about 2 minutes on each side. Set aside.
Prepare salad in large bowl by adding romaine, garbanzo beans, tomatoes, and feta cheese. Pour salad dressing and gently toss to coat. Divide onto salad plates or bowls and top with cooked shrimp. Season with freshly ground pepper to taste.
A simple, yet satisfying, dinner salad perfect for busy weeknights. Recipe adapted from BUSH'S Beans.
(Disclosure: I am in a working relationship with Bush's Beans. My words and opinions written here are always my own.)
Are you following me on Instagram, Twitter, Facebook and Pinterest? If you'd like to subscribe to Aggie's Kitchen and have each post delivered straight to your e-mail box, then please add your email here. Happy cooking!
There are affiliate links in this post. I make small earnings through any purchases made through these links. Thank you for supporting Aggie's Kitchen!