Book Love: Wally Lamb, Bread & Wine and more Summer Reading
Add Media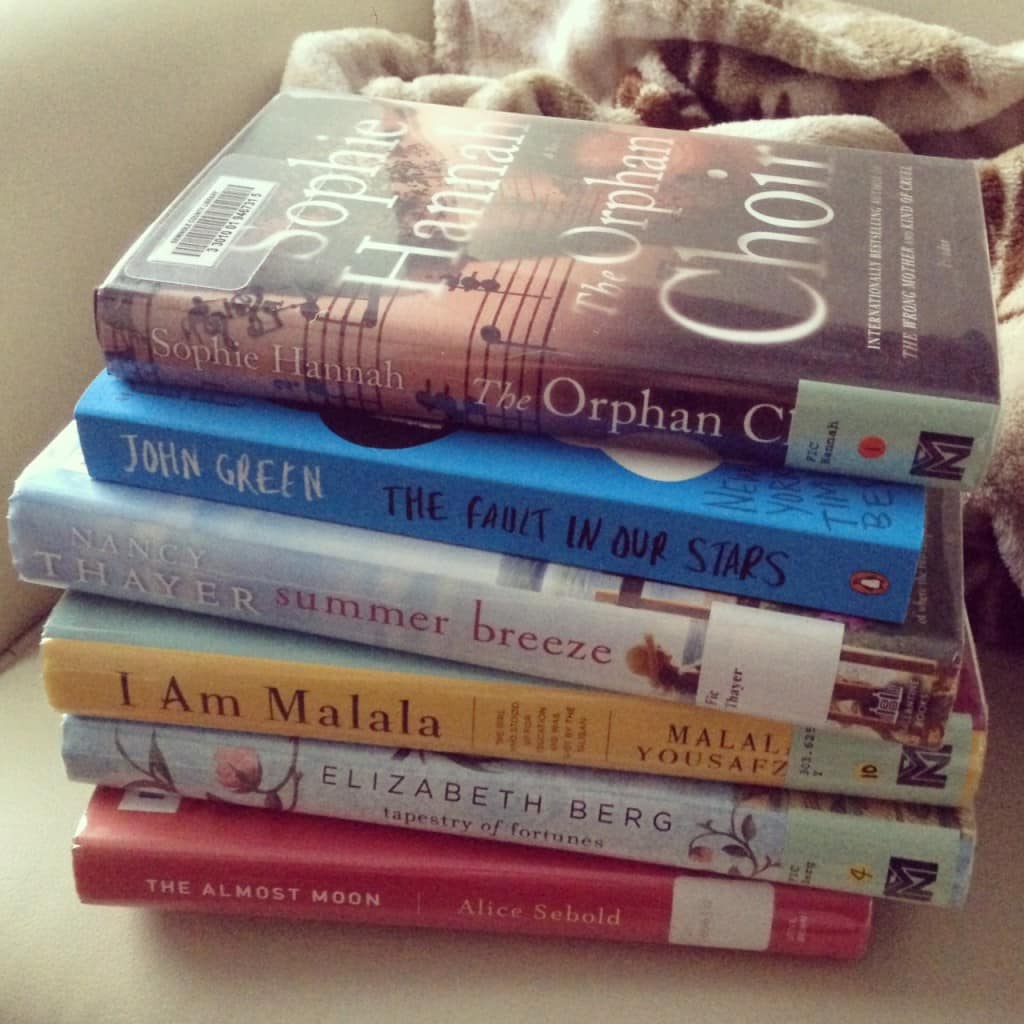 I'm on a reading binge. I recently read this post and have since declared (quietly, to myself) that I was going to binge on reading this next month or two (aka summer break).
There could be worse things to binge on right?
Reading fills my happy tank. It relaxes me, takes me away from the daily grind for just few minutes, opens up my mind to someone else's world, real or not. If you've been one who finds yourself saying you want to read more but don't have the time to read, truth is you do have the time…but you may have to rearrange it a bit to squeeze in 10 or so minutes of reading. I loved reading the tips to help you read more shared on The Art of Simple's post I mentioned above, and my big tip to add is to put your phone somewhere you can't reach it. I don't know how many times I check my phone "for the time" and find myself on FB and Pinterest for 20 minutes. You know how many pages I could have read in 20 minutes?? When you're limited on time (especially during the summer with all the kids at home), 20 minutes of reading can feel like a vacation.

Here are a few books I've read recently, let me know in the comments if you've read any of them or are currently reading something great! (I've linked each book to the description on Goodreads)
The Good Daughters by Joyce Maynard – I found this book while looking for a different book by the same author my friend recommended to me called Labor Day. It was the first I've read by this author and I really enjoyed it. Good summer read. I have to get my hands on Labor Day for summer.
We Are Water by Wally Lamb – If you like Wally Lamb I think you will find his newest novel interesting, it's a big book so be forewarned. My friend Sheila read it for her book club and wrote more about it here.
I Forgot To Remember by Su Meck – I picked up this book after reading Kristen's review on it (like I do many of my books!). It's a memoir about a mom of two small children who suffered a head injury and literally lost her memory of … everything. EVERYTHING. What this woman lived through is pretty incredible, and makes you really think.
Bread & Wine by Shauna Niequist – I've heard of this book from Sheila and Kim among other bloggers for months now and couldn't wait to finally read it. This book was one of the most relaxing books I've read in a long time. A memoir, it's written in short essays with recipes sprinkled among the chapters in relation to the story being told. A week after finishing Shauna's book, I can tell you that I am finding myself still thinking about some of the stories and the food. I've actually started to slowly come out of my cooking funk inspired by a few recipes I found in this book. I'm recommending it to everyone who loves food and loves feeding people.
…and from my "summer stack" (shown above in first picture)
I'm currently reading The Orphan Choir but I have to be honest, I'm not loving it. I'm actually making the decision right now as I type to move along to the book I really want to read The Fault In Our Stars. This book has been on my library list forever it seems but I finally got impatient and just bought it instead this week. Apparently it's a good cry (though I don't tend to cry while reading, we'll see…), can't wait to dive in!
Hope you all are enjoying your summer!
Are you following me on Instagram, Twitter, Facebook and Pinterest? If you'd like to subscribe to Aggie's Kitchen and have each post delivered straight to your e-mail box, then please add your email here. Happy cooking!
There are affiliate links in this post. I make small earnings through any purchases made through these links. Thank you for supporting Aggie's Kitchen!