Blueberry Almond Oatmeal Bites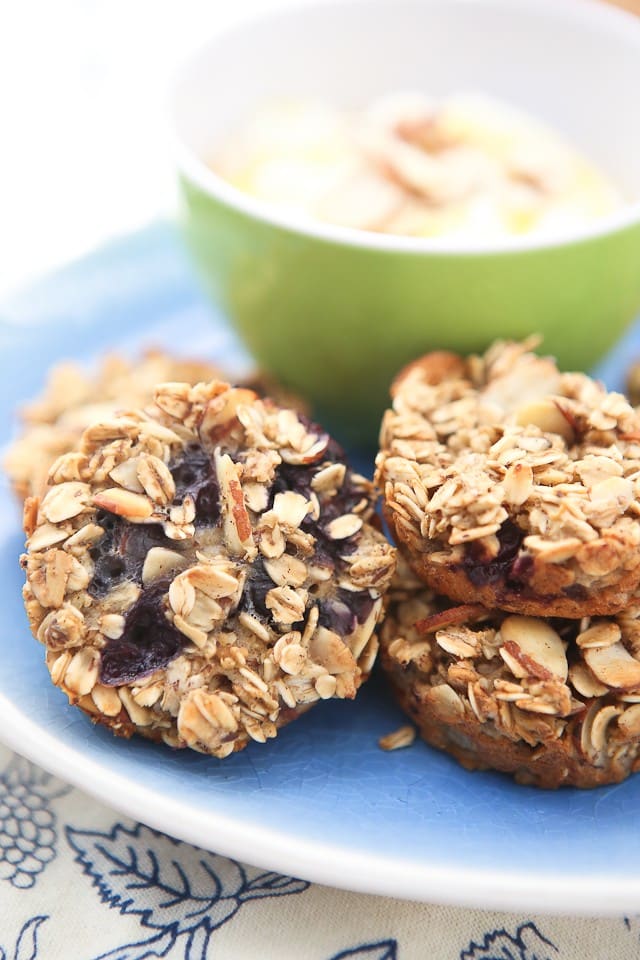 This recipe was created in partnership with Bob's Red Mill.
My children have pretty big appetites. I feel like they are always eating – as I'm clearing up one meal they are already asking for a snack. I'm not going to say this bothers me in the least, seeing their love of eating definitely makes my Italian mama heart happy. But, it can be a challenge to keep up with having smart, healthy snacks always available for them so they don't turn to junk. I typically offer them yogurt, cheese sticks, fruit, pretzels or granola bars…but they do get bored.
I wanted to try out a new kind of snack on my kids a couple of weeks ago while we were off school for a long holiday weekend. My kids LOVE parfaits, and ask for them all the time. They keep me on my toes in the granola making department that's for sure, I really don't make it often enough for them (we go through it so fast when I do make it!). Instead of parfaits this time, I offered them a plate of Blueberry Almond Oatmeal Bites served along with a bowl of Greek yogurt drizzled with honey. Fancy, huh? It actually took less effort than making 2 parfaits!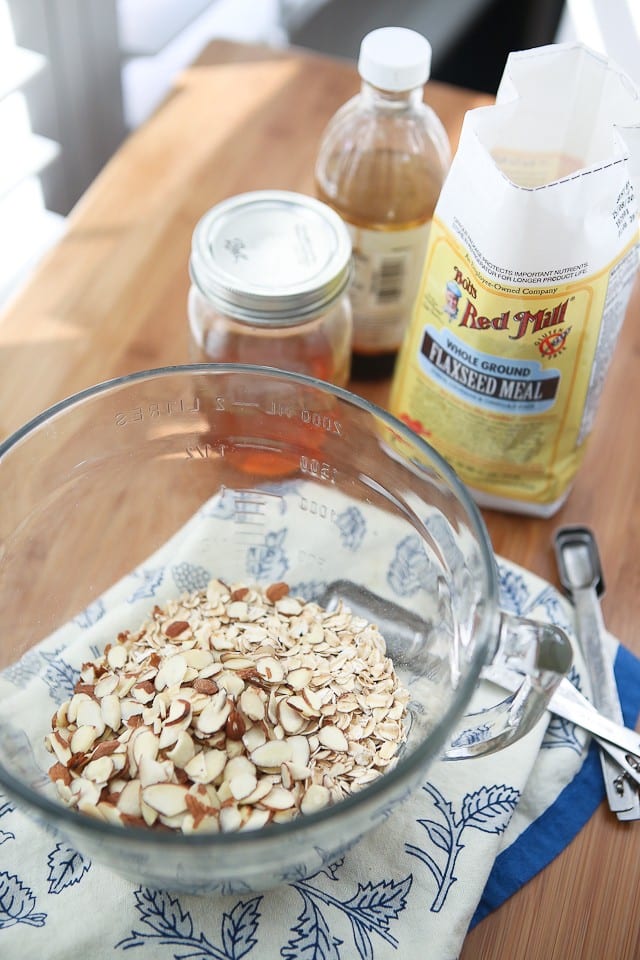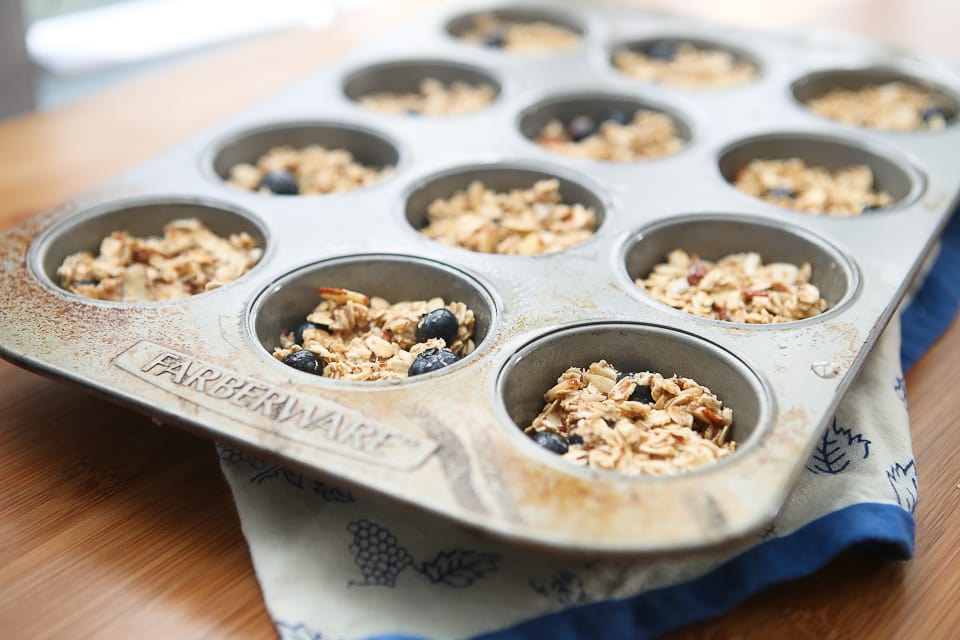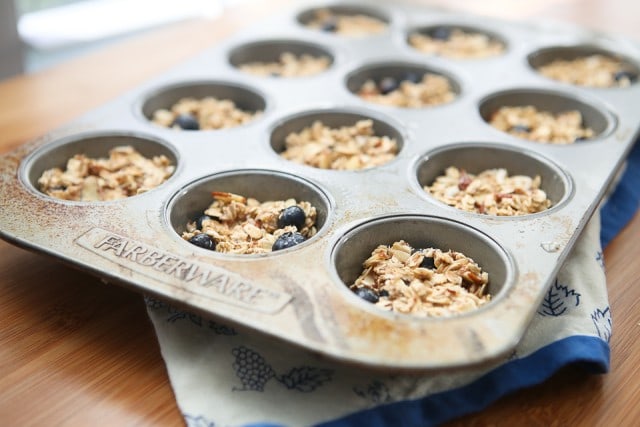 The oatmeal bites were so easy to make, I actually made two batches in the same day since the first batch was polished off at breakfast time and I wanted to have some around for snacks throughout the week. They are filled with basic, wholesome ingredients that you probably have in your house already – oats, nuts, honey, peanut butter and flaxseed meal (as well as a few baking staples). I always have a bag of Bob's Red Mill Flaxseed Meal (I store it in my fridge to keep it fresh) and add it to recipes every chance I get. It was an easy addition to this recipe as it adds a nice punch of nutrition.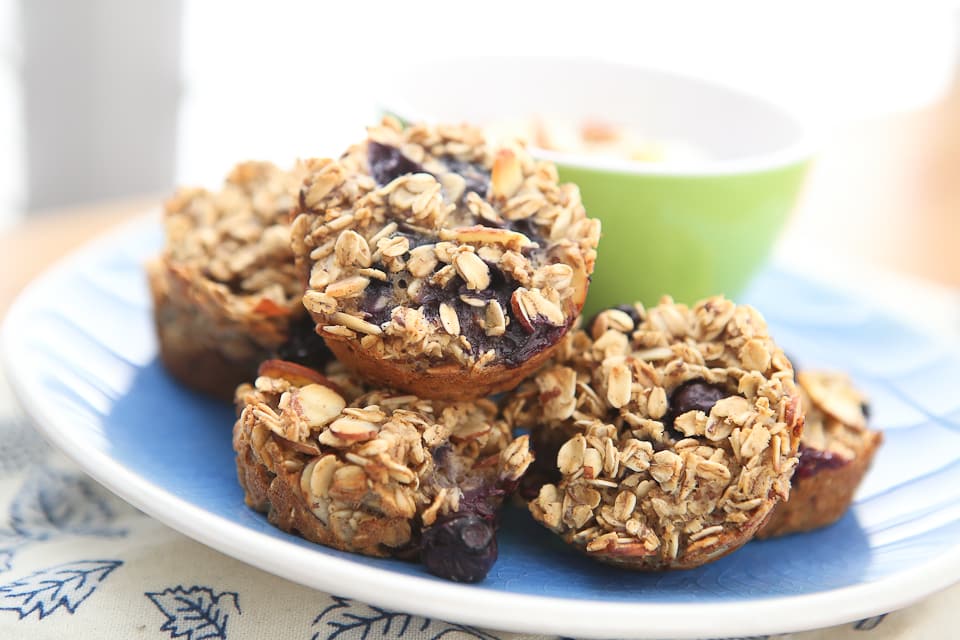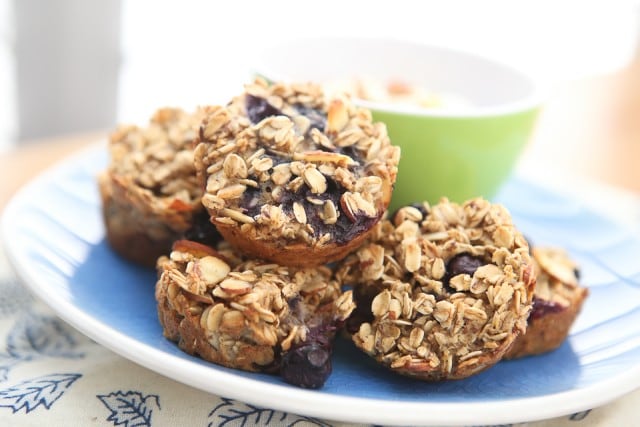 For anyone that has a bag of flaxseed meal and needs ideas for how to use it up, this recipe collection on Bob's Red Mill's website can help – so many ideas. I typically add it to my smoothies, sprinkle it over yogurt and add it to peanut butter and banana sandwiches (my son has no idea 😉 ).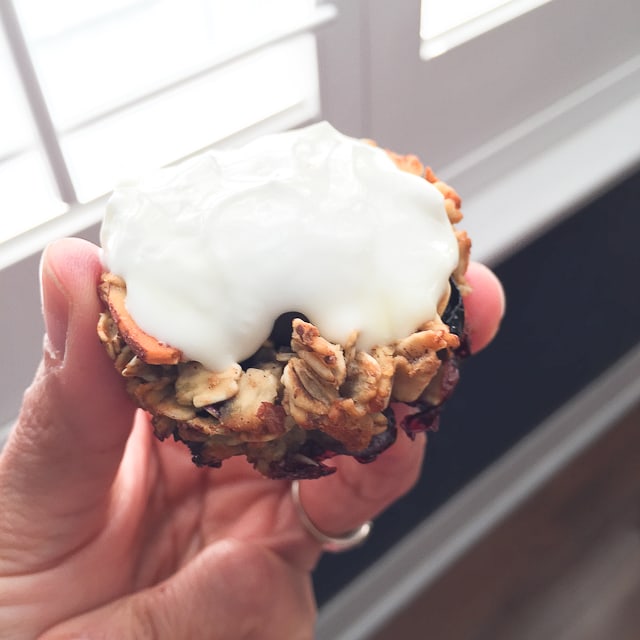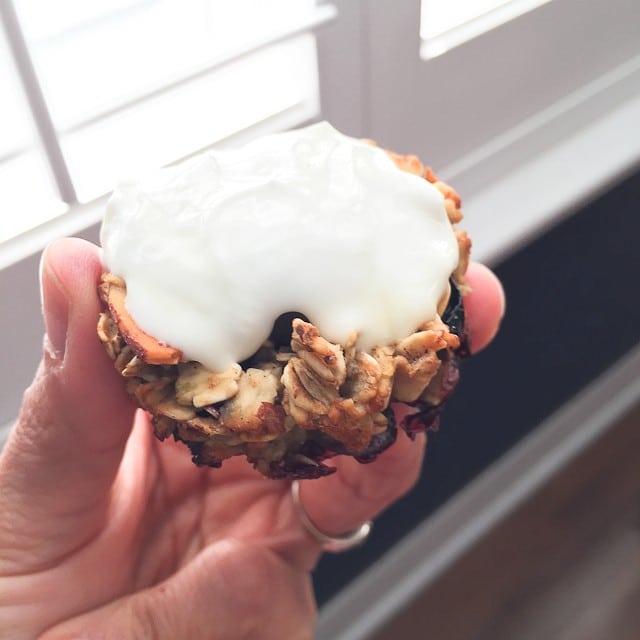 We loved these oatmeal bites served with a spoonful of Greek yogurt lightly sweetened with honey. So so good! Since my kids are at an age where they are capable and take pride in "helping themselves" this is a great way to get them involved with preparing a healthy snack for themselves.
What are your go-to healthy snacks for your kids? My neighbor and I recently talked about this and I've been really trying to come up with more and more options for them, because let's face it – they do get bored with the same old same old. It's always a good thing to change it up!
Have a great week!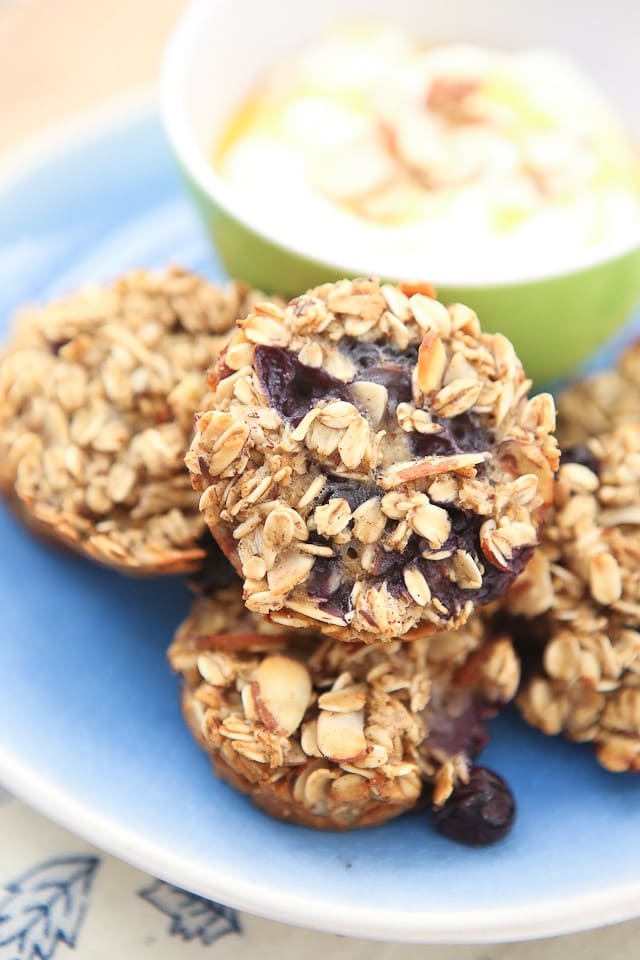 Blueberry Almond Oatmeal Bites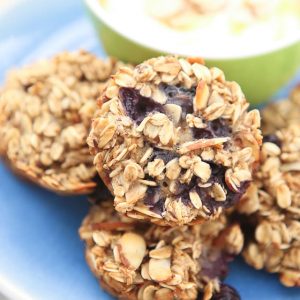 Ingredients:
2 cups old fashioned rolled oats
2 tablespoons Bob's Red Mill Flaxseed Meal
1/3 cup sliced almonds
2 tablespoons peanut butter
1 tablespoon pure vanilla
2 tablespoons honey
1/4 teaspoon cinnamon
1/2 teaspoon coarse salt
1 teaspoon baking powder
1 egg
3/4 cup almond milk (or any milk)
1/2 cup fresh blueberries
Directions:
Preheat oven to 350 degrees. Lightly grease a 12-muffin pan with cooking spray or oil.
In a mixing bowl, combine oats with flaxmeal, almonds, peanut butter, vanilla, honey, cinnamon, salt and baking powder. Whisk egg with milk in a separate bowl, add to oat mixture and stir until completely combined.
Gently fold in blueberries. Using a tablespoon, fill each muffin cup about 3/4 full, dividing batter evenly among all 12 cups. Gently press down on the batter in each cup before baking.
Bake for 17-20 minutes, or until golden brown. Take out and let cool for 5 minutes. Carefully run a knife around each oatmeal bite before turning over to release. Serve immediately or serve at room temperature. Store in an air tight container for up to 5 days.
Be sure to check out my Healthy Sweets and Treats board on Pinterest for more healthy snacking ideas!
Follow Aggie's Kitchen's board Healthy Sweets and Treats on Pinterest.
Disclosure: I'm so excited and honored to partner up with Bob's Red Mill this year to create and share recipes using their wholesome, quality products. I've been using Bob's Red Mill in my kitchen for several years and can't wait to share them with you! Thank you for supporting the brands that support Aggie's Kitchen, and as always, my opinions are my own.
Are you following me on Instagram, Twitter, Facebook and Pinterest? If you'd like to subscribe to Aggie's Kitchen and have each post delivered straight to your e-mail box, then please add your email here. Happy cooking!
There are affiliate links in this post. I make small earnings through any purchases made through these links. Thank you for supporting Aggie's Kitchen!