Banana Fritters and cookbook giveaway…
A couple of weeks ago I was contacted by Nava Atlas, author of a wonderful cookbook called
The Vegetarian Family Cookbook
. The cookbook is on a blog tour celebrating its fifth anniversary and Nava was generous to send me a copy as well as offer a copy to one of my readers. When I received the cookbook last week, I sat myself down and started to read it like a book. I do that with cookbooks, do you? I found this cookbook to be full of lots of useful tips as well as really good family friendly
easy
recipes. There are lots of sections in this book to choose from…breakfast to soups to wholesome baked goods, as well as main dishes, sandwiches and desserts. This book has so many great sounding recipes, I'm really looking forward to cooking them. A few of the the recipes that I hope to try soon and blog about are:
Black Bean and Zucchini Chilaquiles

Southwestern Baked Rice Casserole

Baked Chickpea Burgers

Angel Hair with Zucchini and Breadcrumbs

Vegetable Lo Mein

Pineapple Rice Salad
I have a few recipes already bookmarked, as you can see, one of which I decided to make for breakfast Sunday morning. Something about banana fritters sounded so good to me, especially the part about dipping them in fruit preserves. The batter came together easily, and they cooked up quickly…a lot like pancakes. My husband and kids literally gobbled them up. I highly recommend that you use pastry flour for a recipe like this. Here's a tip if you can't find any (like I sometimes can't)…process your regular whole wheat flour in a food processor. It will give it a finer texture and will keep your recipe from becoming too dense. I chose to use light vanilla soymilk in the recipe, as well as adding a few tablespoons of ground flaxmeal to the batter for some extra nutrition. My husband and I dipped ours in peach preserves while the kids at theirs dipped in maple syrup.
So before I get to the recipe…let me tell you a little more about the giveaway. All you have to do is leave a comment here on my blog for a chance to win your own copy of The Vegetarian Family Cookbook. Nava will personally send an inscribed copy of her cookbook to the giveaway winner.

Here's a little bonus…my sister in law Jamie of Mom's Cooking Club is also giving away this cookbook. Go over to her blog and increase your odds of winning by entering her giveaway too!
Giveaway starts today and will end at midnight Tuesday. Winner will be announced Wednesday.
For an additional entry into the giveaway you can do one or both of the following:
Leave a comment on Mom's Cooking Club cookbook giveaway (no brainer!)
Spread the word about this giveaway with a link on your blog, Facebook or Twitter
Leave an additional comment here telling me you did one of the things listed above and that additional comment will count as your additional entry. Sound good?
Banana Fritters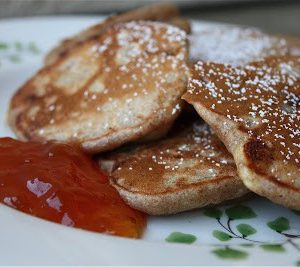 Ingredients:
2 ripe bananas, well mashed
1 cup whole wheat pastry flour
pinch cinnamon
pinch nutmeg
1/2 cup dark raisins, optional
1 cup low-fat milk, rice milk or soy milk
2 TB non hydrogenated margarine
Maple syrup or all fruit preserves, optional
Directions:
Combine all the ingredients except the maple syrup in a mixing bowl and stir until just smoothly blended. Add a bit more milk if the mixture is too thick.
Heat a nonstick griddle and coat lightly with some of the margarine (I used cooking spray). Drop the batter on the griddle in 1/4 cupfuls. Cook each fritter over medium heat on both sides until golden brown. Serve hot, either on its own or with maple syrup or all fruit preserves.
Variation: Add 1/3 to 1/2 cup chopped walnuts or pecans to the batter.

Follow Aggie's Kitchen's board Breakfast on Pinterest.
Are you following me on Instagram, Twitter, Facebook and Pinterest? If you'd like to subscribe to Aggie's Kitchen and have each post delivered straight to your e-mail box, then please add your email here. Happy cooking!
There are affiliate links in this post. I make small earnings through any purchases made through these links. Thank you for supporting Aggie's Kitchen!