Hot and Garlic Baked Boneless Chicken Wings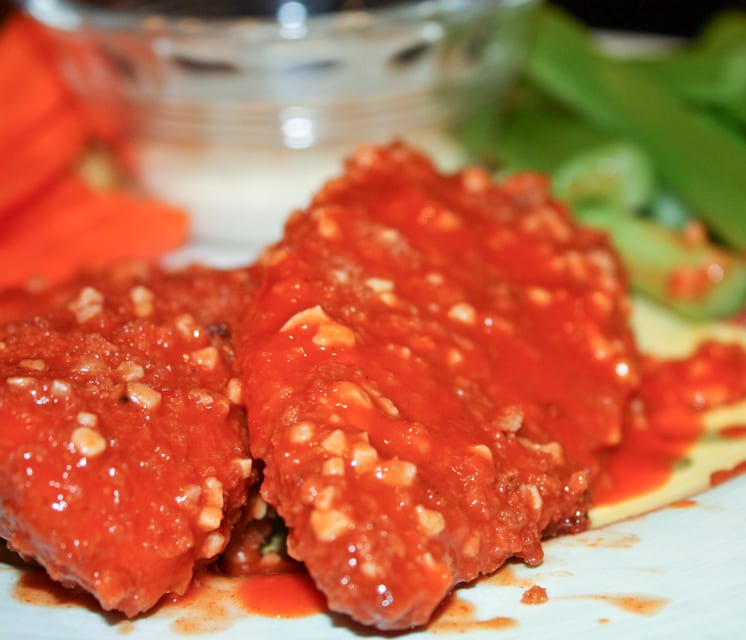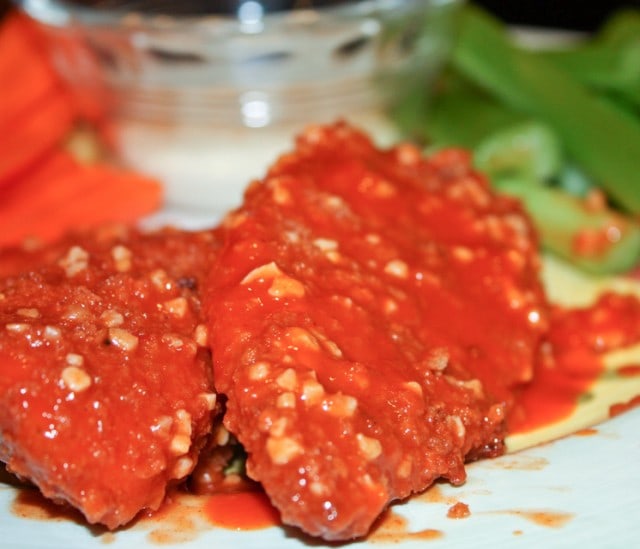 Now most of you already know that I went to school at the University of Florida.
I have very fond memories of my time in Gainesville, I met some really great people and had an overall awesome experience while living there . During my three years there, I worked at a very popular sports bar called the
Gainesville Ale House
. Looking back…how lucky was I? It was such a fun place to work (I'm sure I didn't feel that way everyday back then) and the friendships I made while working there are priceless and forever.
Another reason I was so lucky is…I met my husband there! We both worked there and were always just friends… our relationship didn't start until over a year after my graduation, and in a totally different city too. Anyway…that's our story…
One of our favorite things to eat at the
Ale House
is their zingers. They are boneless chicken wings…basically strips of chicken breast, breaded, fried and tossed in your favorite wing sauce. Since I'm not much of a chicken on the bone person, these are usually what I go for when I'm in the mood for "wings".
Obviously fried and breaded chicken isn't something I should indulge in often, so of course I took on the challenge of making my own healthier version. If you are having a craving for some wings, but are trying to stay health conscious, these baked boneless chicken wings are for you!! My husband, who can't get enough wings, loves when I make these.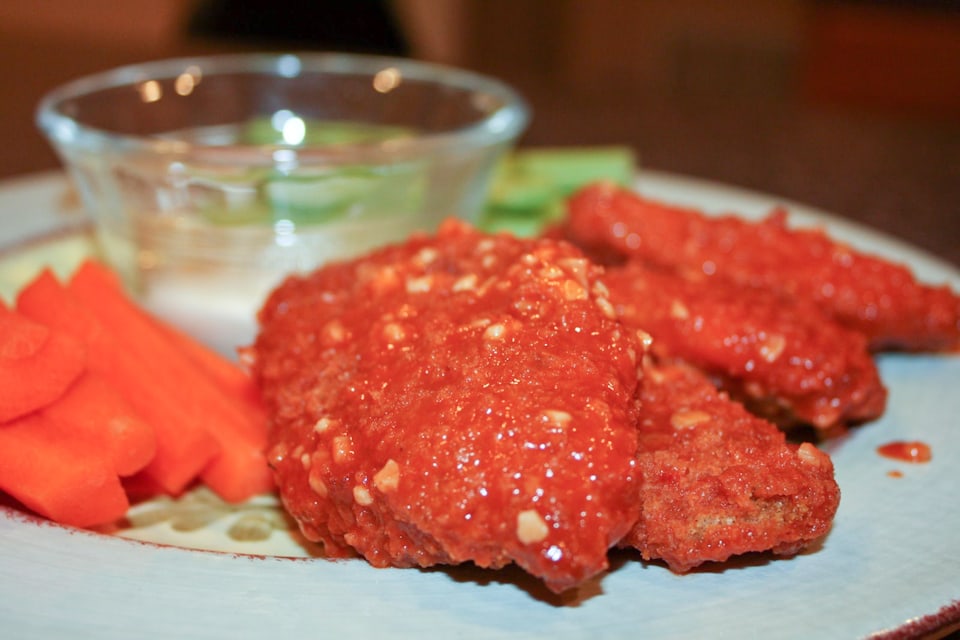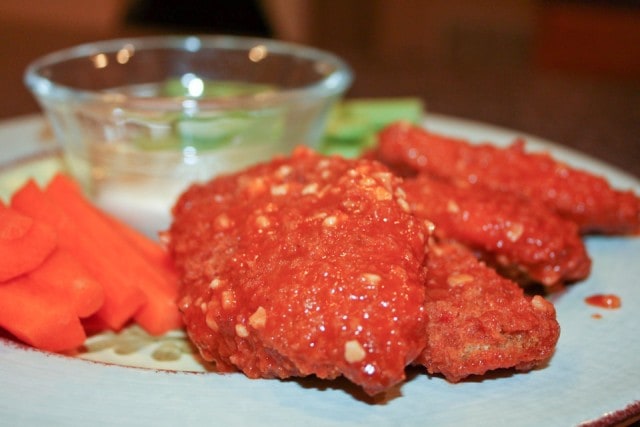 Print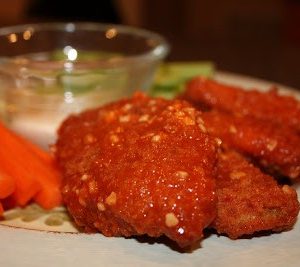 Hot and Garlic Baked Boneless Chicken Wings
Author:
Yield: 4-6 servings 1x
Category: Chicken
Method: Oven
---
Ingredients
1.5 lbs chicken breast, sliced into strips
2 cups panko breadcrumbs (Japanese breadcrumbs, I use whole wheat panko)
2 tsp garlic powder
salt and pepper
olive oil
2 cups Frank's Hot Sauce
butter, optional
2 tsp minced garlic (from jar)
---
Instructions
Season chicken strips with salt and pepper, also drizzle a little olive oil over chicken and toss to coat. Pour panko in a large dish and season with garlic powder, salt and pepper. Dip each chicken strip into dish, pressing chicken into panko to coat well.
Place your baking rack into a cookie sheet. Place breaded chicken strips onto baking rack. Spray breaded chicken strips with olive oil spray or non stick spray (this helps to give them that crispy texture).
Bake in 400 degree oven for about 20 minutes, until golden brown and done.
In small saucepan, heat up hot sauce and garlic. If you want to tone down the heat of the sauce add butter. Start with 1 TB and go from there.
Using tongs, gently toss chicken strips with hot sauce and serve with celery, carrots and your favorite blue cheese dressing (mine is Naturally Fresh Lite).
---
Notes
We like our buffalo sauce hot but if you need to tame down the heat, add a few tablespoons of melted butter to the hot sauce.
Inspired by Ale House Zingers.
Are you following me on Instagram, Twitter, Facebook and Pinterest? If you'd like to subscribe to Aggie's Kitchen and have each post delivered straight to your e-mail box, then please add your email here. Happy cooking!
There are affiliate links in this post. I make small earnings through any purchases made through these links. Thank you for supporting Aggie's Kitchen!