Asian Stuffed Napa Cabbage Rolls
A fun twist on cabbage rolls, these Asian Stuffed Napa Cabbage Rolls are a great addition to your family dinner rotation.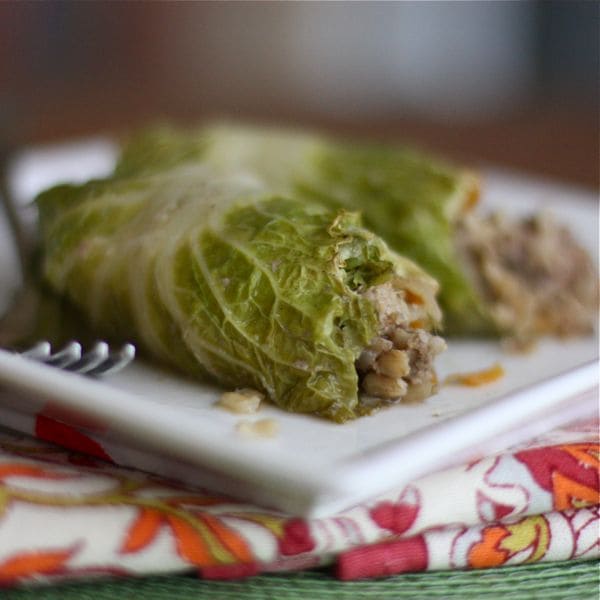 I love it when I make a recipe that my whole family can enjoy. You would think my kids would turn their noses up at the sound of stuffed cabbage rolls (they would) but when I gave them a dish of these for the first time, I didn't say too much about it and made sure to cut it up real well so that cabbage just blended in with the meat and rice mixture. They didn't ask any questions and I kept my mouth shut as they ate away. Recipes like this one get noted for regular rotation in my house.
Napa cabbage is starting to become a favorite veggie of mine. It's so versatile. You can add it to soups, use it as filling for potstickers, make a slaw or salad like this Asian Chopped Salad or of course use it to make stuffed cabbage rolls like shown here today. It's a mild and delicate cabbage, which is why I think my kids didn't make too much of a fuss. I find myself purchasing it more often these days, and was happy when my friend Bev shared this recipe with me from Whole Living last year which I changed up slightly with what I had in my own kitchen to create these Asian Stuffed Napa Cabbage Rolls.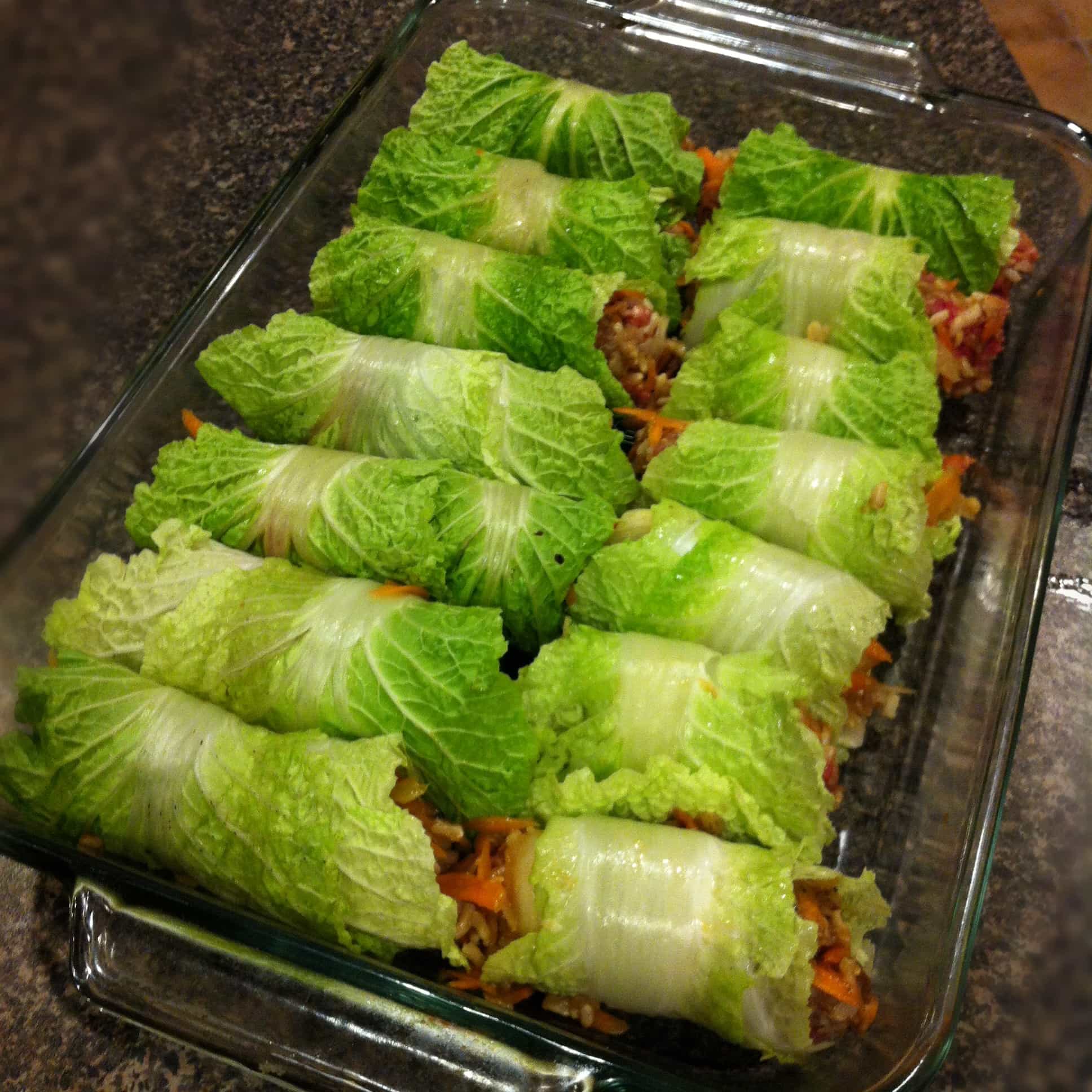 As you already know I love splashing Nakano rice vinegar into any Asian inspired dish I'm making for my family. It's such a great flavor booster, and really is a perfect way to brighten up your meals without any additional calories. You'll always find a bottle of it in my kitchen. I added into the meat and rice filling, in addition to ginger, chili sauce and toasted sesame oil to get that fresh and distinct Asian flavor we all know and love.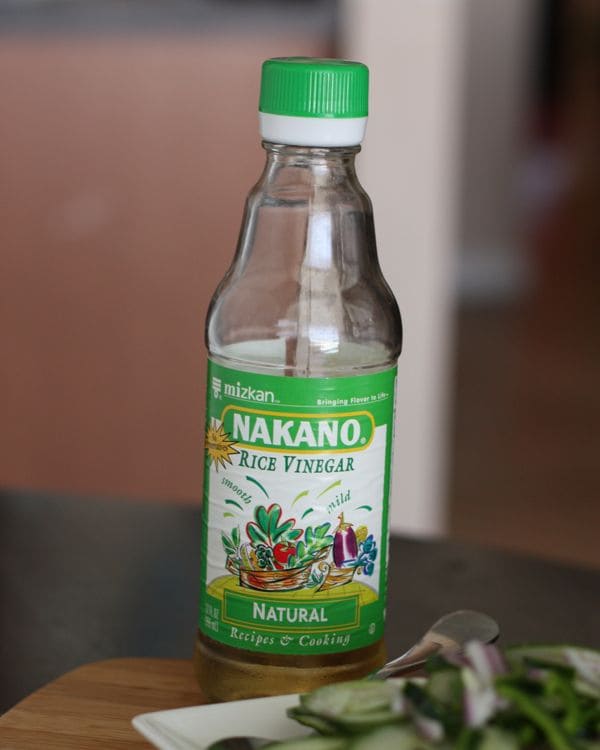 These Asian Stuffed Napa Cabbage Rolls are great to prepare ahead. Mix together your filling, make your rolls and place in your baking dish (without water) to make it easier on yourself when it's time to get dinner going. When you're ready to cook them up, just add water and place into your oven.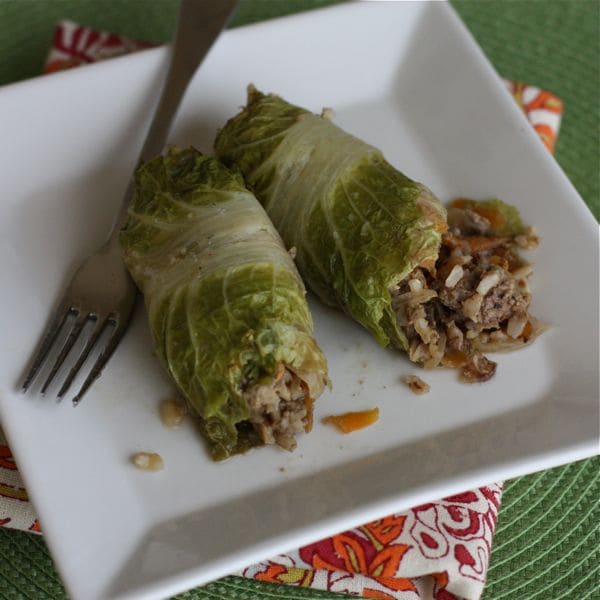 Print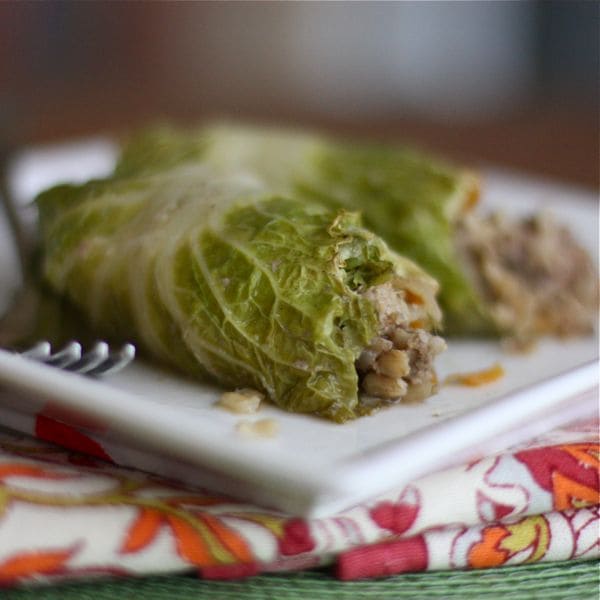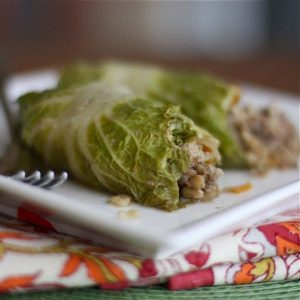 Asian Stuffed Napa Cabbage Rolls
Author:
Yield: 4-6 servings 1x
Category: Ground Turkey
Method: Oven
Cuisine: Asian
A fun twist on cabbage rolls, these Asian Stuffed Napa Cabbage Rolls are a great addition to your family dinner rotation.
---
Ingredients
1 lb lean ground beef or ground turkey
2 carrots, shredded
1 cup cooked brown rice or quinoa
4–5 garlic cloves, minced
2 tablespoons ginger, minced
1 small onion, minced
3 tablespoons low sodium soy sauce
2 tablespoons toasted sesame oil
2 teaspoons Nakano rice vinegar
1 teaspoon chili or chili-garlic sauce (found in the Asian section of your grocery store)
salt and pepper, to taste
leaves from 1 large head of Napa cabbage
---
Instructions
Preheat your oven to 400 degrees.
Prepare your filling by gently combining uncooked beef (or turkey), shredded carrots, cooked rice (or quinoa), garlic, ginger, onion, soy sauce, sesame oil, rice vinegar, chili sauce and a pinch of salt and black pepper in a large mixing bowl.
To make your leaves easy to roll, use a rolling pin to flatten to make leaves more pliable. If you find that your leaves are on the smaller side, use two to roll, overlapping both ends to make one big leaf.
Spoon your filling to each leaf. Carefully roll each leaf tightly and place side by side in a large baking dish. Pour 1 cup of water over stuffed cabbage rolls and cover with aluminum foil. Bake in preheated oven for about 30-35 minutes or until completely cooked through.
Serve with juices from baking dish and additional chili sauce.
(Disclosure: I have a working relationship with and received products and compensation from Nakano, but my opinions are always my own. I developed this recipe using their product, but Nakano is a product you would already find in my home.)
Are you following me on Instagram, Twitter, Facebook and Pinterest? If you'd like to subscribe to Aggie's Kitchen and have each post delivered straight to your e-mail box, then please add your email here. Happy cooking!
There are affiliate links in this post. I make small earnings through any purchases made through these links. Thank you for supporting Aggie's Kitchen!