Apple, Nut & Cheese Salad with Apple Vinaigrette
I had a little lunch date with my little girl last week. The weather was perfect for sitting outside and I was craving salad….
I don't know about you but when I start to crave salad I get kind of obsessed about it. I like my salads heavy on the veggies, fruits and nuts and light on the "other" stuff. I'm a bit of a salad purist I guess you can say, sometimes simple is just best in my opinion.
We ended up at Panera and enjoyed our lunch outside by their fountain. You really can't beat Panera's salads as far as freshness and quality go. You already know how I feel about their bread and sandwiches, but just so you know, their salads are pretty much at the top of the list too, especially when I'm looking for something healthy when I'm eating or taking out.
I ordered the Fuji Apple Chicken Salad and my little one had herself a sandwich with yogurt. This was my first time ordering this salad at Panera and ohmygoodness it was so good. I loved everything about it..but especially the apple chips and vinaigrette. Everything was very fresh and tasted great. I'm not a big chicken eater but I did taste it for fun and gave the rest to my little girl who gobbled it up in minutes. I think the chicken might have been her favorite part of her lunch, she kept asking for more (and actually still is, lol). I was pretty happy to read on the menu that the chicken used at Panera is all natural and antibiotic free. That's always a good thing.
I found it pretty interesting to learn more about the chefs and what goes into creating the recipes at Panera. These guys really care about how their food tastes and it shows. You can find a couple of quick videos for you to watch featuring Panera's Head Baker Tom and Head Chef Dan and their inspiration and passion for food. Hey Dan, Can I come work for you? Thanks. (Nothing personal Tom, but I'm just not a great baker. Unless you want to teach me…now that's an idea!)
"Our menu wasn't developed in a test kitchen. It was inspired by the food." (<<<< I love this!!)
If you are a Panera lover like I am visit them on Twitter: @panerabread and Facebook!
(Disclaimer: Panera Bread provided me with compensation for writing this post. My opinions, however, are always my own.)
****************************************************************************************
So since our weather here in Florida has definitely warmed up, my salad cravings have just gotten a little more intense. I loved this Fuji Apple Chicken salad so much that I decided I needed to make my own version of it at home. The salad base was simple…greens, sliced apples, cheddar cheese, red onion, grape tomatoes and toasted pecans. Make it your own by adding leftover grilled chicken, sliced hard boiled egg or maybe use spinach for the greens. The vinaigrette was bright and slightly sweet with the addition of apple juice, though you can always add a little honey if you like it sweeter.
Print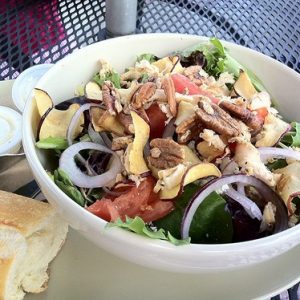 Apple, Nut & Cheese Salad with Apple Vinaigrette
Author:
Category: Salad
---
Ingredients
For the Salad
Greens (mixed greens, romaine, spinach)
Sliced Apples (fuji or granny smith)
Cheese (cubed cheddar or crumbled gorgonzola)
Nuts (toasted pecans, almonds or walnuts)
sliced red onion and tomatoes
For the Vinaigrette
1 teaspoon Dijon mustard
1/4 cup olive oil
1/4 cup apple cider vinegar
2 tablespoons apple juice
1 teaspoon minced shallot (or sweet onion)
1 teaspoon minced apple
salt and pepper
---
Instructions
Combine ingredients in jar or container and shake well. Adjust to taste (I don't like a lot of oil in my dressings, you may want to add more to your liking).
If you're still craving salad after this, check out these great salad creations:
Cucumber Feta Salad – Two Peas and their Pod
Grilled Romaine with Blue Cheese Dressing – Mom's Cooking Club
Chopped Broccoli Salad with Tahini Soy Dressing – Family Fresh Cooking
Blackened Fish Taco Salad with Cilantro Lime Vinaigrette – Aggie's Kitchen
Spinach Couscous Salad – Aggie's Kitchen
Follow Aggie's Kitchen's board Salads on Pinterest.
Are you following me on Instagram, Twitter, Facebook and Pinterest? If you'd like to subscribe to Aggie's Kitchen and have each post delivered straight to your e-mail box, then please add your email here. Happy cooking!
There are affiliate links in this post. I make small earnings through any purchases made through these links. Thank you for supporting Aggie's Kitchen!