10 Things In My Fridge | Flavia's Flavors
Warning: This post is going to make you extremely hungry!!
Today my beautiful friend Flavia is here, sharing what's in her fridge in her Italian kitchen. Flavia's food is "home" to me, it brings me such comfort to read her posts and how she describes her food and writes her recipes. I was lucky enough to meet Flavia in person a few years ago and I felt like I was sharing a meal with an Italian cousin of mine. Oh how I wish we could share a glass of wine and cook a meal together! Thanks so much for being here Flavia!
Get to know Flavia more through her blog Flavia's Flavors, on Facebook, Twitter and Pinterest.
***************************************************************************
Buon giorno! Benvenuti into the Flavia's Flavors kitchen! I'm so happy to be here today giving you a peek into my refrigerator. It's been so much fun reading what other food bloggers keep in their refrigerators. I've always been curious about what other bloggers like to have on hand, and I've been enjoying Aggie's 10 Things In My Fridge series. I was flattered that Aggie asked me to participate. Grazie, Aggie!
I love keeping a well-stocked refrigerator so that I always have fresh and healthy ingredients ready to use. I cook and bake mostly from scratch, so I enjoy having a variety of staple ingredients in my refrigerator. I typically grocery shop once a week and when I get home from the grocery store, I wash, dry and prep all the produce, re-package and freeze meats to cook later in the week, and do an overall wipe-down of all the refrigerator shelves and drawers before re-stocking the ingredients. This way, everything in the refrigerator is organized and ready to use for meals and snacks. It takes some time up front, but it gives me more time during the week to try new recipes, make our weekly dinners, and enjoy the time I spend in the kitchen.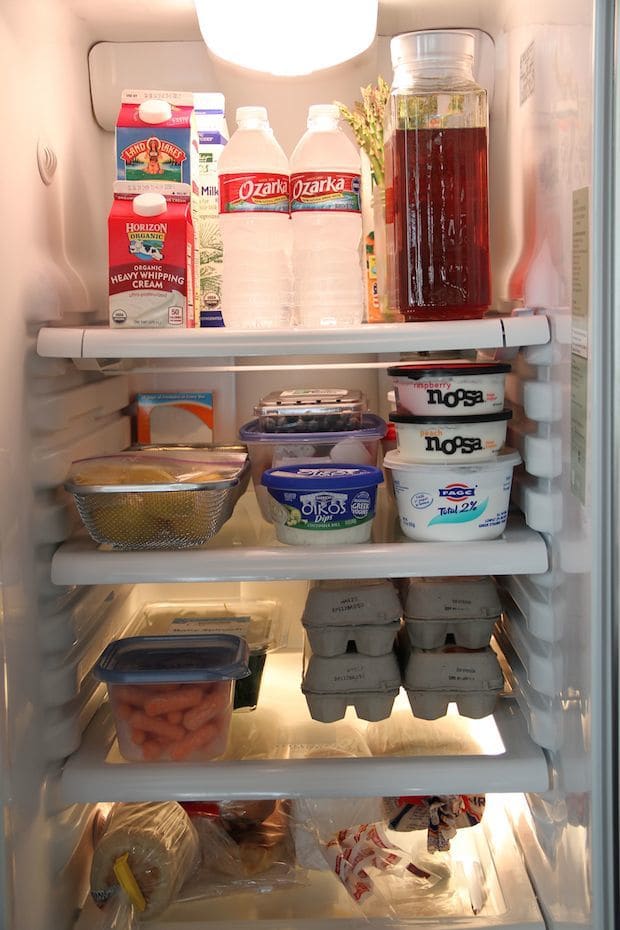 1. Fresh Produce & Herbs: This is by far the largest category on my grocery list. I try to buy organic produce most of the time, especially the fruits and vegetables on the "Dirty Dozen" list, but I don't stress out about it if the organic selection isn't the freshest or is too pricey. Produce and herbs that are always in my refrigerator includes lettuce, carrots, celery, basil, dill, zucchini, apples, baby spinach, red bell peppers, broccoli, and berries. Out of the refrigerator on my counters and pantry are: avocados, onions, potatoes, and tomatoes. I love using fresh, seasonal vegetables in my Marinated Roasted Red Peppers, Swiss Chard Aglio e Olio and Roasted Vegetable Farro Salad.
2. Cheese: I love cheese. I eat it every day, and my deli drawer is always stocked with a variety of formaggio. I am never without Parmigiano Reggiano. I also have fresh mozzarella, ricotta, feta, goat cheese, cream cheese, cottage cheese, Muenster, and Havarti. Some of my favorite recipes to make using cheese include Eggplant Parmigiana and Baked Penne.
3. Dairy Products: I'm not a milk drinker, but I always have organic 2% milk to pour into my cereal and to make the béchamel sauce that goes into my Pasta with Bechamel Sauce (bad pictures alert!). I always have buttermilk to use in baked goods, and my Buttermilk Waffles. I also never run out of half & half for my morning cup of caffè, and heavy whipping cream to add to a sauce or make homemade whipped cream.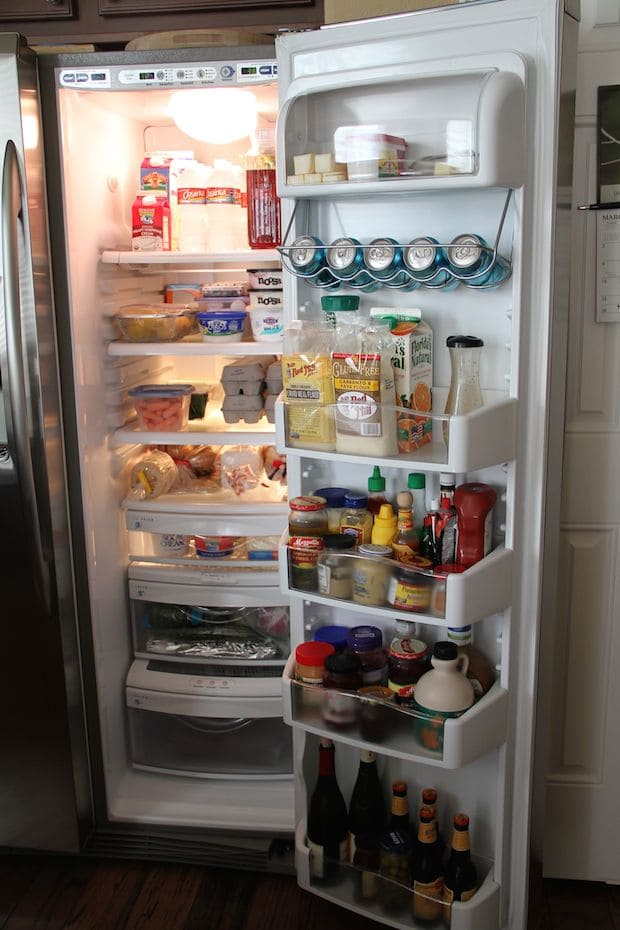 4. Condiments: I have two refrigerator door compartments dedicated to (and stuffed with) condiments: Tabasco sauce, Sriracha, yellow and Dijon mustards, ketchup, mayonnaise, tomato paste, maple syrup, A-1 sauce, capers, soy sauce, and peanut butter. I love how versatile condiments can be and how they can enhance flavor in both savory and sweet recipes.
5. Almond Flour: This is a relatively new ingredient I've been using and I love it. I'm still trying out new recipes with it and it has become a staple in my kitchen. Because nut flours can go rancid at room temperature, it's always best to store them in the refrigerator or freezer. I made this Almond Torta with Chocolate Chips for a dinner party and it was the hit of the evening.
6. Butter: I don't know if I should be embarrassed to admit this, but I always have no less than 6 boxes of unsalted butter in my freezer and another 2 open and ready to use in the refrigerator. I get a bit twitchy when I see that I'm running low on butter! Since I adore baking, I never want to run low on this essential ingredient. I couldn't live without it! How would I make my Pie Crust or Italian Pastry Ring?
7. Yogurt: I love to eat 2% plain Greek yogurt with my homemade Granola and fresh berries for breakfast. I also always have a large container of organic plain whole milk yogurt to use in baked goods and smoothies.
8. Bread: I keep small ciabatta loaves in the freezer for making panini. I also keep sliced white and multigrain bread for toast, sandwiches and grilled cheese. I love having Naan on hand to make a quick pizza or to brown in the oven and cut up into wedges for dipping into hummus for a snack. Peter loves his weekend morning English muffin with peanut butter, so those are always in the refrigerator as well.
9. Eggs: Like butter, I never run out of eggs. If you read my post about this Vegetable Frittata, you'll learn just how picky I am about how I eat eggs. Nevertheless, I consider eggs to be an essential refrigerator staple since I bake often. Of the four dozen eggs I always have in my refrigerator, one dozen is reserved for my dog, Sienna, who gets two scrambled eggs mixed into her kibble every morning. Even the dog eats well in the Flavia's Flavors kitchen!
10. Wine: No Italian household is ever without vino! I always have several bottles of red and white wine ready to offer to dinner guests. Although I'm not a wine drinker, I love to use it in my cooking. My Ragu Bolognese uses both red and white wine to make this luscious pasta sauce.
This was so much fun! Thanks, Aggie!
Are you following me on Instagram, Twitter, Facebook and Pinterest? If you'd like to subscribe to Aggie's Kitchen and have each post delivered straight to your e-mail box, then please add your email here. Happy cooking!
There are affiliate links in this post. I make small earnings through any purchases made through these links. Thank you for supporting Aggie's Kitchen!