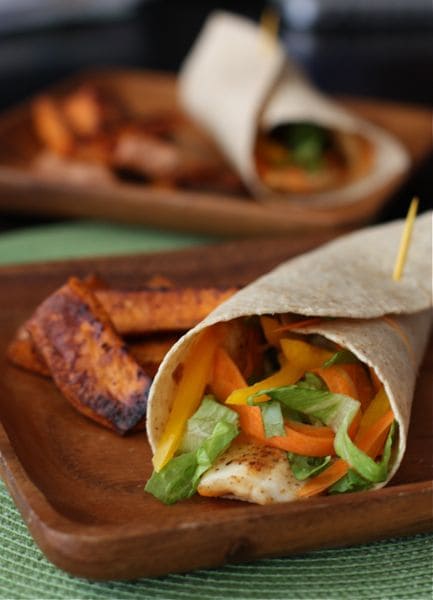 I'm pretty excited about today's post and giveaway, it's my biggest giveaway I've had here on the blog and it's for a product I love and have been using for a long time. I'm asked often about what kind of nonstick skillets I use and over the years, I can tell you, I've gone through quite a few and have stuck with Calphalon for as long as I can remember now.
I think it's safe to say that my family uses our nonstick skillets almost daily. My husband is always cooking up eggs for us for breakfast, and I like to use them for frittatas, fish and quick vegetable sautes. Since I'm usually trying to keep the amount of oil and butter I use to a minimum, a good nonstick skillet is something I really depend on in my cooking.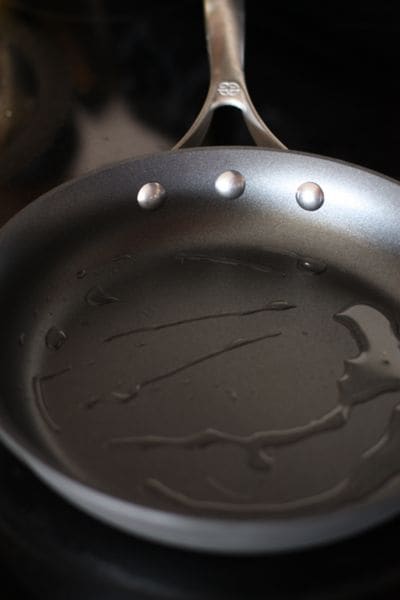 (this is the Calphalon Unison Nonstick 10″ Omelet Pan – with only 1/2 a teaspoon of coconut oil that I used for this recipe)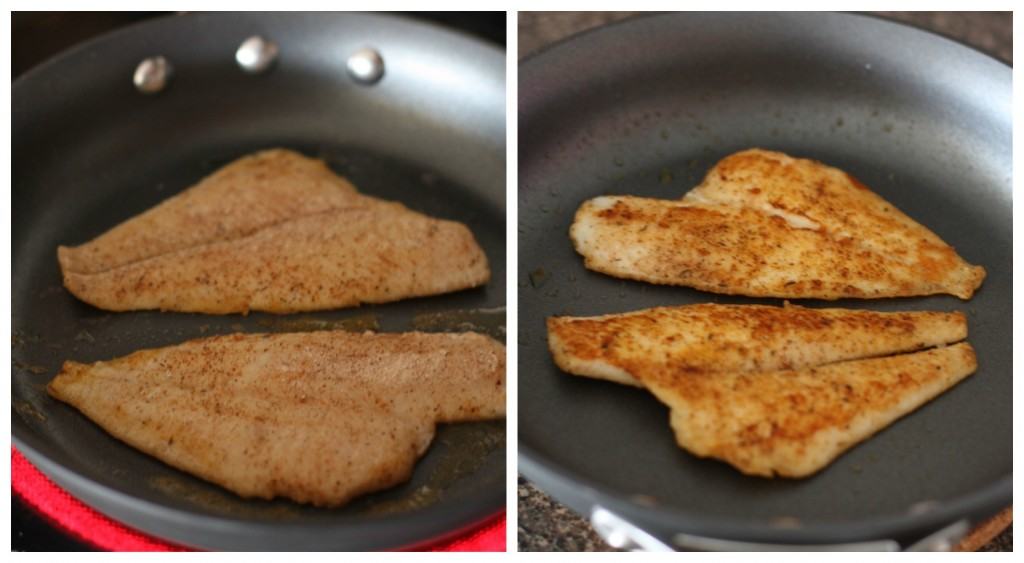 Fish is something I cook for my family usually a couple of times a week. I tend to broil salmon, but I really like pan frying seasoned white fish, like flounder or tilapia, for quick weeknight meals. It cooks up in just minutes and is perfect alongside veggies, over a salad or in a sandwich like the one I'm sharing with you today. Using a nonstick skillet like this Calphalon Unison one really cuts down on the amount of oil you have to use to get a nicely seared piece of fish. I only use about a 1/2 – 1 teaspoon each time I cook in my nonstick skillet and the food literally just slides out of the pan and onto your plate. Literally.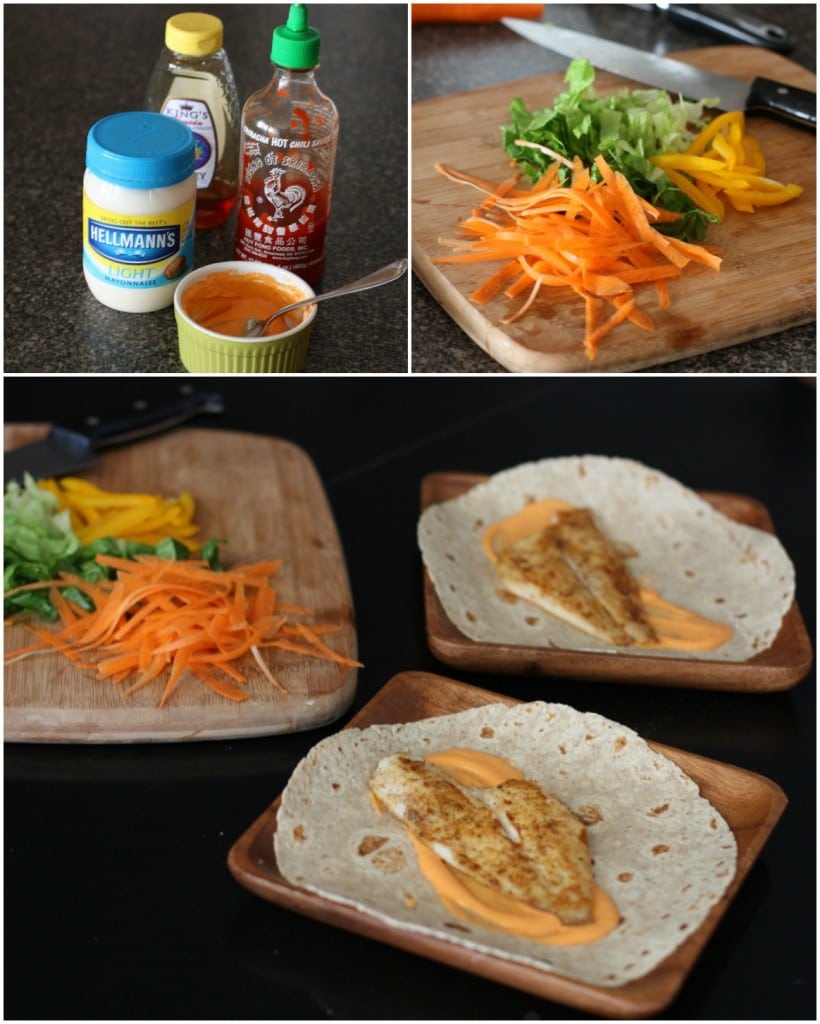 These Spicy Fish Wraps are perfect for when you are looking for something quick and light to make for lunch or dinner. All you need is a few ingredients – wraps, fresh veggies and fish – along with some kicked up mayo, and you've got yourself a meal you could feel good about. I always love a good fish sandwich but sometimes I really just don't want to feel heavy after eating a big piece of bread. I opted to use whole wheat wraps to keep things lighter – and because whole wheat wraps tend to be full of protein and fiber, you still feel full and satisfied.
You can customize these wraps however you'd like. I used regular seafood seasoning this time around, but I love blackened fish so next time I make them I'll use my favorite blackening seasoning instead. I served them alongside some roasted sweet potatoes, but they would be also great with some slaw or baked chips.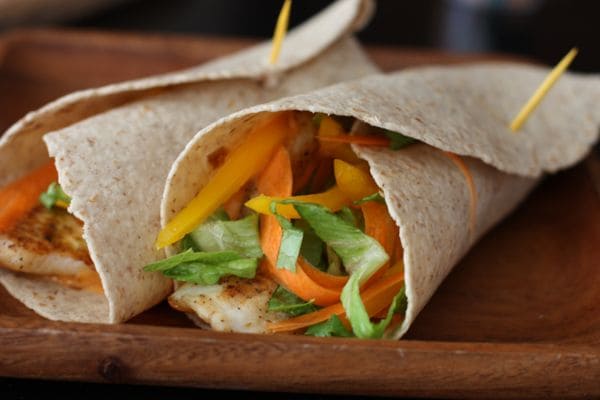 Spicy Fish Wraps
Pan fried fish makes lunch and dinner come together incredibly quick and easy, especially when cooking it in a good nonstick skillet. The seasoned flour coating gives it a nice texture without extra calories. Enjoy these wraps all year long when you are craving something light and healthy.
Ingredients
2 4-5 oz white fish fillets (I used flounder, but tilapia would be great too!)
1 tablespoon flour (I used white whole wheat flour)
1 tablespoon Chef Prudhomme Seafood Magic or any seafood seasoning blend
1/2 teaspoon coconut oil (or cooking oil of choice)
For spicy mayonnaise:
2 teaspoons mayonnaise
1 teaspoon sriracha
1/2 teaspoon honey (optional)
splash apple cider vinegar (optional)
tiny pinch salt and pepper
For wraps:
2 wraps
shredded romaine
shredded carrots
thinly sliced red onion or red/yellow bell pepper, optional
Instructions
Prepare spicy mayonnaise first by combining ingredients in a small bowl, set aside.
Prepare your fish seasoning by combining flour and seafood seasoning in a large plate. Take your fish fillets and gently pat until completely dry on both sides. Set aside until your pan is ready.
Pre-heat your nonstick pan over medium-high heat. When pan is hot, add your oil to pan and let heat up. You can test if its ready by sprinkling a small amount of flour mixture in oil, if it sizzles, it's ready.
Lightly coat your fish fillets in the flour and seasoning mixture, pressing down gently on both sides. Shake off any excess flour and place in your pan. Cook both fillets on bottom side for 2-3 minutes and carefully flip. Cook for about another 2 minutes or until browned on both sides. Carefully slide your fish onto a plate and set aside.
Begin to assemble your wraps by spreading the spicy mayo on wrap, then topping with fish fillet and your veggies. Flip up bottom third of wrap, then pull in both sides into middle to turn into a "sandwich".
Notes
You can keep your kicked up mayonnaise simple and spicy by just using sriracha and mayonnaise. I mellowed out the kick (but kept the flavor) by adding a little drip of honey and splash of vinegar. The choice is yours.
http://aggieskitchen.com/2012/11/19/spicy-fish-wraps-and-500-calphalon-gift-card-giveaway/
I've partnered up with Calphalon for the launch of their new Your Set site - a place where you can create your own unique cookware set based on your personal cooking style. Instead of purchasing pre-packaged sets, you are basically building your own mix and match set with your cooking needs in mind by choosing between Calphalon's premium lines of cookware, Unison Nonstick and AccuCore Stainless Steel. Go check it out and play around. Pretty cool if you ask me.
As part of the new Your Set site launch, Calphalon is generously offering one of my readers a chance to win a $500 Calphalon Gift Card.
(Giveaway is now closed – congratulations to Thomas for winning the gift card!! Thank you to all who entered!)
Giveaway Details:
One lucky reader will receive:
$500 Calphalon Gift Card
Starts today, Monday, November 19  and ends Monday, December 3 at 12 noon (EST)
(Sorry, giveaway open to US readers only. Winner will be chosen randomly using Pick Giveaway Winner plugin application – winner will be notified by email and have 48 hours to claim prize or another winner will be selected.)
To enter into the giveaway:
Leave a comment on this post. If you already have a favorite Calphalon product you use, please share!
Additional Entries can be earned by:
(leave a separate comment after you complete each item, each comment will count as an entry)
1. "Like" Calphalon on Facebook. (if you are already a fan, leave a comment letting me know to count as an entry)
2. "Like" Aggie's Kitchen on Facebook. (if you are already a fan, leave a comment letting me know to count as an entry)
3. Follow Calphalon on Twitter (if you already follow, leave a comment letting me know to count as an entry)
4. Follow @AggiesKitchen on Twitter (if you already follow, leave a comment letting me know to count as an entry)
5. Share about giveaway on Facebook with link to this post.
6. Tweet about giveaway: "I want to win a $500 @calphalon gift card from @aggieskitchen  http://su.pr/419DdB #giveaway #yourset"
7. Subscribe to Aggie's Kitchen RSS feed.
Lots of chances to win! Visit these blogs for additional ways to enter (and great recipes too!):
Baked Bree – Steak au Poivre Sandwiches
Eclectic Recipes – Thai Basil Pork Stir Fry
Family Fresh Cooking – Pumpkin Mac 'n Cheese
Good Life Eats – Sauteed Garlic Bacon Green Beans
Picky Palate – Homemade Chicken Ragout
Recipe Girl – Cheddar Cheese Stuffed Chicken Breasts with Apple-Bacon Pan Sauce
This blog post is part of a paid SocialMoms and Calphalon blogging program. The opinions and ideas expressed here are my own.