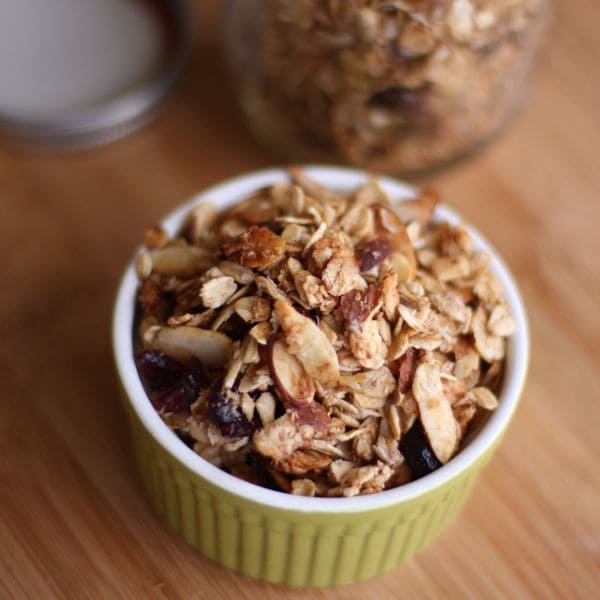 **Giveaway Now Closed** Congrats to Erika of Itzy's Kitchen!
You are going to want to make this granola. I insist that you make it, actually. Not only will it make your house smell incredible, but it is the perfect snack to take with you while you are running errands in the car, watching tv, or just playing around on the computer. It's great sprinkled over yogurt or even some vanilla ice cream. I warn you though, portion it out because you might be surprised at how much you can eat of it in one short sitting. It is definitely addictive.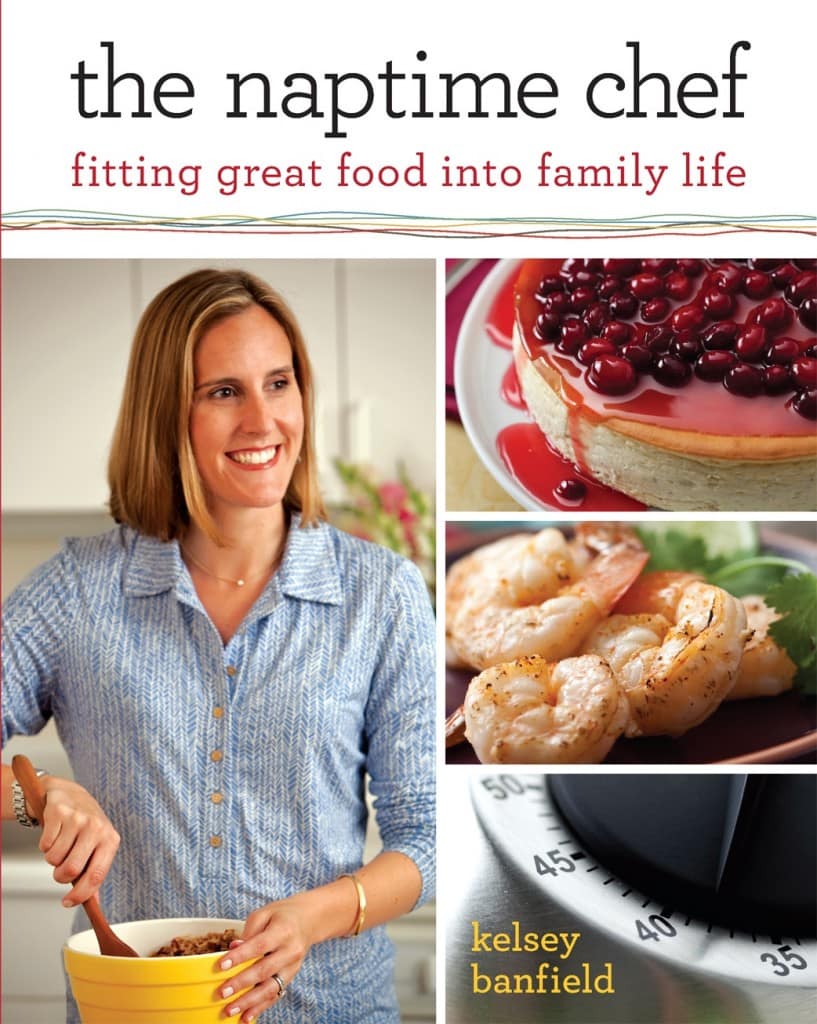 This Cranberry Spice Granola recipe is the first of many recipes I have flagged from a new cookbook written by my colleague and blogger friend, Kelsey…also knows as The Naptime Chef. I've been following Kelsey's blog for years, and recently got to know her even better through writing for Babble's Family Kitchen blog together.
What you will love the most about her cookbook (which is now available on Amazon) is that there is something for everyone in the book. The premise behind her blog, and now her cookbook, is that you don't have to compromise on good eating after having kids because your time is limited. Kelsey finds a way to create and recreate recipes that fit into a busy parent's schedule. And I love the "naptime stopwatch" she includes with every recipe, making it easy to plan ahead.
A few dishes I'm anxious to try are Orzo with Artichokes, Tomatoes and Pine Nuts, Soba Noodle Salad, Baked Sesame Tomatoes, Sticky Orange Drumsticks (my daughter will LOVE these!) and the Artichoke Lasagna. Did this list just make you as hungry as it did me?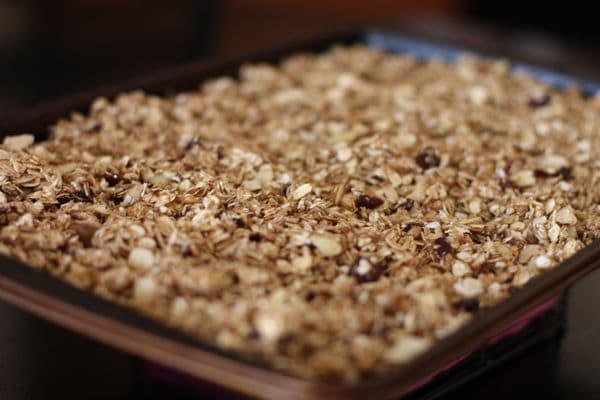 In the meantime though, I'll just continue to snack on this granola.
If you have never had homemade granola, then you're in for a treat. Homemade granola is incredibly versatile, change it up based on what you have on hand. I happened to be out of the pecans that were called for in this recipe, so I easily subbed in sliced almonds.
Cranberry Spice Granola
Recipe from The Naptime Chef, with permission
1/3 cup vegetable oil (I cut this down to about a 1/4 cup)
3 cups old fashioned oats, not quick cooking)
1 cup sweetened shredded coconut (I used the unsweetened variety)
1 cup chopped pecans (I used sliced almonds)
1 teaspoon sea or kosher salt
1 teaspoon ground cinnamon
1/4 teaspoon ground nutmeg
1/4 teaspoon ground ginger
1 teaspoon vanilla extract
1/2 cup pure maple syrup
1/4 cup apple cider or apple juice
1 cup dried cranberries
Preheat oven to 350 degrees. Grease a large rimmed baking sheet with a little vegetable oil or non-stick cooking spray. Set aside.
In a large bowl, combine oats, coconut, nuts, salt, cinnamon, nutmeg, and ginger. Gently stir together with a spoon until the oats and spices are completely mixed. In a separate bowl, combine oil, vanilla extract, maple syrup and apple juice or cider and pour over oat mixture. Stir the oats carefully and gently until completely combined and coated with the liquids.
Spread the oat mixture on your baking sheet in an even layer and bake for 10 minutes. After 10 minutes, take your baking sheet out of oven and carefully stir the granola so that it will toast up evenly. Place back in oven and cook for an additional 10-12 minutes or until golden brown. Remove pan from oven and add cranberries to granola, stirring to combine. Let cool.
Once cooled, store in a cool dry place in a container with a tight fitting lid.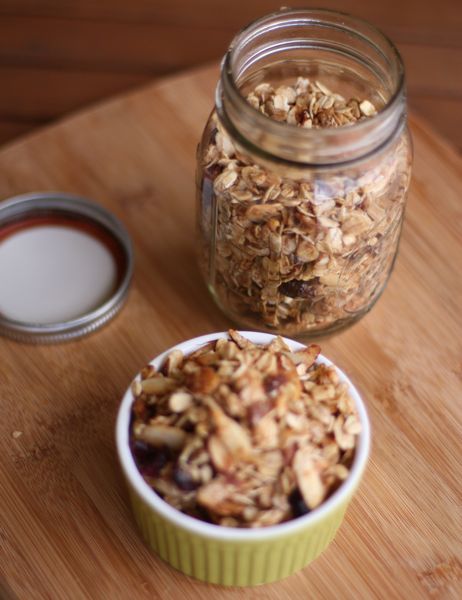 Giveaway:
One lucky winner will receive their own copy of The Naptime Chef cookbook
Starts today, Saturday, March 10 and ends Thursday, March 15 at 12 noon (EST)
(Sorry, giveaway open to US readers only. Winner will be chosen randomly using Pick Giveaway Winner plugin application – winner will be notified by email and have 48 hours to claim prize or another winner will be selected.)
To enter into the giveaway:
Leave a comment on this post telling me what your favorite snack is.
Additional Entries can be earned by:
(leave a separate comment after you complete each item, each comment will count as an entry)
1. "Like" Aggie's Kitchen on Facebook. (if you already a fan, let me know, that counts as an entry!)
2. Follow @AggiesKitchen on Twitter (if you already follow, let me know, that counts as an entry!)
3. "Like" The Naptime Chef on Facebook.
4. Follow @TheNaptimeChef on Twitter
5. Share about giveaway on Twitter: "I want to win The Naptime Chef cookbook from @aggieskitchen http://su.pr/19C84T #giveaway "
6. Share about giveaway on Facebook with link to this post.
7. Subscribe to Aggie's Kitchen RSS feed.
(and of course…I'm required to tell you…)
Disclaimer: I received my own copy for review for this giveaway but as always my opinions on this blog are always my own.