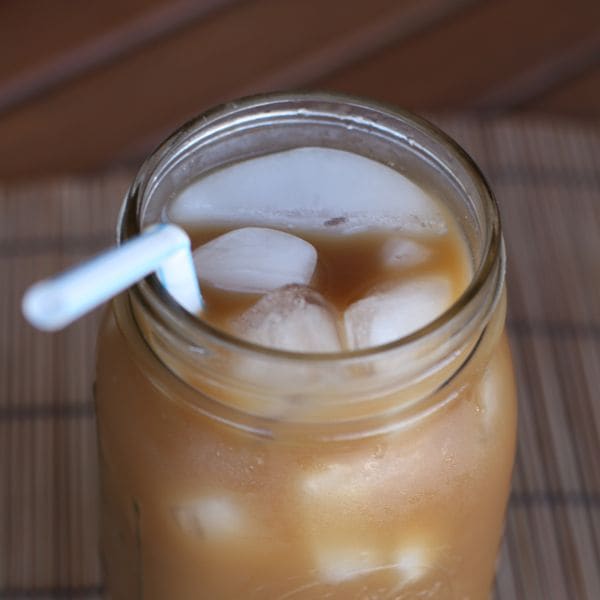 I'm a coffee drinker. I love my coffee first thing in the morning…so much that I've finally trained figured out a way to get my husband to make it for me every morning. It's simple, it gets me out of bed with a smile and I need it to function. I'm so glad that my family understands this. This is good.
Now, I like my cup of hot coffee in the morning (is there anything better than that FIRST sip from your mug…???), but what I also love is my mid-morning iced coffee that I started treating myself to this past year. I basically just started dumping the leftover coffee over ice instead of down the sink…it was one of those 'duh, why didn't I do this sooner?' type of moments…
It's a nice pick me up after I work out, or drop off the kids at school, or to take with me as I run errands. It's a perfect mid-morning or afternoon treat. It really is.
And it only takes seconds to make.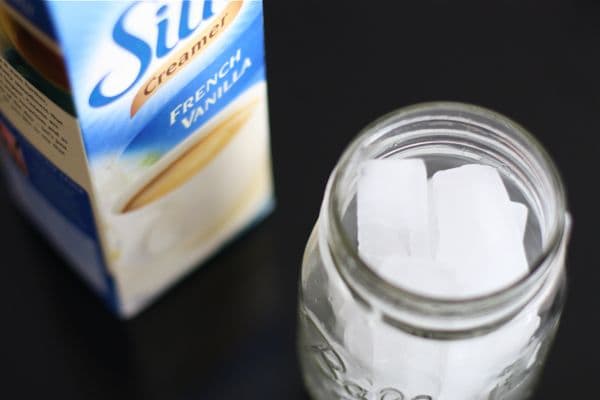 For me, it's two (well actually three) ingredients: leftover coffee, ice and a couple of splashes of my favorite Silk French Vanilla creamer (perfectly sweet enough!)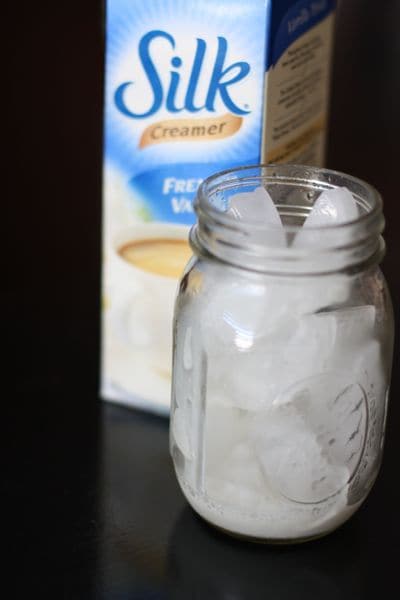 Perfection. Yum.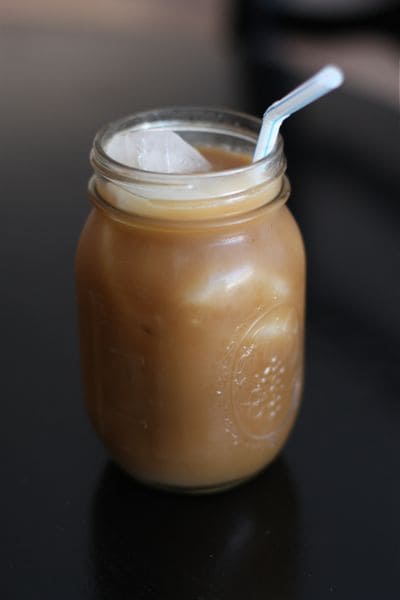 ************************************************************************************************
Have you tried Dunkin' Donuts coffee? I know you all have tried their donuts…but have you tried their COFFEE? It's my favorite. You have to taste it.
I discovered Dunkin' Donuts coffee a few years ago when my first baby was still a baby. I was a sleep deprived mom then and I spent most every afternoon at the park with my friend Allison running our boys around. We got into the habit of stopping by Dunkin' for a BIG iced coffee and enjoying it together in the hot Florida sun at the park (or on the way to Sea World, library, mall, you get the picture…). This is how I got hooked on Dunkin'. (their convenient drive-thru, the fact that they actually put the cream and sweetener in the coffee for you, and the cake donut holes were a bonus too!).
So did you know that you don't have to go through a drive thru or sit in a park to enjoy a big Dunkin' coffee? I'm happy to know that I don't anymore. You can pick it up at your grocery store or at Target, or pharmacy or pretty much where ever they sell coffee and enjoy it at home. I usually pick up Original Blend, but I have my eye on some of their seasonal blends and the Cinnamon one too.
Find out more about Dunkin' Donuts coffee and where you can buy some here. And if you want to hear about promotions, receive coupons and find out about any special offers, you can sign up here.
I want to give you some of their coffee (and some mugs too!)…
Giveaway:
One lucky winner will receive one bag of Original Blend, one bag of Decaf and 2 Dunkin' Donuts mugs
Starts today, Thursday, January 19 and ends Wednesday, January 25 at 12 noon (EST)
(Sorry, giveaway open to US readers only. Winner will be chosen randomly using Pick Giveaway Winner plugin application – winner will be notified by email and have 48 hours to claim prize or another winner will be selected.)
To enter into the giveaway:
Leave a comment on this post telling me how you like your coffee. (light, dark, iced, flavored, sweet, cream, milk, soy, sugar….etc etc)
Additional Entries can be earned by:
(leave a separate comment after you complete each item, each comment will count as an entry)
1. "Like" Aggie's Kitchen on Facebook. (if you already a fan, let me know, that counts as an entry!)
2. Follow @AggiesKitchen on Twitter (if you already follow, let me know, that counts as an entry!)
3. Share about giveaway on Twitter: "I want to win a Dunkin' Donuts coffee prize pack from @aggieskitchen http://su.pr/2USNsH #giveaway "
4. Share about giveaway on Facebook with link to this post.
5. Subscribe to Aggie's Kitchen RSS feed.
(and of course…I'm required to tell you…)
Disclaimer: I have received product and compensation from Dunkin Donuts for this giveaway but as always my opinions on this blog are always my own.

if (! ( is_single() && in_category('437') )) { ?> } ?>