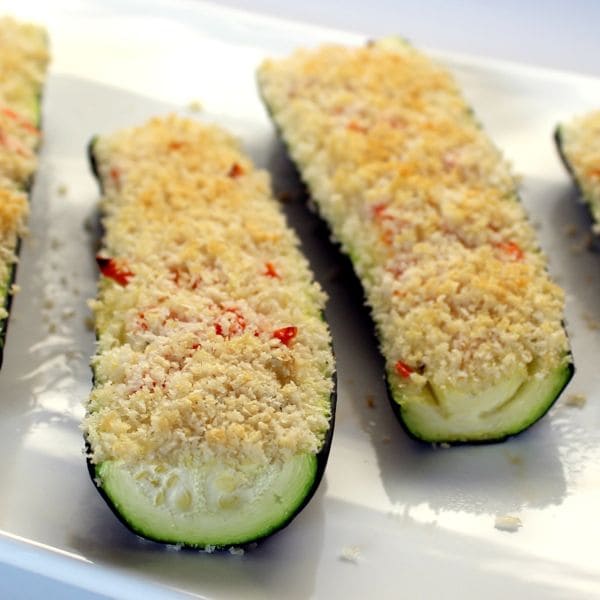 I invited Rachel of Not Rachael Ray over here today to share one of her yummy recipes with you. I have been reading Rachel's blog for a few months now, we met on Twitter (right Rachel?), talking about food and fitness I'm sure, and I am so glad we did because I love her blog and her food! What makes her posts a little extra fun to read are her notes after each recipe she cooks, I love seeing what her and her husband's thoughts are about the recipe and if there is anything she would do differently . And can I just say…her daughter is adorable! Thanks for being here Rachel…these Stuffed Zucchini look amazing!
Make sure you stop by Rachel's blog and say hello!
*****************************************************************************************************
When Aggie asked me to guest post for her, I jumped at the chance. I've been reading her blog for awhile now and have loved it from the very beginning. Aggie and I are similar in many ways, family girls, healthy eaters (although I think she has better discipline in that department than I do), and fitness lovers.
I'll quickly introduce myself, if you want to learn more, check out my blog and my about me page. I started my blog because I love cooking and baking, but I'm not a trained chef. I went to school to become a Doctor of Physical Therapy, and while I love that job, I have transitioned into being a stay-at-home mom. I still work at the hospital here and there when I'm needed, but most of the time I'm at home hanging out with my little girl. Being a stay-at-home mom has given me more time to try new recipes and document them on my blog for everyone else to try. It has become such a fun hobby and a new passion of mine.
Today I have some stuffed zucchini for you. It is a quick and easy side dish.
Typically I prepare zucchini one of two ways: Sautéed in a pan with or without other veggies, or thrown on the grill with a little olive oil and salt and pepper. Boring right? Especially when you write a food blog.
I think it scares my husband when I utter the words, "I tried something new today." See, my husband loves all things traditional.
Having steak? It better be served up on a plate with some sautéed mushrooms.
Cooked carrots? Mashed up with chili powder? What?
Chocolate chip cookies? Hope there aren't any oats or nuts included in the dough! (Side note: I read this post to him, and he said "Yeah, that really bugs me." Ha!)
Carrot soup on the menu? Somebody will be walking through the door with carry-out bags.
In all honesty, he's a really good sport and will try almost anything. And I'm not a horrible wife; I won't make things if I am already certain he won't like them. In fact, most times, I try to make things that he really is going to love. Like seared tuna, braised lamb shanks, and BBQ chicken pizza.
However, sometimes I do live life a little bit on the edge and push the boundaries a bit. Because I write a food blog. And because I love trying new things. Pushing the boundaries is what I thought I was doing with this concoction. Hubs isn't a big cheese lover (I know, so weird!), so I wasn't entirely sure he would like these stuffed zucchini. But I figured he could always push the cheese out and still eat the zucchini. Win-win. Turns out he loved them.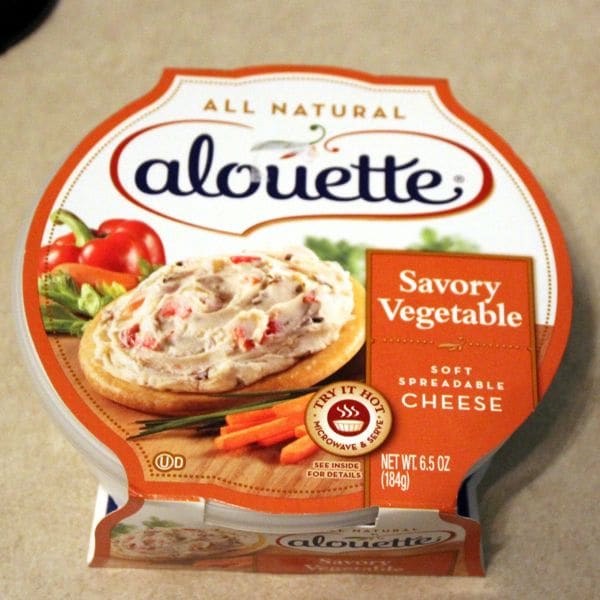 They're super easy and delicious and a fun new side dish. I used a spreadable cheese of the "savory vegetable" variety. This recipe would be great with a garlic-herb cheese spread, but hubs isn't a huge garlic lover, and like I said, I'm not a completely horrible wife!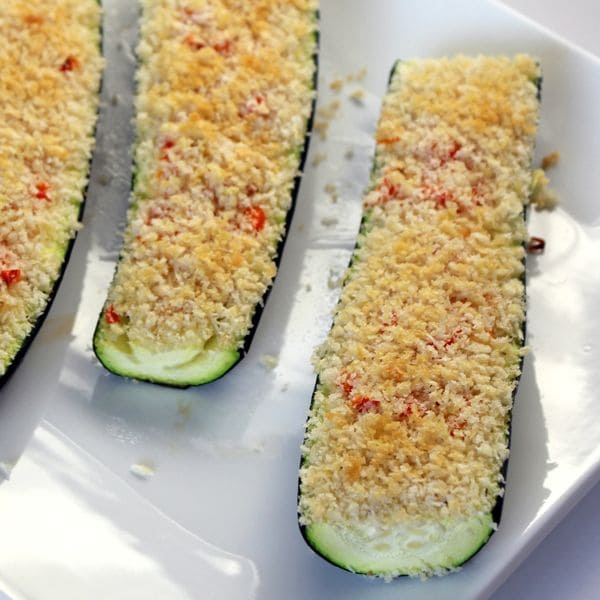 Stuffed Zucchini (makes 4 servings)
a Not Rachael Ray original
2 zucchinis
1/2 to 3/4 cup of spreadable cheese (pick your favorite variety)
1/4 cup finely diced red bell pepper
1/2 cup panko bread crumbs
Olive oil
1. Preheat oven to 350*F.
2. Cut off ends of zucchini and slice lengthwise so that you have four long halves. Using a spoon, hollow out the middle (take out the seeds) of each half, leaving a little bit on each end to prevent the filling from running out. Place zucchini on foil-lined sheet pan (for easy clean-up!).
3. Spread cheese into hollowed out zucchini.
4. Sprinkle with diced red bell pepper.
5. Cover each zucchini with breadcrumbs, and spritz with olive oil. (If you don't have a spritzer, just drizzle as lightly as possible, or spray lightly with non-stick spray.)
6. Bake for 25-30 minutes or until zucchini is cooked and breadcrumbs are golden brown.
Verdict: These turned out so great! The zucchini was perfectly cooked and with the creamy cheese and crispy breadcrumbs, everything just worked. Great textural variety.
Husband's take: Surprisingly, he said, "I actually really like them, they are good." I practically fainted. Okay, not really. But I was pleasantly surprised.
Changes I would make: None.
Difficulty: Easy!
Thanks again for having me, Aggie!

if (! ( is_single() && in_category('437') )) { ?> } ?>