Whole Wheat Spaghetti with Roasted Peppers and Eggplant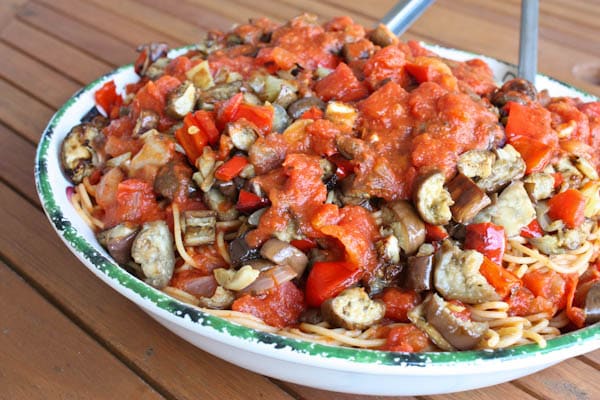 Just look at that glorious bowl of pasta. Does it make you hungry? It sure makes me hungry that's for sure. I honestly don't know if I've ever met a bowl of pasta that doesn't instantly make my stomach growl. It is truly one of my comfort foods, and loaded with fresh roasted veggies like this one makes it even better.
This pasta dish is one of my go-to pastas  to make when I find that I was a little too overzealous with my produce purchase for the week. I am always buying too many vegetables, and I can not stand letting them go to waste so roasting them up has always been the best and quickest solution to that "problem".
I'm obsessed with these pretty Chinese eggplants by the way…thought you should know.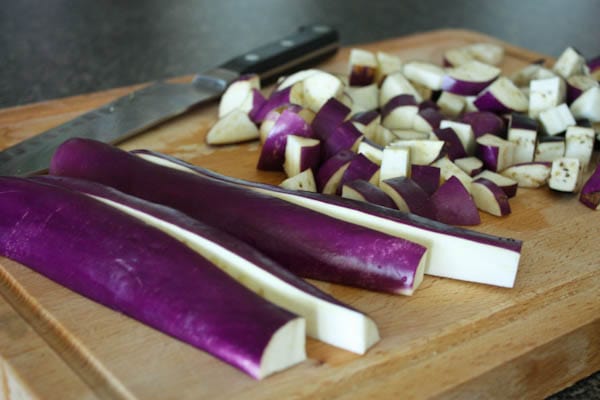 Chinese eggplant have become my favorite eggplant to cook with, mostly because they have little to no seeds and very thin skin. The pretty purple color makes them taste even better in my opinion. 😉
(My Sicilian grandpa agrees, he loves these eggplants too.)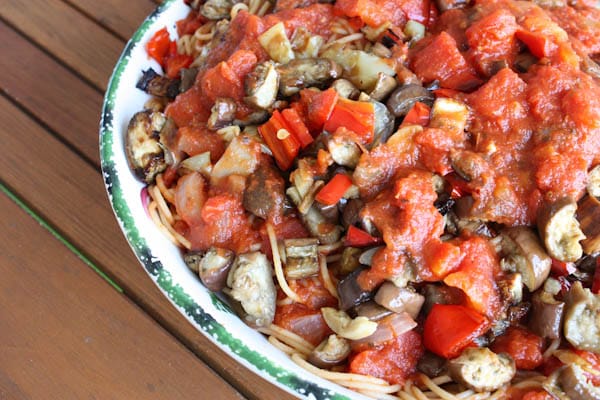 This is the perfect pasta dish to serve up "family style" when you are entertaining. The colors and textures are just gorgeous and completely satisfying. You can easily serve it alongside some grilled Italian sausages and a green salad to complete the meal.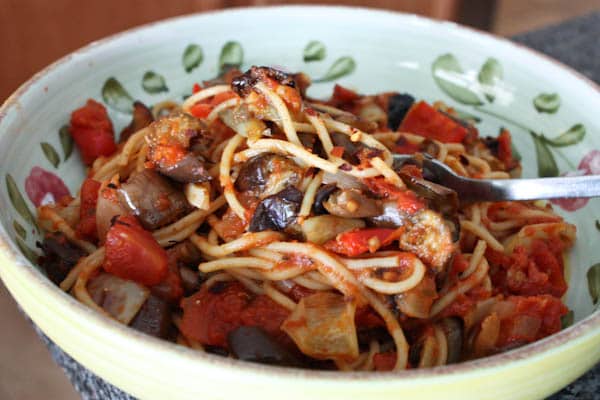 Whole Wheat Spaghetti with Roasted Peppers and Eggplant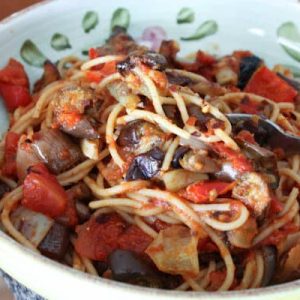 Ingredients:
2 large Chinese eggplant, cut in uniform pieces, about 1″
3 large red, orange or yellow bell peppers, cut 1″ chunks
2 red onions, cut in 1″ chunks
3 garlic cloves, minced
2 tablespoons olive oil, plus additional for drizzling over pasta when ready
salt and fresh ground pepper, to taste
1 28 oz can diced Italian tomatoes, not drained
1 28 oz can tomato sauce
big pinch of dried oregano
1 lb whole wheat spaghetti (any pasta shape can easily be substituted)
Directions:
Preheat oven to 425 degrees.
Toss cut vegetables with olive oil, garlic, salt and pepper and spread out on a large baking sheet.
Bake vegetable mixture for 20 minutes. After 20 minutes, check on vegetables and gently toss to make sure they cook evenly. Bake for an additional 20-25 minutes until vegetables are nicely browned and roasted well. Set vegetables aside.
While vegetables are roasting, begin to cook pasta according to directions. When done, drain and place pasta back into pot. Set aside until sauce is ready.
In a large sauce pan, heat diced tomatoes and tomato sauce. Season with a big pinch of oregano, salt and pepper. Bring to a boil, then down to a simmer. Cook for about 15-20 minutes.
Add a cup of sauce and a drizzle of olive oil over cooked pasta and gently toss.
Serve pasta family style in large bowl (or in individual bowls) with additional sauce and roasted vegetables over pasta. Garnish with lots of freshly grated Parmesan cheese and red pepper flakes.
Notes: if Chinese eggplants are not available to you, use 1 large Italian style eggplant.
Be sure to enter my Blendtec giveaway – ends Friday at noon (EST)!
Are you following me on Instagram, Twitter, Facebook and Pinterest? If you'd like to subscribe to Aggie's Kitchen and have each post delivered straight to your e-mail box, then please add your email here. Happy cooking!
There are affiliate links in this post. I make small earnings through any purchases made through these links. Thank you for supporting Aggie's Kitchen!