Watermelon Mojitos
So what if it's Monday and I am thinking about sipping on one of these.  Nothing wrong with that!
I discovered this perfect summer drink on Dara's site not long ago.  I met Dara at evo '10, and shared a few laughs with her during our Food & Photography Workshop that we attended.  I connected with her right away and it's a shame that we live across the country from each other…I wouldn't mind making another trip out west to visit Dara, Maria and Jyl!
(Dara is one talented chickie…awesome cook, takes gorgeous photographs and is not afraid to take on this lobster!!)
If you've got some serious mint growing like I do, then go get yourself a watermelon right now while they're sweet and treat yourself to one – or a couple – of these amazing drinks.  Enjoy!
Watermelon Mojitos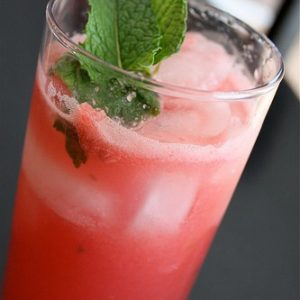 Ingredients:
3 cups 1/2-inch cubes watermelon
12 medium to large fresh mint sprigs
6 tbsp fresh lime juice
2 tbsp granulated sugar
6 oz. light rum
4 lime slices
4 mint sprigs
Directions:
Place watermelon cubes in a blender. Blend until smooth.
In a small pitcher, combine fresh mint leaves, sugar, and fresh lime juice. Using the handle of a wooden spoon, muddle the ingredients to release the oils from the mint. Take care not to muddle to the point where the leaves fall apart. Pour rum and the watermelon puree into the pitcher and stir gently.
Are you following me on Instagram, Twitter, Facebook and Pinterest? If you'd like to subscribe to Aggie's Kitchen and have each post delivered straight to your e-mail box, then please add your email here. Happy cooking!
There are affiliate links in this post. I make small earnings through any purchases made through these links. Thank you for supporting Aggie's Kitchen!