Vegetarian Enchilada Stuffed Peppers
If you are looking for a meal that is hearty and filled with flavor but meatless, then these Vegetarian Enchilada Stuffed Peppers are for you! This recipe was created in partnership with Bob's Red Mill.
Click here to pin these Vegetarian Enchilada Stuffed Peppers!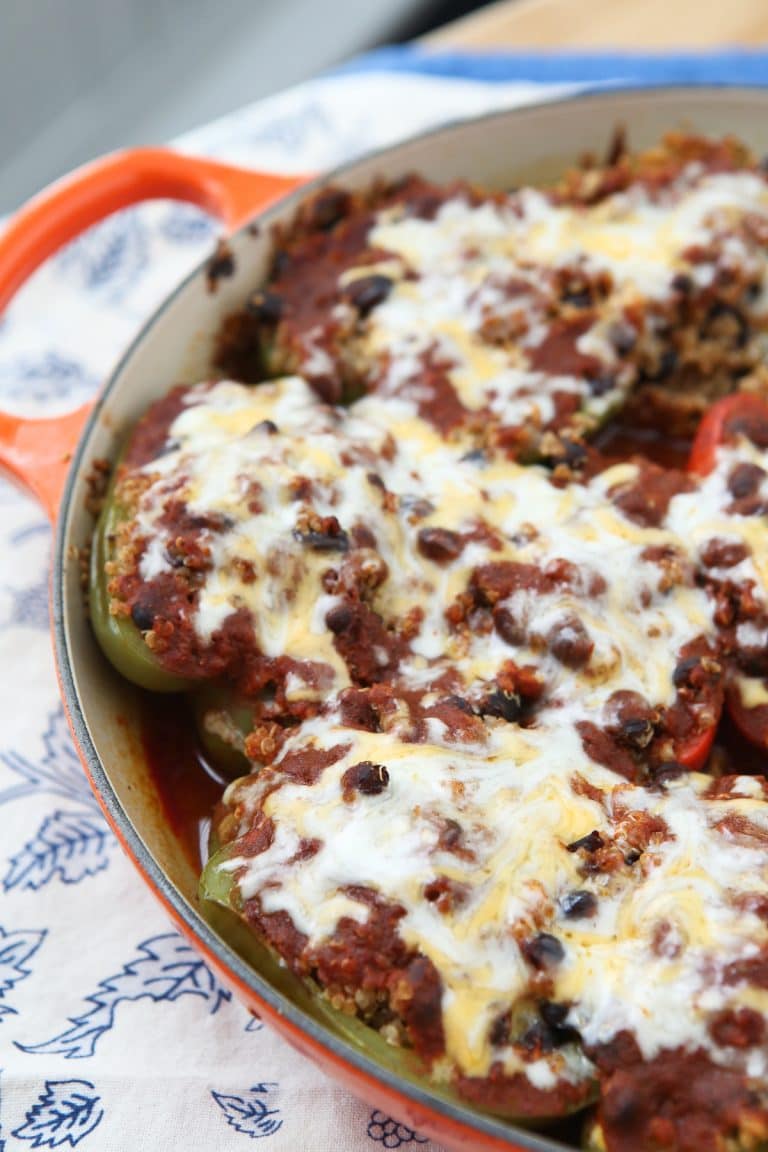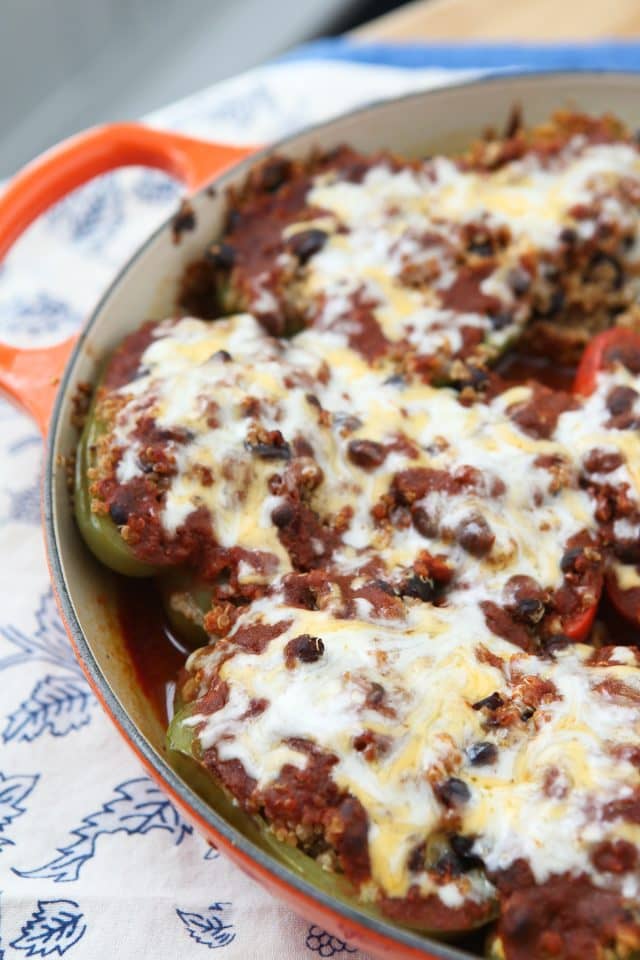 If you've been reading my blog a while, then you may remember when vegetarian meals were more of the norm here. There was a good couple of years that I cut a lot of meat out of my diet (sticking with mostly seafood and whole grains for protein). I have always enjoyed eating meatless meals but I've learned it's not always easy to pull those off with the entire family. I still try, though not as often as I used to…and honestly, sometimes I end up eating most by myself (makes lunch during the week extra easy this way!).
These Vegetarian Enchilada Stuffed Peppers are something my husband does enjoy and doesn't miss the meat (though, let's face it, he would always choose the meat option first). If you have family members that won't touch a meatless meal then you can always adjust this recipe by cutting the quinoa in half and adding 1lb of browned ground turkey or beef or even shredded chicken.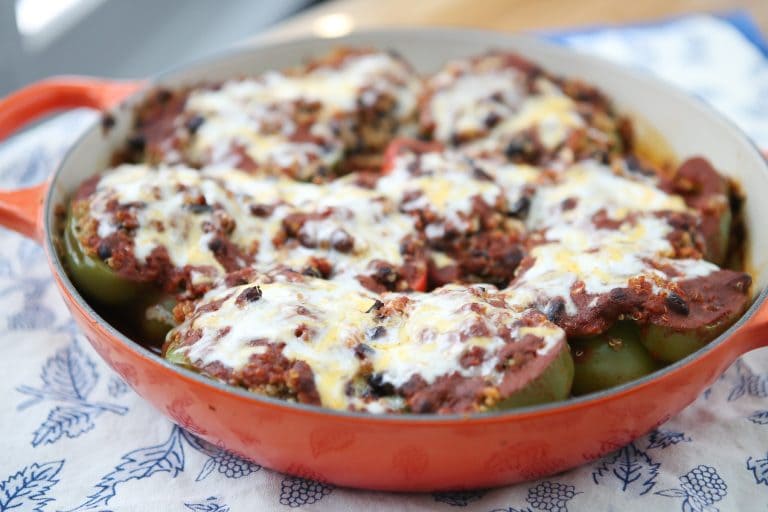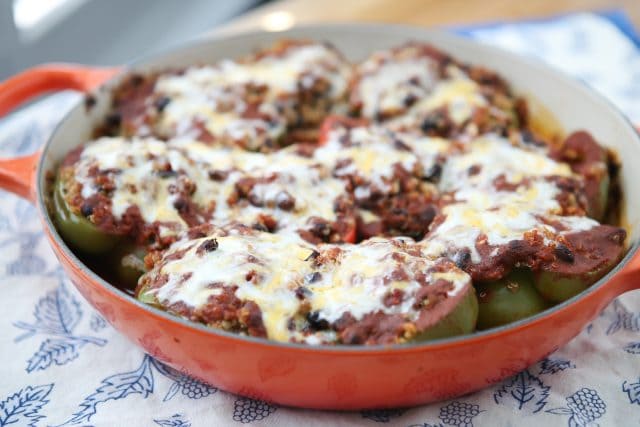 Recipes like this are pretty versatile which makes them awesome to play with and add to the dinner rotation.
To make the filling I combined my favorite protein packed whole grain – quinoa – with black beans and cheese and a few spices. Simple!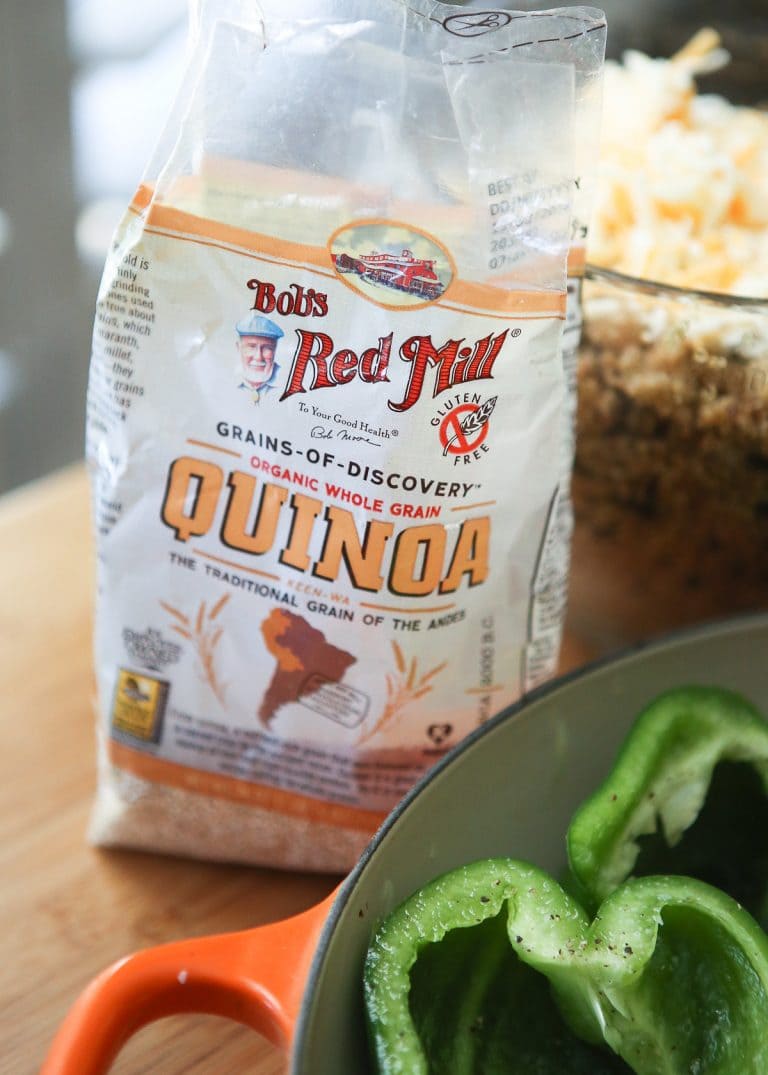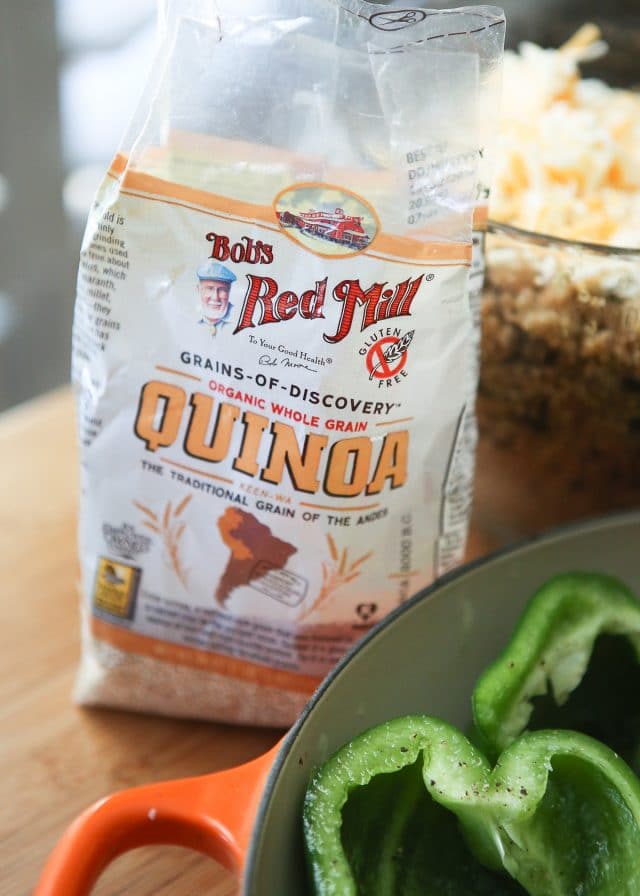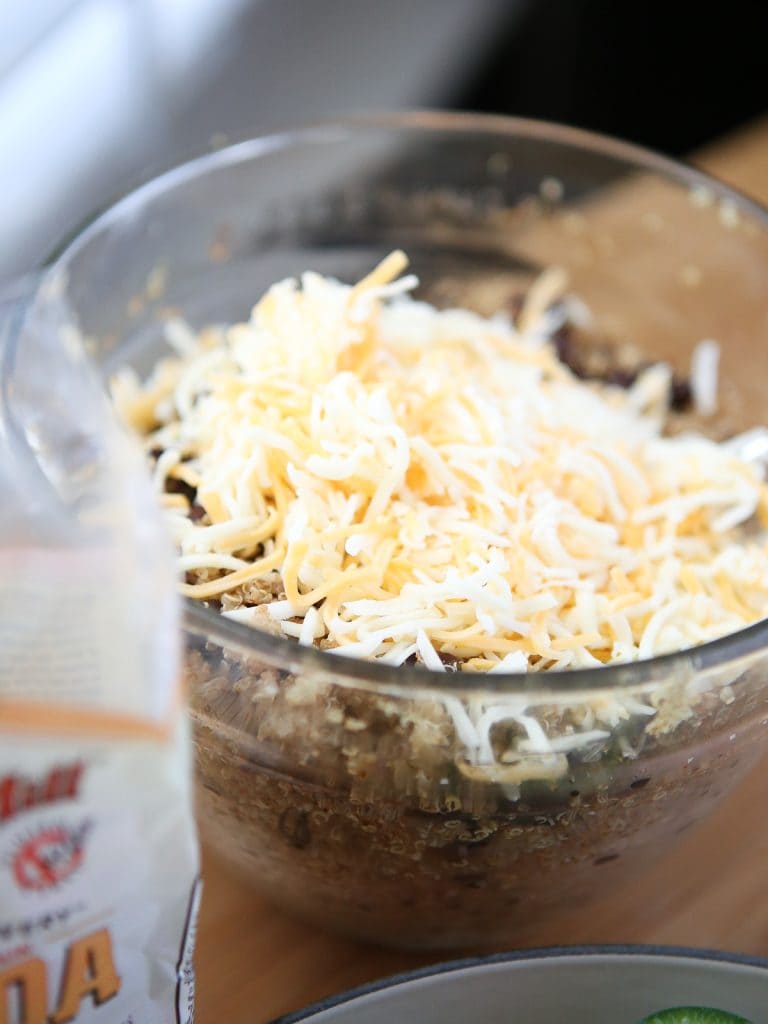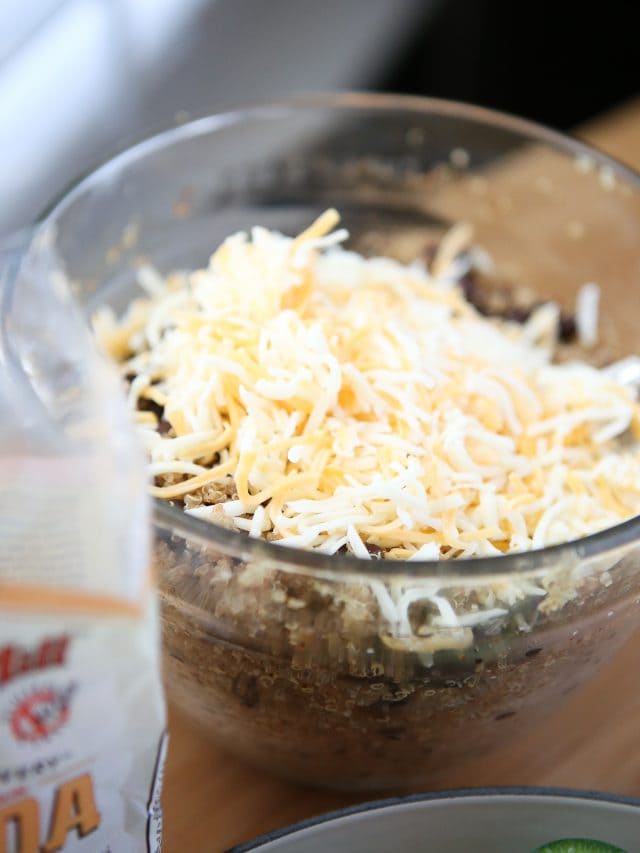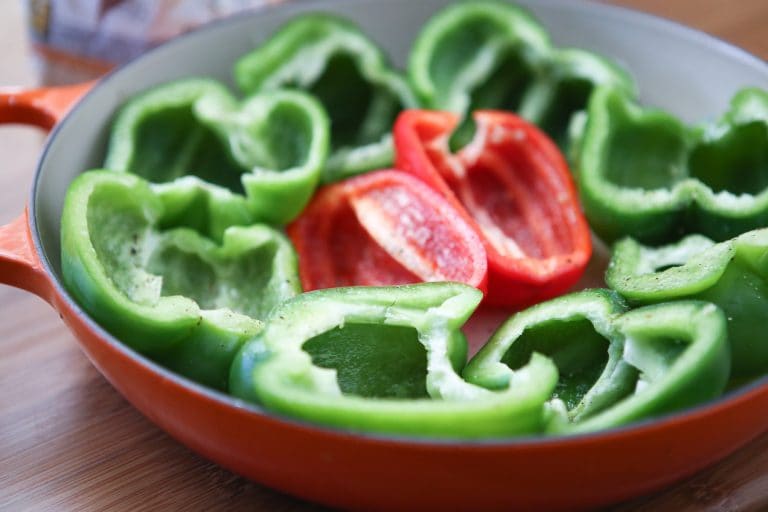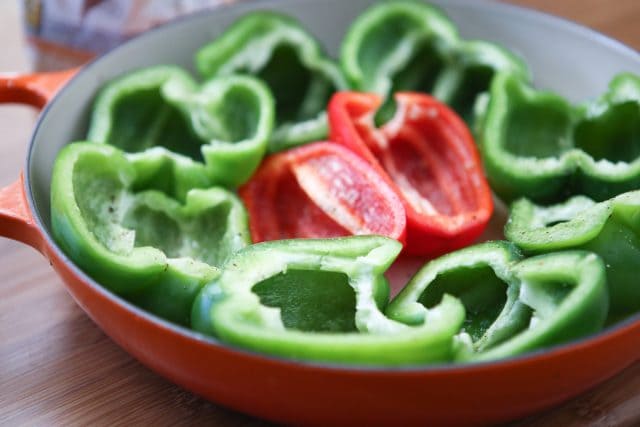 Smother your stuffed peppers with your favorite enchilada sauce and bake covered for 40 minutes. Top with cheese and cook until melted.
These would be great to prep ahead to cook later, or cook ahead to reheat later. The choice is yours!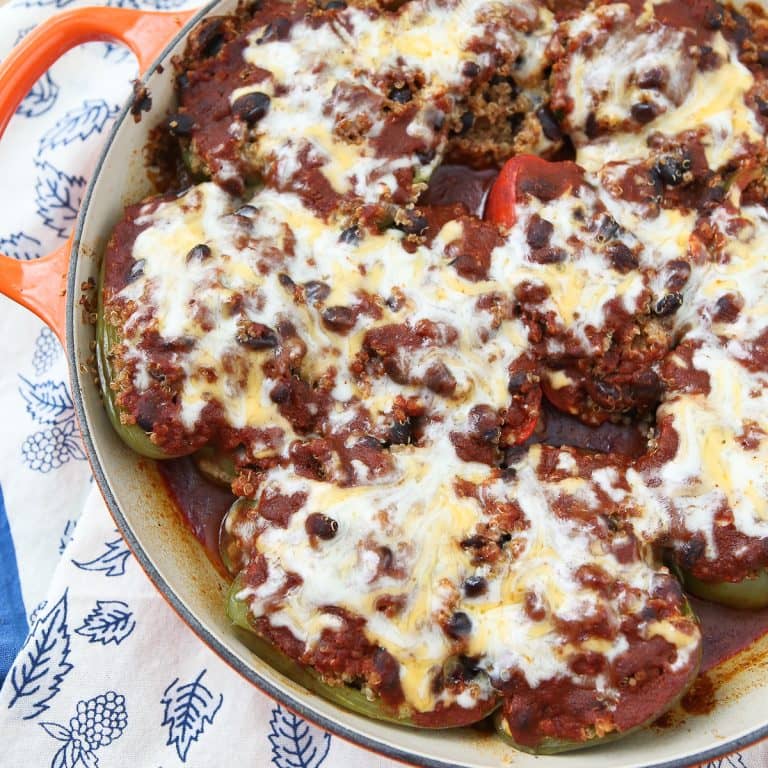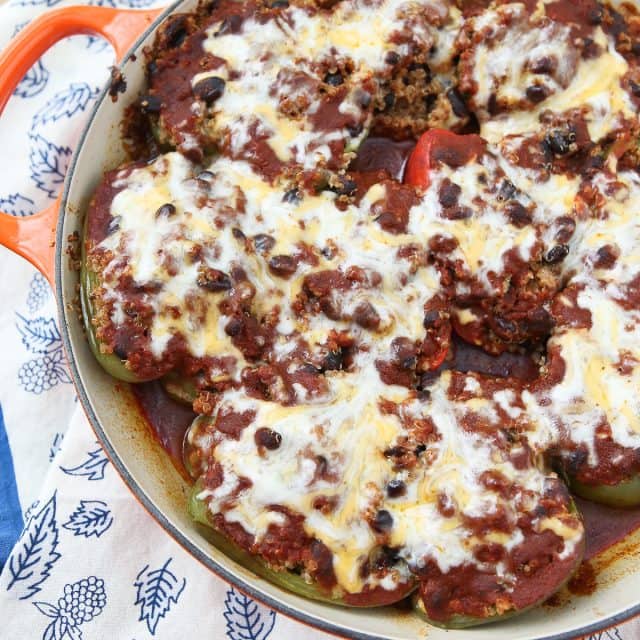 Dinner is served.
Vegetarian Enchilada Stuffed Peppers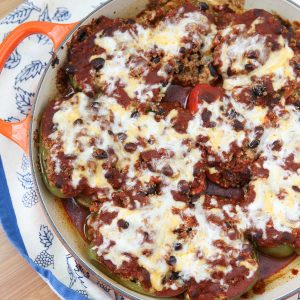 Ingredients:
1 cup uncooked Bob's Red Mill Quinoa
1 tablespoon oil
6 peppers, cut in half, deseeded and deveined
2 14 oz cans black beans, rinsed and drained
1 teaspoon garlic powder
1 teaspoon cumin
2 teaspoons chili powder
1/2 teaspoon coarse salt
1 1/2 cups shredded cheese (preferably Mexican blend), plus 1/2 cup more for topping
1/2 cup water
2 cups your favorite enchilada sauce
Directions:
Cook quinoa according to directions on package. This can be made ahead and refrigerated.
Preheat oven to 375 degrees.
In a large mixing bowl, combine quinoa with black beans, garlic powder, chili powder, cumin, salt, pepper and cheese.
Grease a large baking dish with oil. Place pepper halves into baking dish and season each pepper half with salt and pepper. Fill each pepper half with quinoa and black bean mixture. Pour enchilada sauce over peppers evenly. Add 1/2 cup water to bottom of baking dish.
Cover baking dish (with foil or cover if you have one) and bake in oven for 35-40 minutes, until bubbly. Top with additional cheese and bake for 5 minutes longer or until cheese is melted.
More quinoa recipes:
Corn and Black Bean Quinoa Salad
Broccoli Cheese Frittata Muffins with Quinoa
Chopped Quinoa Salad with Cranberries | Healthy Aperture
Quinoa Apple Cashew Salad | Reluctant Entertainer
Disclosure: I received compensation to create this recipe for Bob's Red Mill. Thank you for supporting the brands that support Aggie's Kitchen!
Are you following me on Instagram, Twitter, Facebook and Pinterest? If you'd like to subscribe to Aggie's Kitchen and have each post delivered straight to your e-mail box, then please add your email here. Happy cooking!
There are affiliate links in this post. I make small earnings through any purchases made through these links. Thank you for supporting Aggie's Kitchen!