Thursdays with Ellie Krieger… Sesame Stir Fried Chinese Greens
Before I get into this week's
Craving Ellie in my Belly
recipe, I wanted to tell you all that
Aggie's Kitchen
was included in RN Central's
Top 100 Healthy Mom Blogs
! I was very excited and honored about this since this is my first time ever being included in any type of "list"…go check it out, there are so many mom related blogs listed full of lots of great information!!
Thank you so much RN Central!
Now on to this week's recipe…Sesame Stir Fried Chinese Greens. This recipe was chosen by Joanne of Apple Crumbles…don't you just love that name? 😉 Check out the CEimB group page to see how everyone cooked up this recipe!
I used a combination of Napa Cabbage and Bok Choy and served it with Mary Ann's Zucchini and Chicken Stir Fry. I thought the greens turned out very good, but mine seemed to be a bit watery. I think it might have been my fault, I didn't really take the time to dry them out after rinsing them so a lot of the leftover water must have landed into the pan. I am curious to see what everyone else in the CEimB group thinks of this recipe, I felt like it might have been missing something…maybe it needed a little kick or something? It still was a great, quick and light side dish…perfect for an Asian inspired meal. I think next time it would go perfect with a nice piece of marinated grilled chicken or fish.
Sesame Stir Fried Chinese Greens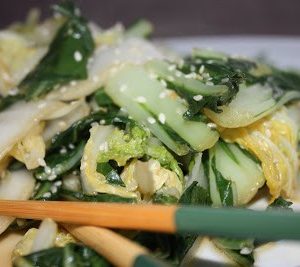 Ingredients:
2 teaspoons canola oil
2 pounds baby bok choy or Napa cabbage, sliced thin
2 tablespoons low-sodium soy sauce
1 tablespoon rice wine vinegar
2 teaspoons toasted sesame oil
1 tablespoon toasted sesame seeds
Directions:
In a wok or large frying pan heat the oil over high heat until very hot. Add the bok choy and stir-fry until they begin to soften slightly, 1 to 2 minutes. Add the soy sauce, vinegar and sesame oil and cook until just done, 1 to 2 minutes longer. Sprinkle with sesame seeds and serve.
Check out Food Network for a printable version of this recipe!

Are you following me on Instagram, Twitter, Facebook and Pinterest? If you'd like to subscribe to Aggie's Kitchen and have each post delivered straight to your e-mail box, then please add your email here. Happy cooking!
There are affiliate links in this post. I make small earnings through any purchases made through these links. Thank you for supporting Aggie's Kitchen!