Southwestern Slaw
It's really funny how recipes come about sometimes. Like this slaw for instance. It was totally inspired after a conversation with my friend Allison on the sidelines of our boys' basketball game. Now of course we were watching the game…but for some reason…food always seems to take over sneak into our conversations. You may remember Allison from our trip to Napa last fall…as a matter of fact, she's popped up quite often around here.
I love a good fresh, crunchy cole slaw.  I know some people turn their nose up at slaw, but I think if it's made right, with fresh veggies and just the right dressing, then it is totally delicious.  I took a short cut with this slaw by starting out with a bag of Fresh Express 3 Color Deli Cole Slaw mix, which always looks the best to me. You could always go all out and shred your own cabbage, but if you are in a pinch for time and looking for something easier then a bag of this will definitely work. I added in some extras to make it a little more special…shredded carrots, red bell pepper, grilled corn, green onions and cilantro.
Don't you just love all the color?
Southwestern Slaw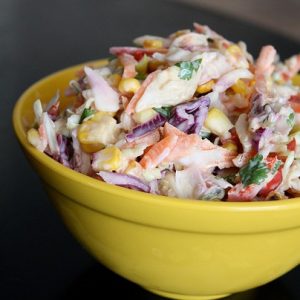 Ingredients:
1 bag of shredded slaw mix
2 carrots, shredded
1 red bell pepper, sliced very thin and cut in smaller pieces
2 green onions, sliced
2-3 ears grilled corn (kernels sliced off) or 1/2 cup frozen corn (cooked)
handful of chopped cilantro
1 cup chipotle or spicy ranch (I used Marie's Chipotle Ranch)
2 tablespoons mayo (I used reduced fat)
a few splashes apple cider vinegar
fresh ground pepper
Directions:
In large bowl combine ranch dressing, mayo, vinegar and black pepper. Taste for seasoning. Add vegetables (minus cilantro) and toss until fully dressed. Refrigerate for 2 hours or until chilled. Toss in cilantro right before serving.

******************************************************************************************
You may have noticed it looks a little different around here.  Aggie's Kitchen got a little makeover recently,  thanks to Cory of Zesty Blog Consulting and Zesty Cook. I can't tell you how excited I am about my new space…I have lots of ideas bubbling in my head and will hopefully get it together to finally share them with you. I hope you find the site easier to navigate and to find what you are looking for. I'm still in the process of updating the recipe index so bear with me there…I didn't realize how much cooking I have done over the last almost 3 years!
A couple of things that I really love:
The "Print Friendly" button at the end of each post should make it easy to print what you need for each recipe. What's cool about this little tool is you can include as much or as little from the entire post…for example, you want to print the recipe, not the pictures, but part of the post where I may have talked about how I made the recipe and/or what products I might have used. Play around with it and you'll see what I mean…
"Aggie's Kitchen Amazon Store" has existed for quite some time but I had never dedicated an entire page to it. Here I will feature what cookbooks I own or want, what tools I love to use or wish I had and anything else related to my kitchen that I think you should know about. If you shop through my store I do receive a little piece of commission, and I assure you, any money I make goes straight to my refrigerator and pantry, so I appreciate your support.  🙂
Stay connected to me outside of the blog through the "Social Media buttons". I'm a bit of a social media addict, it makes the world such a smaller place and I think that is just so cool. I love to use Facebook and Twitter to release my pent up chatter, especially when it comes to food. I'm constantly taking pictures of what I'm cooking, what I'm growing, where I'm eating and of course, my kids. I love it when I hear from a reader through social media, I have received many questions and requests for menu planning…so please, if you need to talk food, talk to me!!
Working with Zesty was a great experience. He is easy to work with, obviously talented and understands the blogging world very well. He's also a great cook so have fun checking out his blog if you haven't already!  Thanks so much for all of your work Cory!
Are you following me on Instagram, Twitter, Facebook and Pinterest? If you'd like to subscribe to Aggie's Kitchen and have each post delivered straight to your e-mail box, then please add your email here. Happy cooking!
There are affiliate links in this post. I make small earnings through any purchases made through these links. Thank you for supporting Aggie's Kitchen!