Roasted Vegetable and Goat Cheese Frittata
I discovered goat cheese not long ago and it has quickly become one of my favorite cheeses to eat and cook with. I love its tangy flavor and its unique texture. You can easily spread it or crumble it or pair it with something sweet or savory. It is delicious paired with chicken and sun dried tomatoes, salads…or in this case eggs and roasted vegetables.
This recipe was created one afternoon when I needed some lunch…and was not in the mood for my typical sandwich or salad. I had the time so I roasted up some of my favorite veggies and used them to make a frittata. Since I had some of my favorite cheese on hand, it was added to the frittata as well. Frittatas are a great way to use up any leftovers you have on hand, such as roasted vegetables, and are perfect for lunch or served with a salad for a light dinner. I wish I made them more often.
Lucky for me, goat cheese was this month's Cheese of the Month from Ile De France! I received a generous sample from them recently and am looking forward to more delicious meals! Check out Ile De France's website for great tips and recipes for those of you who love goat cheese as much as I do!
Roasted Vegetable and Goat Cheese Frittata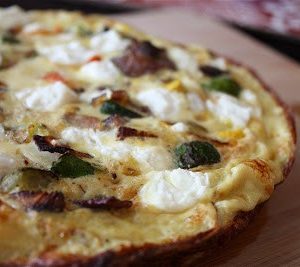 Ingredients:
2 large eggs
1/3 cup egg whites, approximately 2 large egg whites
2 TB milk
1 zucchini, chopped in about 1" pieces
1 - 2 squash, chopped in about 1" pieces
1/2 medium red onion, chopped in about 1" pieces
1 red bell pepper, chopped in about 1" pieces
1 tsp olive oil
salt and pepper, to taste
2 oz piece of Ile De France Goat Cheese
Directions:
Preheat oven to 425 degrees. In small bowl, toss vegetables with olive oil, salt and pepper. Spread evenly on cookie sheet and place in hot oven. Roast for approximately 20-25 minutes until veggies are cooked.
Preheat the broiler. Whisk the eggs, milk, salt, and pepper in a medium bowl to blend. Set aside.
Spray an 8-inch-diameter nonstick ovenproof skillet and heat over medium high heat. Add roasted vegetables to the skillet, then pour the egg mixture over the vegetable mixture and cook for a few minutes until the eggs start to set. Crumble goat cheese over eggs and vegetables. Reduce heat to medium-low and cook until the frittata is almost set but the top is still runny, about 2 minutes. Place the skillet under the broiler. Broil until the top is set and golden brown on top, about 5 minutes. Let the frittata stand 2 minutes. Using a rubber spatula, loosen the frittata from skillet and slide the frittata onto a plate. Cut into triangles and serve.

Are you following me on Instagram, Twitter, Facebook and Pinterest? If you'd like to subscribe to Aggie's Kitchen and have each post delivered straight to your e-mail box, then please add your email here. Happy cooking!
There are affiliate links in this post. I make small earnings through any purchases made through these links. Thank you for supporting Aggie's Kitchen!