Orzo with Goat Cheese and Arugula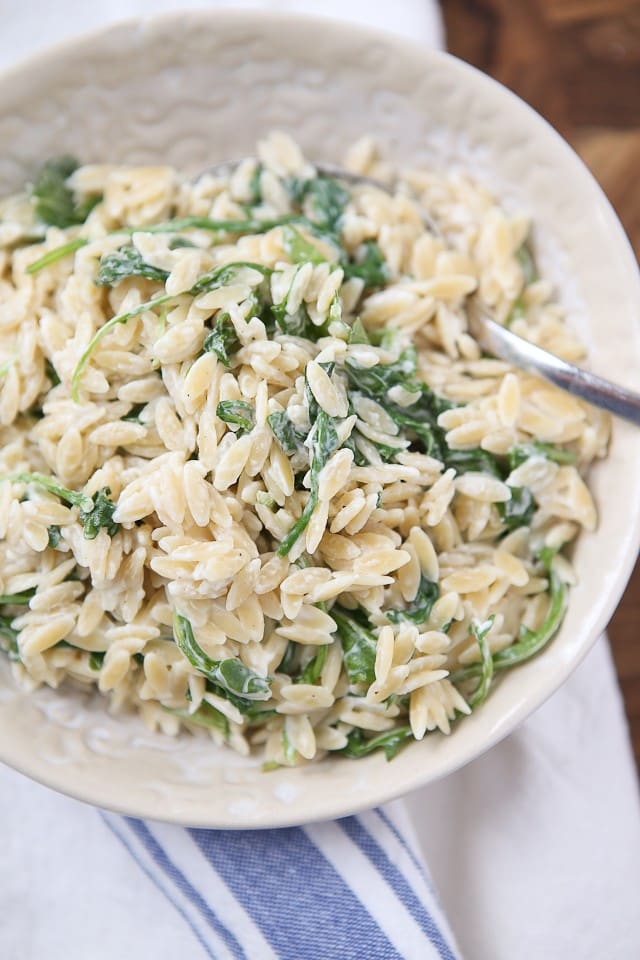 A couple of random, unrelated to food things today. I feel like lately, my eyes are a bit more open than usual. Do you ever experience that?  It's like something clicks in your brain and the inner dialogue quiets down a bit and you just become more observant and a better listener. I don't know.
Something I've noticed, it's kind of a mom thing but it could be a people thing too. A friend of mine and I were talking at the gym the other day (gotta love those treadmill talks) and it's like we both realized that we didn't have it all together like we thought the other did. Duh, right? I've had similar conversations with other friends at the bus stop, in the grocery store, and at birthday parties. Go figure. But don't you think – and this is not the first time you've heard it I'm sure – that with all the social media saturation that we are swimming in right now, it is becoming rarer and rarer to have true heart to heart conversations with friends and people you meet along the way? You have to make a real effort. There's so much more surface material out there than connection sometimes. Maybe it's just me. But I'll say, it's nice to have real conversations like that where you realize how "normal" you really are. I am thinking most moms can relate to this, we need conversations like this. I can appreciate even more when I meet or connect with someone in the real world, not just "online". This is where my friend Sandy always inspires me with her way of bringing people together in her home, as a form of hospitality and connecting…and not just "entertaining". Like I already said, it does take some effort but is always worth it. Food for thought.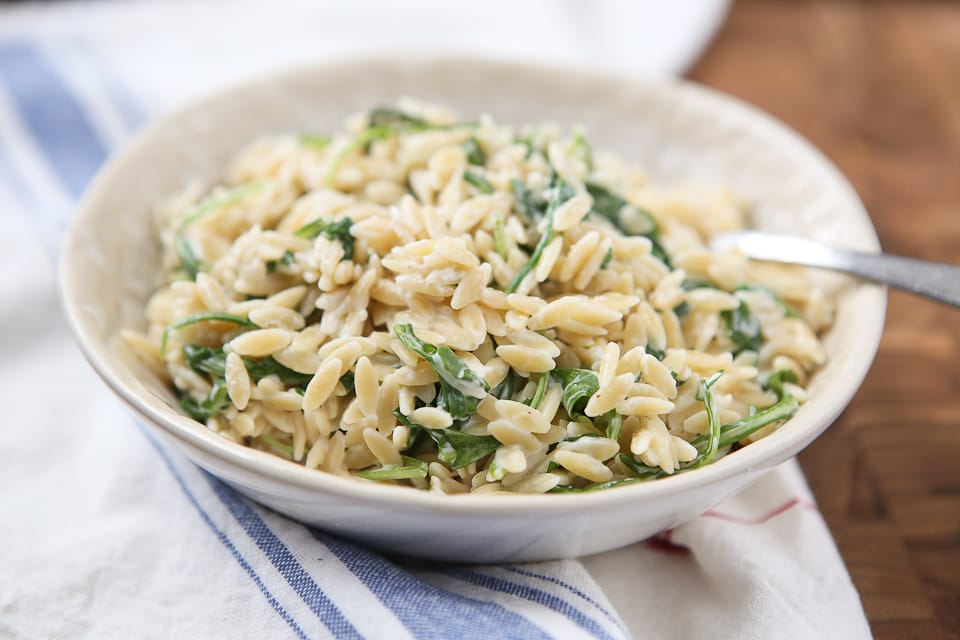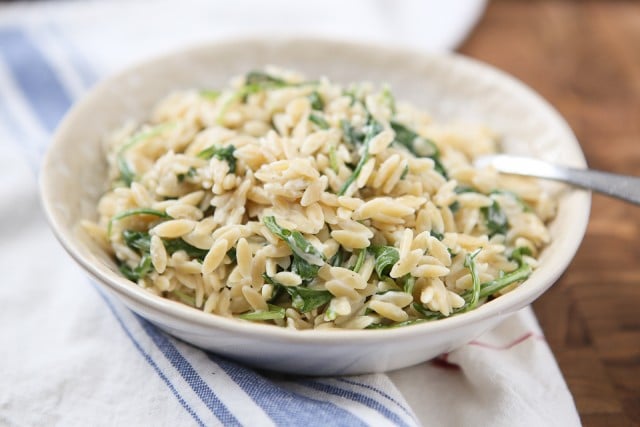 Hope you don't mind my ramble today. Sometimes I get tired of talking about just food. Although, this food is worth talking about. Orzo with Goat Cheese and Arugula, here's what you need to know:
so easy to make
just a few ingredients
my kids and husband LOVED it (side note: my kids requested it for dinner again last night, and they really have no idea what arugula even is)
double the recipe if you have good eaters
DELICIOUS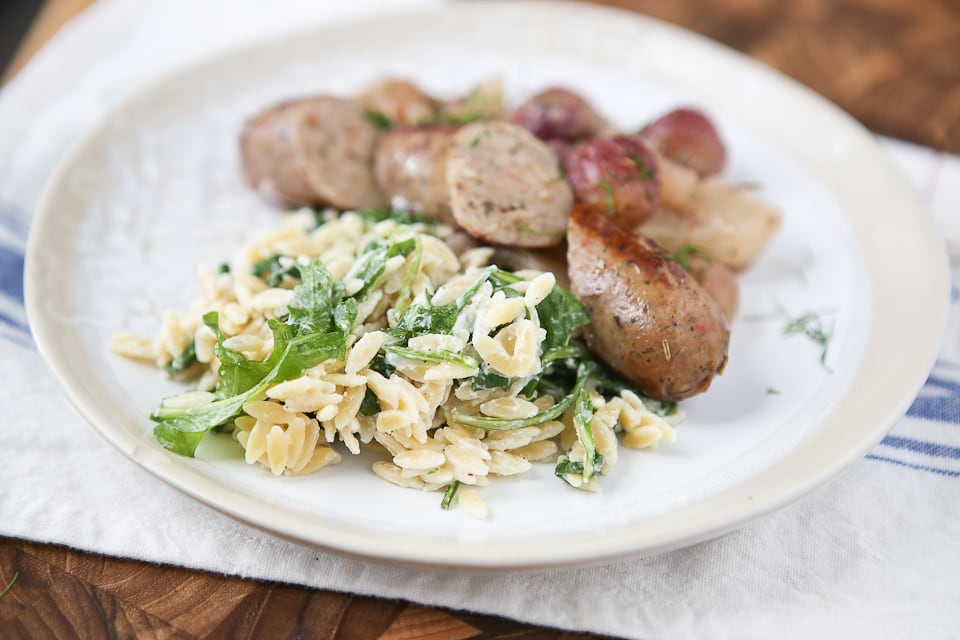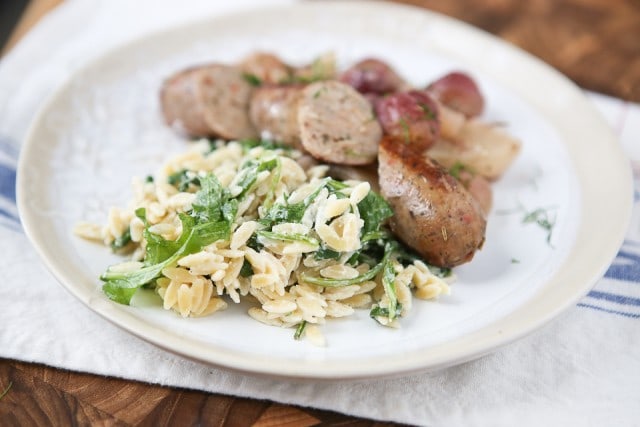 Have a great week!
PS…if you like this recipe you'll also like this Spinach Feta Orzo I made for my friend Valerie earlier this year!
Orzo with Goat Cheese and Arugula
Yield: 4 side dish servings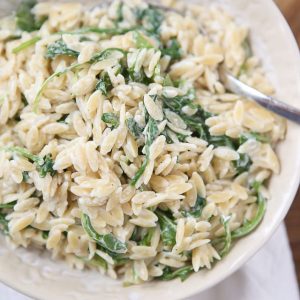 Ingredients:
1 cup uncooked orzo (regular or whole wheat)
2 quarts water
2 tablespoons olive oil
3 - 4 ounces crumbled goat cheese
2 large handfuls baby arugula
big pinch coarse salt and fresh ground pepper
Directions:
Cook orzo according to directions. Drain in a colander, then add back to the pot.
Drizzle olive oil over orzo and gently toss. Add arugula and goat cheese directly to the pot and using a wooden soon, gently stir to combine. The heat from the orzo with melt cheese and wilt arugula. Season well with coarse salt and pepper to taste. Serve immediately.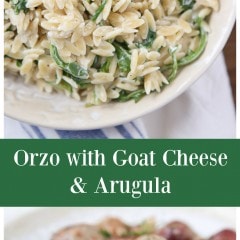 Follow Aggie's Kitchen's board Pasta on Pinterest.
Are you following me on Instagram, Twitter, Facebook and Pinterest? If you'd like to subscribe to Aggie's Kitchen and have each post delivered straight to your e-mail box, then please add your email here. Happy cooking!
There are affiliate links in this post. I make small earnings through any purchases made through these links. Thank you for supporting Aggie's Kitchen!