Whole Wheat Linguine with Spring Vegetables
Linguine with Spring Vegetables makes a great light side pasta dish to grilled seafood or chicken, or just enjoy on it's own!
Click here to pin this Linguine with Spring Vegetables recipe!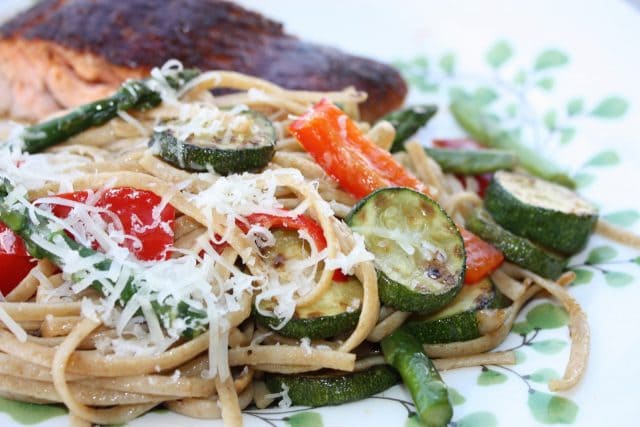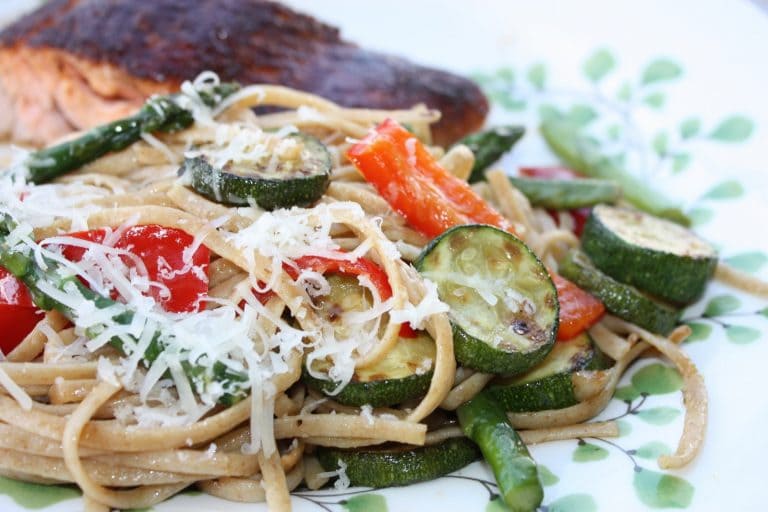 Hello March! It's so hard to believe we are already in March, Lent officially started yesterday and Spring is around the corner. Here in Florida we have been consistently in the low to mid 80s so we are moving right along into the next season…I'm not ready to be hot again honestly. I'm hoping it chills out around here for a while longer. I love being outside and Spring is my absolute favorite time of the year.
If you observe Lent, then you know that Fridays are set aside for meatless meals, or meals with fish (this post has some great Fish for Fridays recipe ideas). Today, I am sharing an oldie but goodie simple pasta recipe I make often but posted many years ago alongside this Salmon with Sweet & Spicy Rub from Ellie Krieger. That salmon dish was one of the first salmon recipes I started making for my family and they all love it.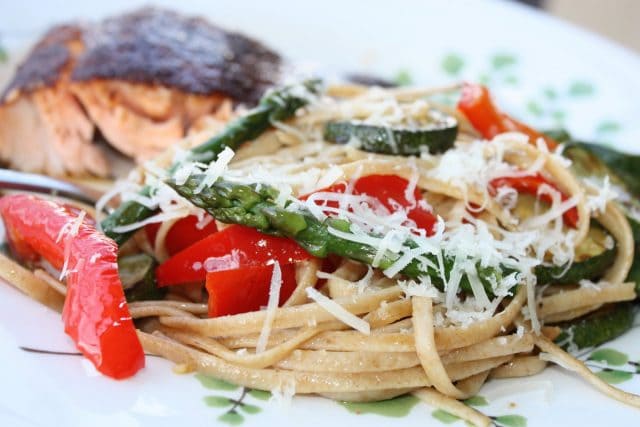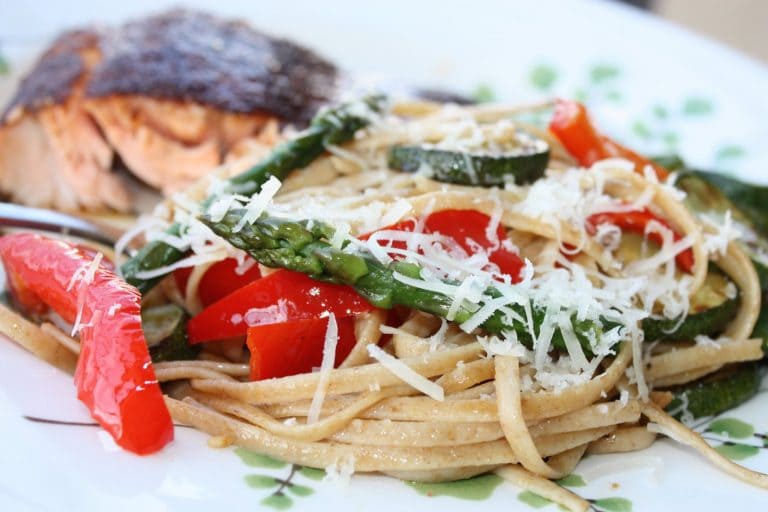 This pasta is filled with veggies, all of my favorites! I use whole wheat linguine so if you are serving this on it's own you are getting a good amount of protein. You could always serve it alongside salmon like I originally did or with some shrimp or even scallops. Of course, grilled chicken would be a great addition to it as well. Your choice! Don't forget to add plenty of Parmesan cheese at the end!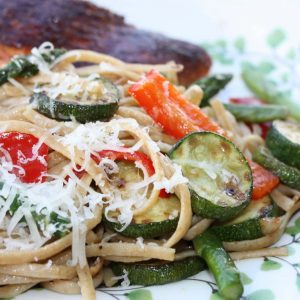 Ingredients:
1 13 oz box whole wheat linguine
4-5 zucchinis, cut in rounds
1 lb asparagus, cut in thirds
2 red cubanelle peppers (sweet Italian peppers, can sub red bell pepper), sliced thinly
3-4 garlic cloves, crushed and minced
4 TB olive oil, divided
salt and pepper to taste
juice from half a lemon, optional
Parmesan cheese, for serving
Directions:
Cook linguine according to directions. Before draining pasta, reserve a 1/4 cup of water pasta cooked in.
In large non stick saute pan, heat 1 TB of olive oil. Add zucchini rounds, in batches, and cook both sides until lightly browned. Remove from pan. Add garlic and pepper strips and cook for 1-2 minutes. Add asparagus and continue to cook for 2-3 more minutes, adding salt and pepper to the vegetables to taste. Add back in zucchini, as well as drained pasta and 1/4 cup of pasta water. Gently toss pasta with vegetables and 3-4 tablespoons of olive oil. Squeeze lemon over pasta and vegetables, if using. Serve with freshly grated Parmesan cheese.
Follow AggiesKitchen on Instagram and show us what recipes you are making from the blog! Use the hashtag #aggieskitchen - I'd love to see what you are cooking up!
A few more meatless pasta dishes for you to try:
Swiss Chard with White Beans in Tomato Sauce over Pasta
Quinoa Spaghetti with Garlicky Greens and Tomatoes
Whole Wheat Pasta with Ricotta, Zucchini and Walnuts
Spring Vegetable Pasta with Pesto
20 Minute Lemon Broccoli Pasta Skillet Recipe | The Food Charlatan
Creamy Goat Cheese Pasta with Spinach & Roasted Mushrooms | Two Peas & Their Pod