Healthy Whole Wheat Pumpkin Pancakes
Are you pumpkined out yet? Everywhere I look in the foodie blog world I am seeing tons of delicious looking pumpkin recipes…and here I am once again a little bit behind. I have had my share of "pumpkins" this past month (construction paper kinds, craft kinds, plastic kinds, carving kinds) but haven't actually "had" any pumpkin the way I would really want to!! I love pumpkin, as I am seeing a lot of you do as well. (and apparently so does my son who just walked up to me and randomly requested for us to make a pumpkin pie today – it's only 7am!)

What did you all do with your extra hour on Sunday? We were up making pancakes! Pumpkin Pancakes! And they were good, real good…my kids gobbled them up. I wish I made a double batch so I could have thrown some in the freezer for later. I found this healthy whole wheat version of these pancakes on Pinch My Salt early Sunday morning. This was my first time visiting Nicole's blog and I am so hooked!
I just love the color of these pancakes! If you would rather not use whole wheat flour, just substitute the white flour for it. I also sweetened ours up just a bit more with some agave nectar.
Enjoy your Monday and don't forget to Vote!!
Healthy Whole Wheat Pumpkin Pancakes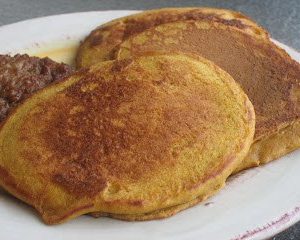 Ingredients:
1 C. whole wheat flour
1/2 C. cake flour
1 t. baking soda
2 t. baking powder
1/4 t. salt
1 t. ground cinnamon
1/2 t. ground ginger
1/2 t. ground nutmeg
1 C. buttermilk
1 C. canned pumpkin puree
2 eggs
2 T. oil
1 t. vanilla
2 T. dark brown sugar
Directions:
1. In a large bowl, whisk together the first eight ingredients (whole wheat flour through nutmeg). In a separate bowl, whisk together the last six ingredients (buttermilk through brown sugar).
2. Pour wet ingredients into dry ingredients and blend together with a wooden spoon until just combined. Lumps are ok, just make sure all the flour on the bottom of the bowl is mixed in. If batter seems too thick to pour, you can gently stir in a little more buttermilk.
3. Drop pancakes by ladleful onto a medium-hot griddle. Pancakes are ready to turn when the edges start to look a little dry and you can see small bubbles forming on the surface.

Follow Aggie's Kitchen's board Healthy Breakfasts on Pinterest.
Are you following me on Instagram, Twitter, Facebook and Pinterest? If you'd like to subscribe to Aggie's Kitchen and have each post delivered straight to your e-mail box, then please add your email here. Happy cooking!
There are affiliate links in this post. I make small earnings through any purchases made through these links. Thank you for supporting Aggie's Kitchen!