Guest Blogger Post – Chickpea and Feta Salad
Hey there, Aggie's Kitchen readers! It's Molly here, your royal highness from Duchess of Fork. I'm just a busy gal juggling a new husband, new house, new puppy and new career. I enjoy creating quick, yet healthy and delicious recipes that fit into anyone's lifestyle. Feel free to come over and visit me any time you'd like!
I'm honored to be Aggie's guest today, and am thrilled to share a fresh take on salsa with you. With Spring just a few weeks away, this chickpea and feta salsa will be a great addition to your outdoor picnics and parties. It's already in the 60s here in Florida, so I've been enjoying this salsa a lot lately! 🙂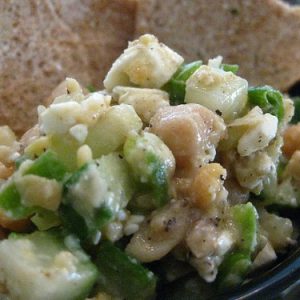 Ingredients:
1 (16 oz) can of chickpeas (garbanzo beans)
1 green onion, sliced thin
1 cup diced cucumber
½ cup diced bell pepper
½ cup crumbled feta
2 tbsp. olive oil
2 tbsp. red wine vinegar
½ tsp. dried oregano
½ tsp. fresh cracked black pepper
1 tsp. garlic salt
Directions:
In a large bowl, combine chickpeas, onions, cucumbers, bell peppers and feta.
In a small bowl, whisk together olive oil, vinegar, oregano, pepper and salt. Pour over chickpea mixture and toss to combine.
Cover and chill until ready to serve.
This salsa comes together in a flash and will keep in the fridge for about a week. It's great with whole wheat pita chips, as a salad, or alongside grilled chicken. If you've never tried chickpeas before, this is the perfect recipe for you.
Thanks for letting me stop by! Remember, we may not all be royalty, but we can certainly reign supreme in the kitchen.
Are you following me on Instagram, Twitter, Facebook and Pinterest? If you'd like to subscribe to Aggie's Kitchen and have each post delivered straight to your e-mail box, then please add your email here. Happy cooking!
There are affiliate links in this post. I make small earnings through any purchases made through these links. Thank you for supporting Aggie's Kitchen!