Breakfast for dinner….Sweet Potato Hash
Every time I tell the fam we are having breakfast for dinner I always get a unanimous "yaaaaaay". Seems to be popular in other households too. My favorite thing to eat when it comes to breakfast for dinner is usually an egg dish of some sort. Kids prefer pancakes or waffles. Husband will eat pretty much anything.
I was feeling lazy Saturday night so I decided it was going to be a BFD night. I wanted simple over medium eggs and a bagel, but was craving something more than just fruit on the side. I found a lonely little (well medium) sweet potato in the pantry along with some red onions. I chopped them into a small dice (skin still on the potatoes) and threw them into a hot skillet with a little bit of oil. I spiced them up with a pinch of Aleppo pepper, another pinch of smoked paprika, and of course salt & pepper. It took them no time to cook up and they turned out to be a perfect company to my fried eggs.
Of course a little green Tabasco made them that much better.
Do you like breakfast for dinner?
Sweet Potato Hash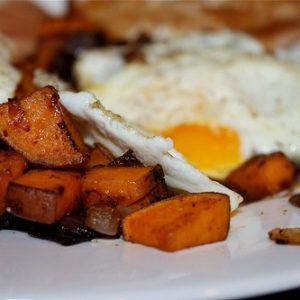 Ingredients:
2 teaspoons olive oil
1 medium-large sweet potato, peeled or unpeeled, diced small
1 medium red onion, diced small
a pinch of Aleppo pepper, or your favorite chili powder
a pinch of smoked paprika
a pinch of garlic powder
salt & pepper to taste
Directions:
In a hot skillet over medium high eat, add olive oil and diced sweet potatoes. Let cook for about 5 minutes until slightly browned.
Add onions and cook for an additional 4 minutes till soft. Add pinches of chili powder, smoked paprika, garlic powder, salt and pepper. Cover and cook for another 5 or so minutes until potatoes are soft.
Delicious under a over easy egg, and with some green Tabasco sauce.
Other Sweet Potato Hash inspirations:
Sweet Potato Hash with Adobo and Fried Tomatoes by Vanilla Sugar
Sweet Potato Burritos by Vanilla Sugar
Sweet Potato Hasbrowns by Sweet Pea's Kitchen
Oven Roasted Sweet Potato Hash by The Other Side of Fifty
Follow Aggie's Kitchen's board Breakfast on Pinterest.
Are you following me on Instagram, Twitter, Facebook and Pinterest? If you'd like to subscribe to Aggie's Kitchen and have each post delivered straight to your e-mail box, then please add your email here. Happy cooking!
There are affiliate links in this post. I make small earnings through any purchases made through these links. Thank you for supporting Aggie's Kitchen!