Bourbon Chicken Dinner
Is everyone getting back to the grind?
We are…it's back to pre-school for my son and back to work for my husband Monday…so that means back to normalcy around the house for me (and Gina!)! Not that I didn't enjoy having us all home for the last two weeks, I did, but I'm ready to get back to our regular routine. There was lots of togetherness going on here the last couple of weeks…;)
I know I mentioned that I have the same 4 New Year resolutions every year…well tonight I decided to add one more to that list. I would like to plan our meals better. There are so many nights that I just have no idea…or I am floundering around the kitchen trying to throw together a must try recipe and am out of everything I need. (Sounds like this may be related to the "get organized" resolution?)
Anyway…I'll take any suggestions from you on how you plan your weekly menus…if that's what you do. I just bought my new 2009 weekly planner today and I'm ready to rock and roll.
I want to share with you this AWESOME dinner I made the other night. This will definitely be making it to our weekly menu more often. My sister in law passed it on to me with rave reviews. I couldn't wait to try it out…I love Asian food and have little experience cooking it at home. This is definitely a start for me, it was extremely basic and tasted just as good, if not better, than any bourbon chicken you would get at a restaurant. I was a little unsure about using all of that sugar, I think next time I will reduce it down to 1/4 cup…also, I made sure to use the low sodium soy sauce. I served it with a healthy medley of stir fried vegetables with chopped garlic and ginger and some Kashi 7 Whole Grain Pilaf.
Bourbon Chicken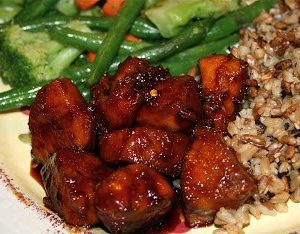 Ingredients:
2 lbs boneless/skinless chicken breasts, cut into bite-size pieces
1-2 tablespoon olive oil
1 garlic clove, crushed
1/4 teaspoon ginger
3/4 teaspoon crushed red pepper
1/4 cup apple juice
1/3 cup light brown sugar
2 tablespoons ketchup
1 tablespoon cider vinegar
1/2 cup water
1/3 cup soy sauce
Directions:
Heat oil in a large skillet. Add chicken pieces and cook until lightly browned. Remove chicken. Add remaining ingredients, heating over medium Heat until well mixed and dissolved. Add chicken and bring to a hard boil. Reduce heat and simmer for 20 minutes. Serve with stir fried vegetables and brown rice.
Hope everyone has a great week!!

Are you following me on Instagram, Twitter, Facebook and Pinterest? If you'd like to subscribe to Aggie's Kitchen and have each post delivered straight to your e-mail box, then please add your email here. Happy cooking!
There are affiliate links in this post. I make small earnings through any purchases made through these links. Thank you for supporting Aggie's Kitchen!