Barefoot Bloggers – Whole Wheat Banana-Nut Sour Cream Pancakes
for picking such a great
Barefoot Bloggers
recipe this month! Who wouldn't love these pancakes?
I tweaked a few things in the recipe like subbing whole wheat flour and adding some healthy flax meal and crunchy almonds. These were such a treat for me…I grew up on Bisquick so making pancakes from scratch is something I just recently did for the first time when making these Whole Wheat Pumpkin Pancakes. Sorry Bisquick, but I think your days on my pantry shelf are over.
Whole Wheat Banana-Nut Sour Cream Pancakes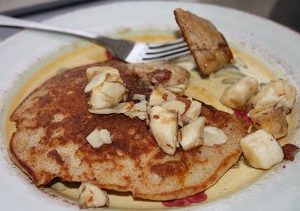 Ingredients:
1 cup whole wheat flour
1/2 cup all purpose flour
3 tablespoons sugar
2 teaspoons baking powder
1 1/2 teaspoons kosher salt
1/2 cup light sour cream
3/4 cup plus 1 tablespoon non fat milk
2 extra-large eggs
1 teaspoon pure vanilla extract
1 teaspoon cinnamon
1 teaspoon grated orange zest
2-3 tablespoons flax meal
Non stick spray
2 ripe bananas, diced, plus extra for serving
1/4 cup sliced almonds, crushed
Pure maple syrup
Directions:
Sift together the flour, sugar, baking powder, and salt. In a separate bowl, whisk together the sour cream, milk, eggs, vanilla, cinnamon and orange zest. Add the wet ingredients to the dry ones, mixing only until combined. In a separate bowl, add diced bananas and crushed almonds and gently toss together.
Spray large skillet with non stick spray and heat over medium-low heat. Ladle the pancake batter into the pan to make 3 or 4 pancakes. Distribute a rounded tablespoon of banana-almond mixture on each pancake. Cook for 2 to 3 minutes, until bubbles appear on top and the underside is nicely browned. Flip the pancakes and then cook for another minute until browned. Wipe out the pan with a paper towel, add more non stick spray to the pan, and continue cooking pancakes until all the batter is used. Serve with sliced bananas and maple syrup.
Tonight is a big night in my little part of the world…
Good Luck FLORIDA GATORS in the
National Championship Game!

Follow Aggie's Kitchen's board Breakfast on Pinterest.
Are you following me on Instagram, Twitter, Facebook and Pinterest? If you'd like to subscribe to Aggie's Kitchen and have each post delivered straight to your e-mail box, then please add your email here. Happy cooking!
There are affiliate links in this post. I make small earnings through any purchases made through these links. Thank you for supporting Aggie's Kitchen!