Barefoot Bloggers – Herb Roasted Onions
This recipe is definitely a keeper. You really can not go wrong with these rustic roasted onions. Aren't they pretty?
Kelly from Baking with the Boys chose Ina Garten's Herb Roasted Onions as her selection for one of November's Barefoot Bloggers recipes. When I saw the recipes chosen this month, I was very excited about both of them. Not that past recipes weren't exciting and delicious, but, these two were going to be no brainers for me, I wouldn' t have to do too much altering to … um … lighten them up. If you know me, I'm all about lightening things up…it's kind of like an addiction. And if you know Ina's recipes, well you know they are usually full of good stuff like butter and cream!
Anyway, back to the onions. I think this side dish would be great for almost any meal…they would be perfect for steak or a rustic roast chicken. Throw your leftovers on a sandwich or scramble them with some eggs. They might even sneak their way onto your Thanksgiving table if you let them. I think they are definitely worthy.
I really loved the leftover dressing that was used to drizzle over the onions after they were cooked. It gave them such a fresh taste, in addition to their natural sweetness that came out from the roasting. This is real food, simplicity at it's best.
Herb Roasted Onions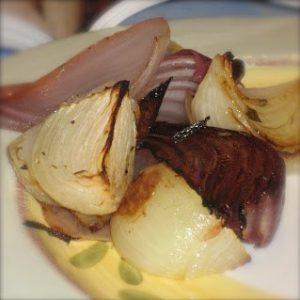 Ingredients:
2 red onions
1 yellow onion
2 tablespoons freshly squeezed lemon juice
1 teaspoon Dijon mustard
1 teaspoon minced garlic
1/2 tablespoon minced fresh thyme leaves
3/4 teaspoon kosher salt
1/4 teaspoon freshly ground black pepper
1/4 cup good olive oil
1/2 tablespoon minced fresh parsley leaves
Directions:
Preheat the oven to 400 degrees F.
Remove the stem end of each onion and carefully slice off the brown part of the root end, leaving the root intact. Peel the onion. Stand each onion root end up on a cutting board and cut the onion in wedges through the root. Place the wedges in a bowl.
For the dressing, combine the lemon juice, mustard, garlic, thyme, salt, and pepper in a large bowl. Slowly whisk in the olive oil. Pour the dressing over the onions and toss well.
With a slotted spoon, transfer the onions to a sheet pan, reserving the vinaigrette that remains in the bowl. Bake the onions for 30 to 45 minutes, until tender and browned. Toss the onions once during cooking. Remove from the oven, and drizzle with the reserved dressing. Sprinkle with parsley, season to taste and serve warm or at room temperature.
Recipe by Ina Garten, Barefoot Contessa at Home cookbook

Are you following me on Instagram, Twitter, Facebook and Pinterest? If you'd like to subscribe to Aggie's Kitchen and have each post delivered straight to your e-mail box, then please add your email here. Happy cooking!
There are affiliate links in this post. I make small earnings through any purchases made through these links. Thank you for supporting Aggie's Kitchen!