10 Things In My Fridge
A friend once told me that she loves seeing what people have in their fridges (as she was peeking in mine). I have to admit, I do too.
I thought it would be fun to start a series here on the blog where each week (on Thursdays) you'll be able to take a peek inside one of my blogger friends' refrigerators…starting with mine!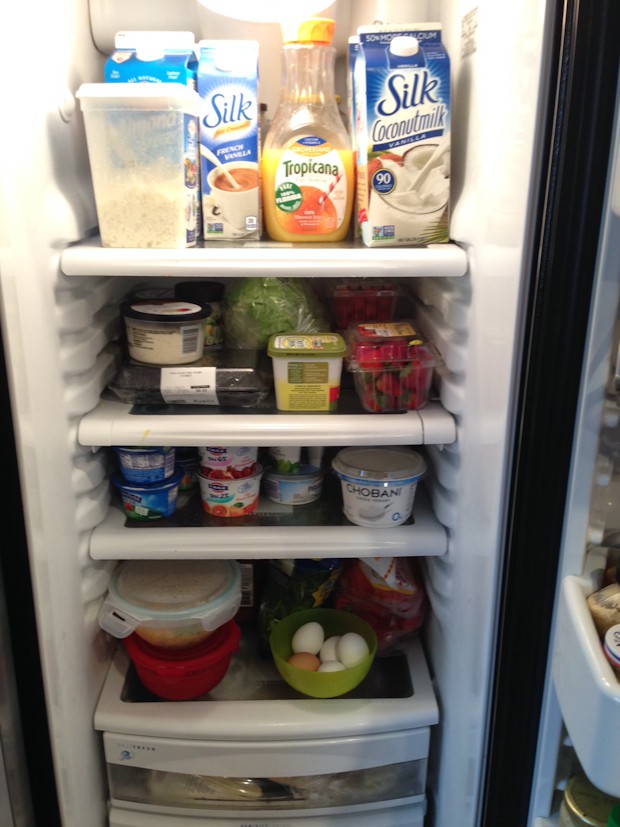 1. Yogurt – holy yogurt! I always have a million different types of (mostly Greek) yogurt in my fridge. My kids have their favorites, my husband and I have our own and then there are the bigger sized tubs of French Vanilla for parfaits and Plain for a sour cream substitute. There may or may not be a couple of boxes of Greek yogurt tubes in the freezer for lunch boxes too. Apparently we are a family of Greek yogurt junkies.
2. Hot sauces, bbq sauces & mustards – I guess this qualifies as the condiment category? These are the big 3 we can't live without. They are almost like collector's items too, we love scouring the shelves of specialty and gourmet shops to try something new.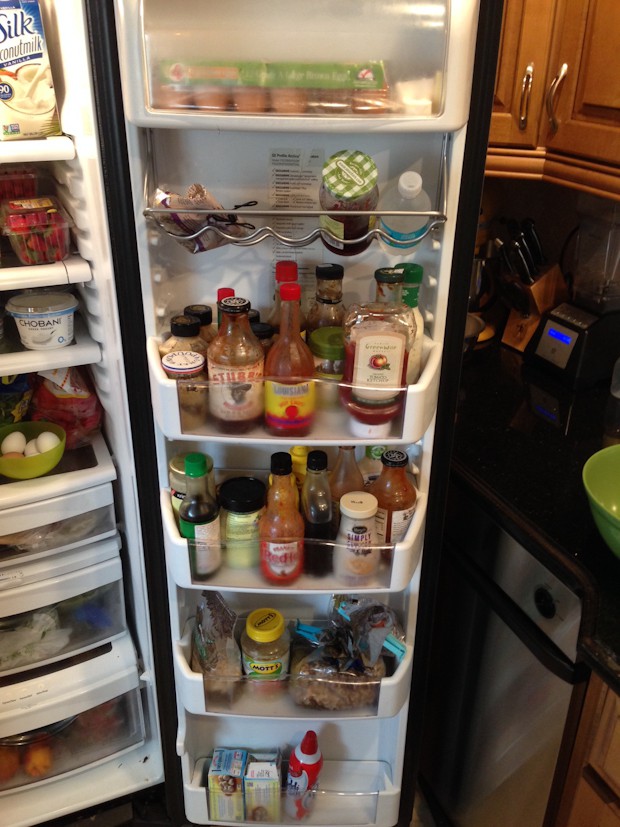 3. Feta – I don't leave Costco without this huge container of feta. And when I do you know because almost every recipe I post for the next month has feta in it.
4. Milk(s) – every milk serves its purpose. 2% organic milk for the kids, unsweetened vanilla almond milk (or my new fave coconut milk) for my smoothies and refrigerator oats, and vanilla (sweetened) almond milk for my husband's cereal. And then there is the French Vanilla Soy Creamer…does that qualify as milk too?
5. Flaxmeal – I'm over this huge bag of flaxmeal. It's taking up too much real estate in my tiny counter depth fridge – note to self: do not purchase flaxmeal at Costco anymore.
6. Can of whipped cream – random purchase for birthday pecan pie last month. You can't have pecan pie without whipped cream in my opinion. I'm wondering how long it will last in the fridge before a) we have another reason to use it or b) I chuck it.
7. Eggs – panic sets when we get down to the last 2 eggs. If we are lucky there is a backup package in our extra fridge in the garage.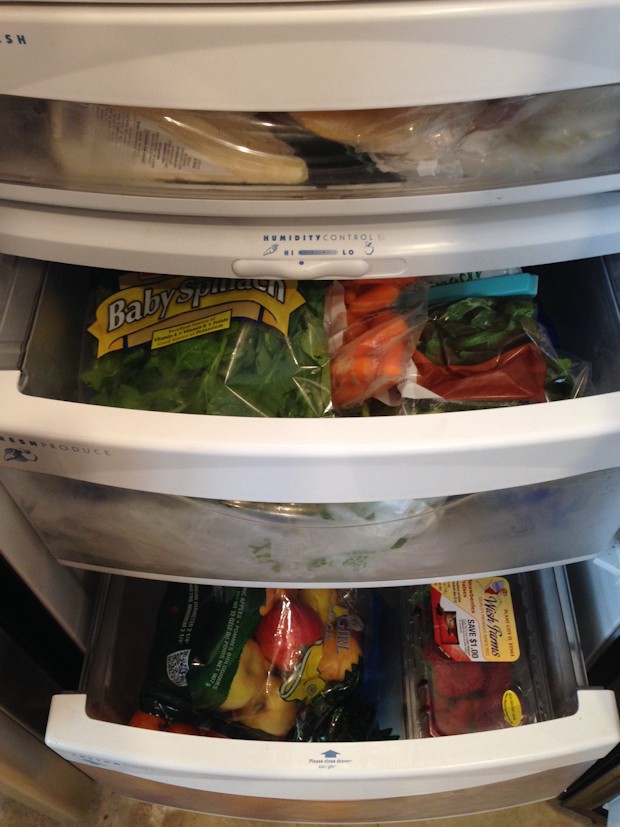 8. Cheese – I know I mentioned feta, but that container is mostly used by just me. In my deli drawer I always have  blocks of cheese and cheese sticks for recipes and snacking. Blocks of cheese come in super handy when you have impromptu get-togethers, there is absolutely nothing bad about a plate of cheese, fruit and crackers alongside a bottle of wine. Or alongside juice boxes. 🙂
9. Bags of spinach – our family goes through a good amount of spinach each week. I should be proud of that right? We have spinach in smoothies, on sandwiches and in salads most every day.
10. Leftovers – I don't love leftovers, but the right kind of leftovers make for great lunches throughout the week or easy dinners for the kids and husband when I just want a salad.
Hope you enjoyed this post! I've got some bloggers lined up over the next several weeks that are willing to open up their refrigerators for us…stay tuned!
Are you following me on Instagram, Twitter, Facebook and Pinterest? If you'd like to subscribe to Aggie's Kitchen and have each post delivered straight to your e-mail box, then please add your email here. Happy cooking!
There are affiliate links in this post. I make small earnings through any purchases made through these links. Thank you for supporting Aggie's Kitchen!