Crockpot Creamy Chicken Spaghetti with Broccoli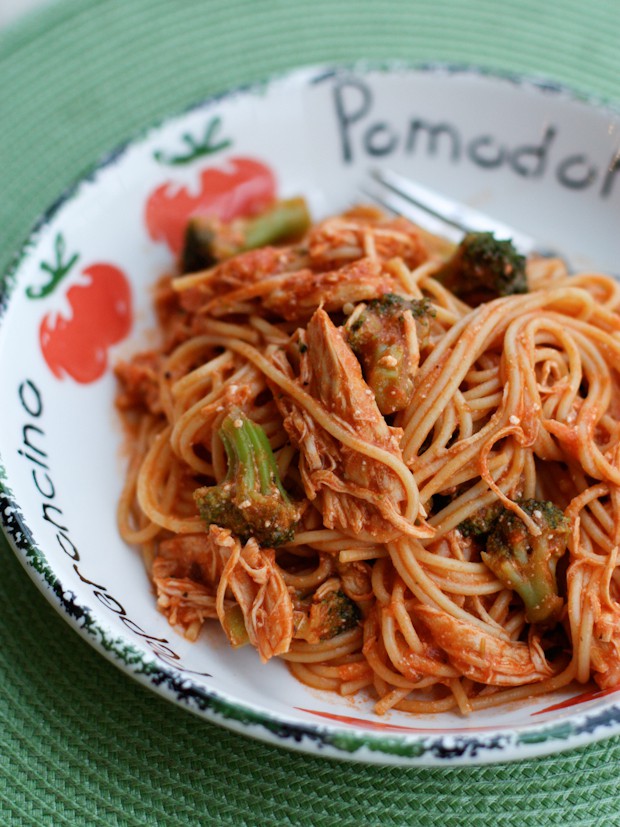 Now that we are back in school and on a schedule, I am working the weekly meal plan again. Last week was our first attempt at meal planning since before summer and it is amazing how easy it makes life come dinner time. For example, Wednesdays have become our designated crock pot day due to late afternoon activities. I love knowing that when we get home close to 6pm that evening that dinner is almost entirely ready. The joy of slow cooking is truly contagious I can tell you. I'm officially addicted.
I made this slow cooker chicken spaghetti recipe a few weeks ago during the summer but my husband is already asking for it to be back in the rotation for one of our slow cooker nights. The chicken cooks up in your favorite spaghetti sauce (I totally cheated for this one and used some good quality jarred sauce that I picked up on sale) and falls apart tenderly right before you add your cooked spaghetti and broccoli. I add the cooked pasta and broccoli straight to the crock pot to keep things less messy and easier to serve. I've always loved adding a couple of dollops of ricotta cheese to pasta to give it a more creamy texture, and it worked perfectly with this pasta dish.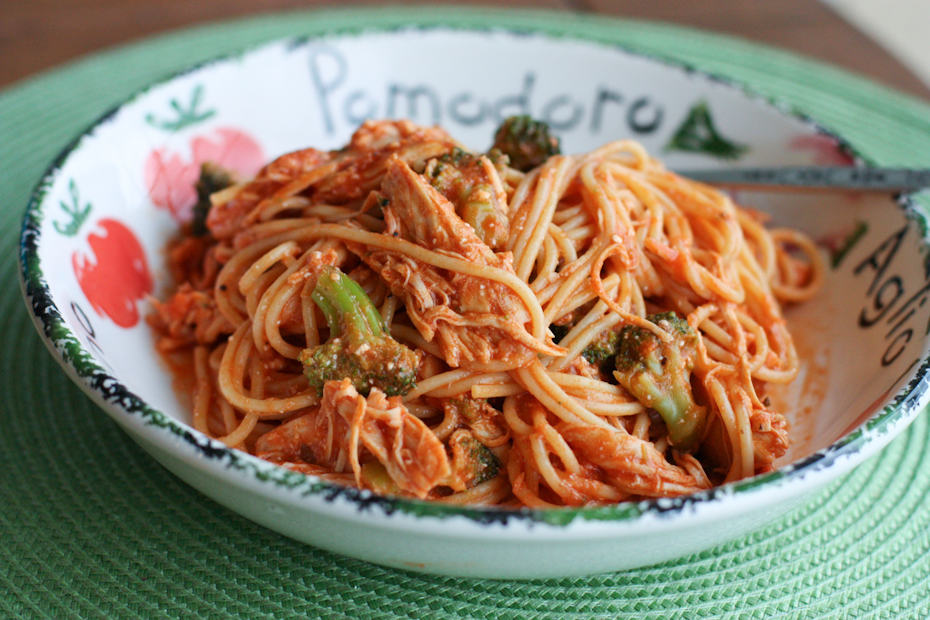 My kids and husband gave this one major thumbs up. Our family of four had plenty left over so this would be great to pack into thermoses for school lunch the next day.
Enjoy!
Crockpot Creamy Chicken Spaghetti with Broccoli
This creamy pasta dish comes together easily with tender slow cooked chicken in tomato sauce - perfect for busy weeknights! Your whole family will love it.
Ingredients
32 oz jar of good quality sauce (or 4 cups homemade sauce)
1 3/4 lb - 2 lb chicken breasts
pinch salt and pepper
1 teaspoon oregano
13 oz box of spaghetti
4 cups broccoli florets (fresh or frozen)
1/2 cup part skim ricotta
red pepper flakes, for serving - optional
Parmesan cheese, for serving - optional
Instructions
Add sauce to slow cooker. Place chicken breasts on top of sauce. Season chicken with salt, pepper and oregano. Using tongs, flip chicken breasts over in sauce so that they have sauce on both sides. Cover and cook on high for 3-4 hours.
When ready to serve, prepare spaghetti as directed. Just before spaghetti is done, about 3 minutes, add broccoli to pasta water with pasta while it finishes its cooking.
When pasta is cooked, drain pasta and broccoli in a large colander. Using two forks, gently shred up chicken in crockpot and incorporate into sauce. Add pasta and broccoli to slow cooker and along with ricotta. Using forks, gently toss spaghetti with sauce, chicken and ricotta until fully incorporated. Ready to serve!
Serve with red pepper flakes and Parmesan cheese if desired.
Notes
I normally cook with whole wheat pasta, but lately have been using Dreamfields low glycemic pasta to change things up and love it. This pasta dish is pretty versatile as far as vegetables go - next time I would add a cup of frozen peas when adding the broccoli to get some more veggies in!
http://aggieskitchen.com/2013/08/19/crockpot-creamy-chicken-spaghetti-with-broccoli/
Check out our growing Slow Cooker Goodness Pinterest board for more recipes for your slow cooker!
30 Responses to "Crockpot Creamy Chicken Spaghetti with Broccoli"
Trackbacks/Pingbacks

Leave a Comment