I really hope this recipe doesn't scare you off. I know that it's a little…different. It is honestly so delicious…I was hooked on it for days when my husband was out of town and I was dining alone in the evenings. Well, I wasn't exactly alone, but when it's just me and the kids, the kids are pretty happy with a bowl of buttered noodles and veggies while I am usually looking for something a little more exciting.
This tortilla pizza was exciting.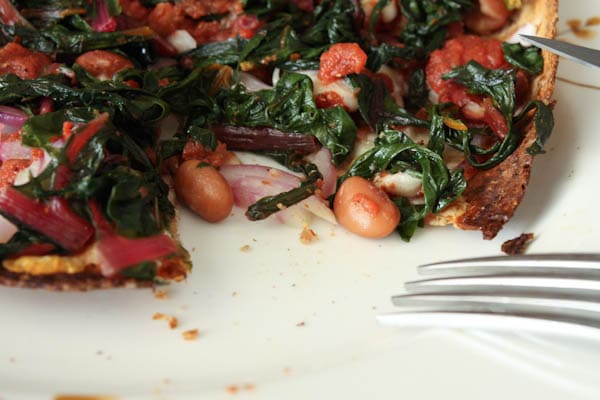 It was a random put together. I had sauteed some rainbow chard (oh how I love rainbow chard!!!) in a little olive oil and Aleppo pepper…and needed to eat it with something. I had some homemade salsa in the fridge, and the rest just happened. It was a building process…the beans and Ezekiel tortilla were my protein, the greens my super veggie, and the salsa was the flavor.
I can seriously eat like this everyday.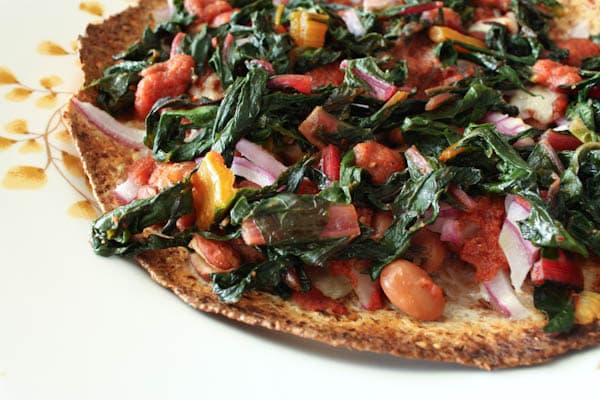 Rainbow Chard Tortilla Pizza
Recipe from Aggie's Kitchen

Ezekiel Sprouted Tortilla
Sauteed Rainbow Chard with Aleppo Pepper
Pinto Beans, drained, rinsed and dried (I prefer Bush's Beans pintos)
Red Onion, sliced
Homemade Salsa
Pre-heat oven or toaster oven to 400.
Take your defrosted Ezekiel tortilla and place on baking sheet (tip: to keep bottom of tortilla crisp and to avoid getting too soggy, I preheat baking sheet with the oven so that it's already hot when the tortilla hits it). Spread thin layer of salsa on tortilla then top with thinly sliced red onion, sauteed rainbow chard and pinto beans. Bake in oven for about 5-7 minutes or until tortilla is crisp and slightly browned. Take out and let cool. Drizzle salsa over top, slice and serve (to yourself).