I asked Bev, from Bev Cooks over today to cook for you. If you don't know Beverly yet, then you must get to know her. This girl makes me smile each and every day…she's hysterical and can cook her butt off. I've been hanging out on her blog a lot the last few months and have enjoyed the heck out of it. Her cooking style is very similar to mine and I think you are going to really enjoy her Spicy Shrimp and Avocado Lettuce Cups. I can't wait to make them myself…the photos alone are making me drool.
************************************************************************************************
When the fabulous Aggie came to me about being a guest poster on her blog, I: A) Immediately ran down the street singing "What a Feeling" at the top of my lungs. B) Shaved my legs because in my head, IT TOTALLY MATTERS FOR THIS. And C) Threw on a red sequin gown and stilettos so high, I could give you a separate weather report.
So I got a teensy bit excited. What?
Thank you, Aggie.
. . . . .
It's the end of summer and we're all desperately clinging to the last bits and pieces of the relaxing, sun-soaked days of the season. The pool has closed. Pencils are sharpened and the smell of notebook paper wafts through the hallways at school. Echoes of the high school marching band and football team make their way through our windows in the early hours of the morning. New sitcoms prepare to air and entertain us weekly throughout the chilly months. And best of all, comfort food will be flying through our mouth holes for approximately the next 6 months. This time of year RULES IT, YOU GUYS.
With that in mind, I decided to post a light, end-of-summer meal with a kick. And when I say, "with a kick," I mean go ahead and set up the sprinkler system to blast your eyeballs every 5 seconds. No, I mean it.
I love this type of meal because anything shrimp makes me giddy, anything with spicy, fiery, blow-your-face-off heat makes me sing love songs, and anything in the form of a wrap makes me dance the cha-cha.
I do hope I haven't frightened you.
Please, try it!
Spicy Shrimp and Avocado Lettuce Cups:
Here are the roasted peppers. You can't see it with the human eye, but they are secretly plotting all kinds of sexy hotness for your taste buds.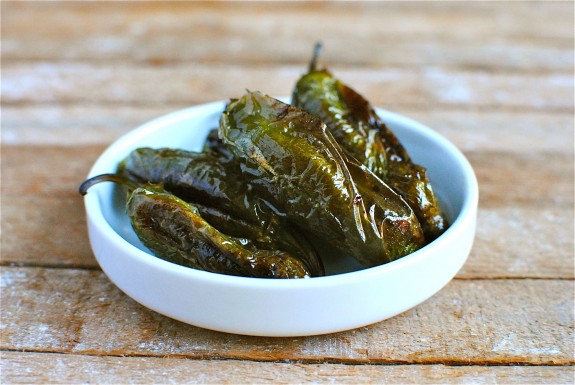 The toasted cumin and coriander. Seriously, scents so beautiful you'll forget your own name.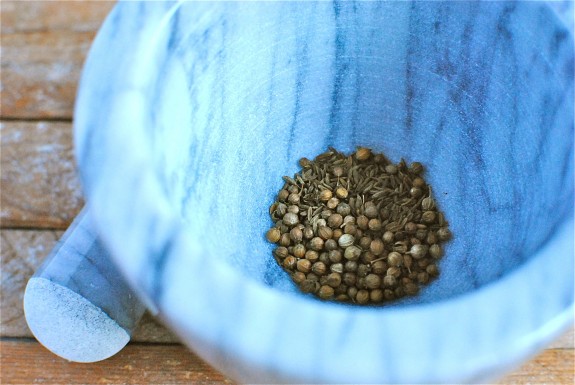 This is where it gets dangerous. And awesome. And you might need to open a window. Or stick your head in the freezer.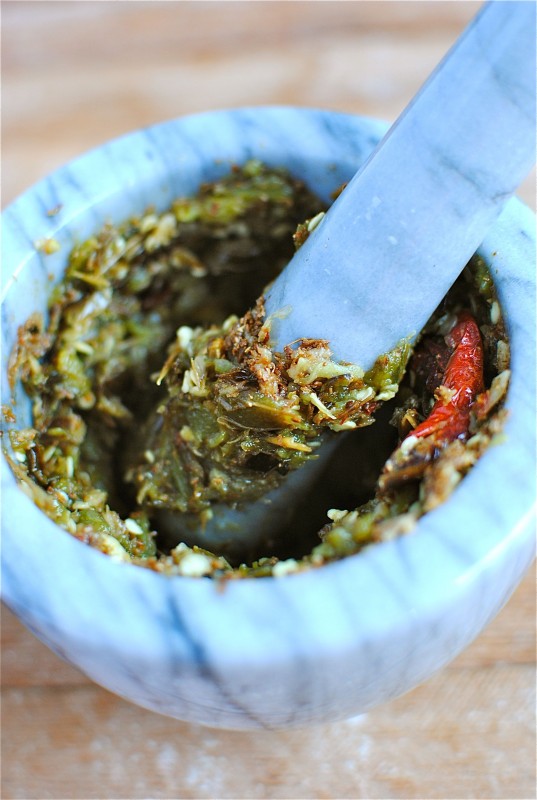 This is where it gets pretty. And even more awesome-er. You can pull your head out of the freezer now.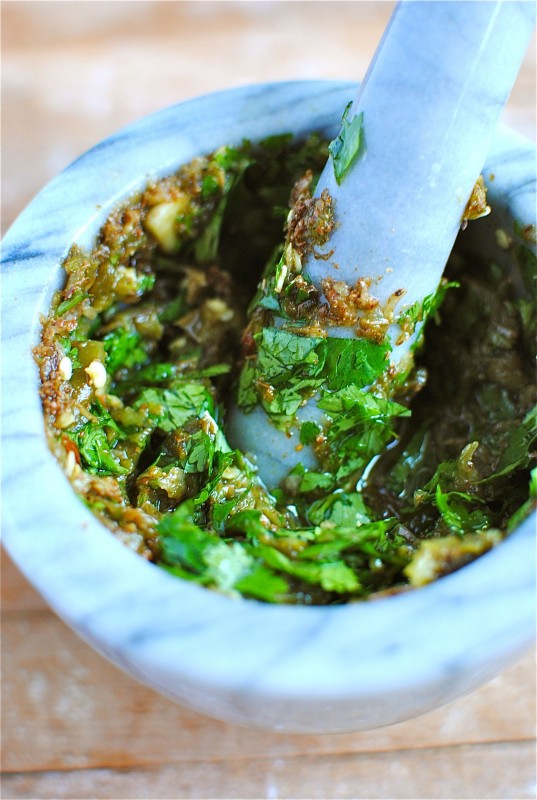 Toss the spicy, fiery hot-as-a-mama marinade with the shrimp for a few minutes.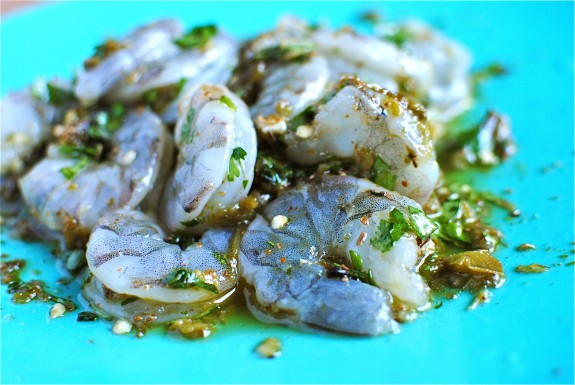 Crisp lettuce cups. You just wanna pet them, don't you?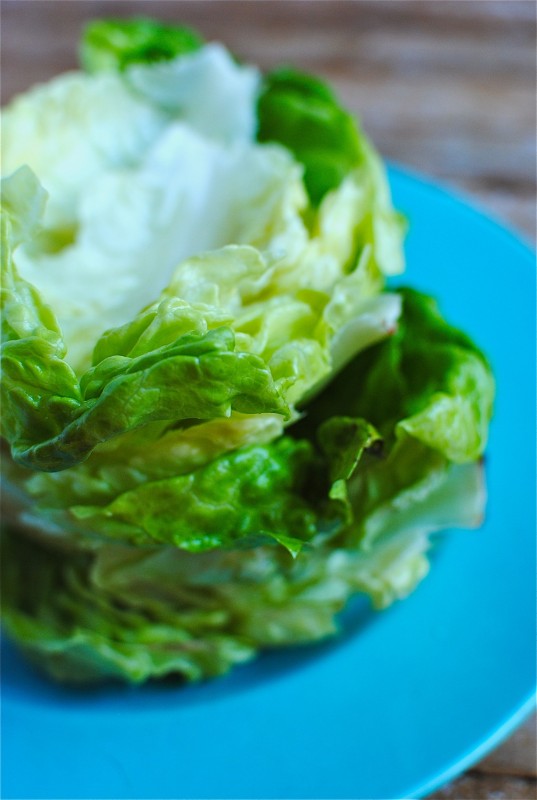 Aaaand the finished dish. Go ahead, wave to your fans. They'll understand if your face is melting off and your head is back in the freezer.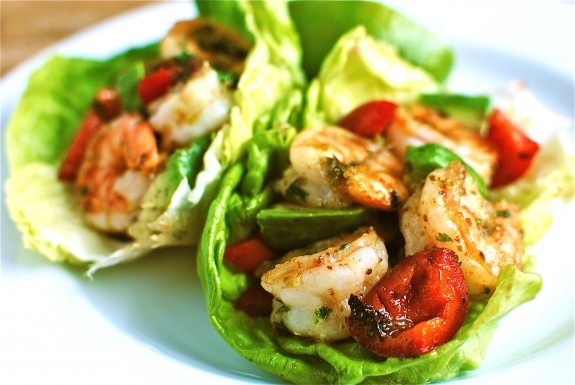 What it takes for 4:
* 1 pound extra large shrimp, peeled and deveined
* 2 heads butter lettuce, rinsed and leaves separated
* 4 jalapeno peppers
* 3 cloves garlic, minced
* 1 Tbs. cumin seeds, toasted
* 1 Tbs. coriander seeds, toasted
* 1/2 cup chopped cilantro, plus more for garnish
* 4 Tbs. extra-virgin olive oil, plus 1 Tbs.
* 1 tsp coarse salt
* 1 tsp freshly ground pepper
* 1 red bell pepper, diced
* 1 avocado, diced
* 1 lime
Preheat the oven to 400.
On a rimmed baking sheet, toss the peppers with a little oil. Roast for 20 minutes, or until pretty charred on all sides.
Remove from heat and let cool for a few minutes. Give them a rough chop.
Using a mortar and pestle, crush the toasted cumin seeds and coriander until finely ground. Add the minced garlic, and toss in a pinch of salt. Grind away, until it becomes slightly pasty. Toss in the peppers and grind grind grind again. It become a firey paste that will blow your face off. Add the cilantro and olive oil and grind more. Seriously, so hot. So awesome.
Toss the marinade with the shrimp and let sit a few minutes.
Heat skillet over medium-high. Arrange the shrimp in a single layer and sear 2 minutes. Flip and sear 30 more seconds. Remove from pan and set aside.
Add a little more oil if needed and add the red bell pepper. Saute 2 minutes.
Stuff each lettuce cup with shrimp, red bell pepper and diced avocado. Spritz with lime and  get ready to cry. And I mean, from the heat. Seriously, have that sprinkler system ready and aimed.
Thank you so much, Aggie, for letting me blab my face off on your blog today!