Harvest Farro Salad
Harvest Farro Salad is chock full of goodness and so much flavor – a delicious vegetarian grain salad to serve over the fall and winter season. Would be a tasty addition to holiday potlucks too!  This recipe was originally created in partnership with Bob's Red Mill in November of 2016, thank you for supporting the brands that support Aggie's Kitchen!
Click here to pin this Harvest Farro Salad recipe!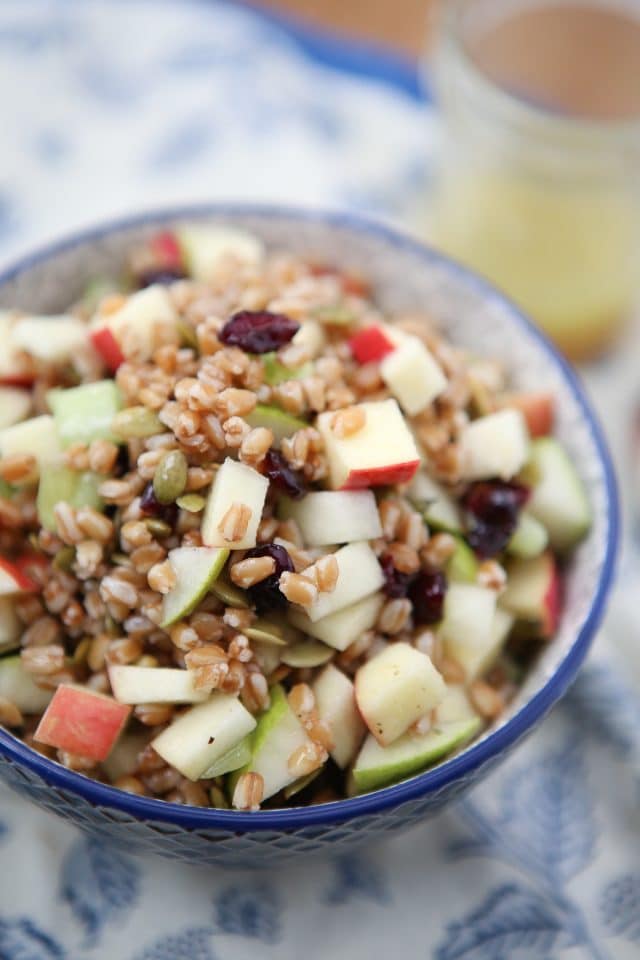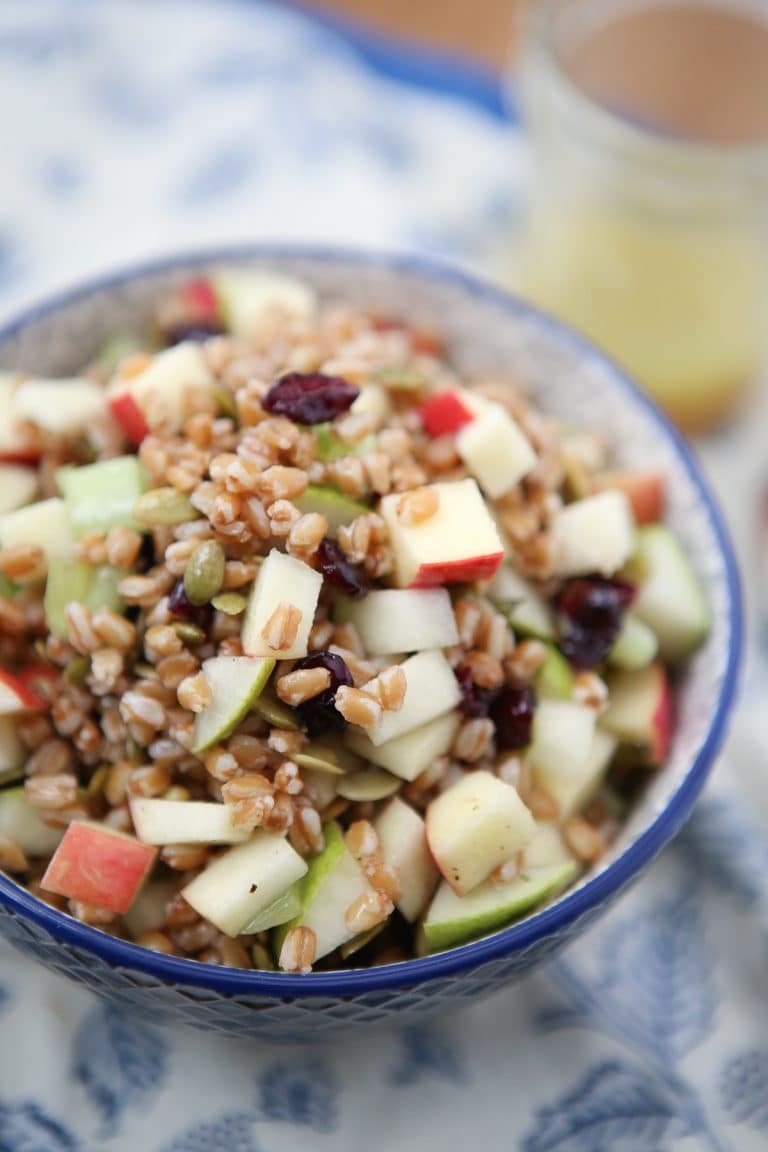 Originally published in November, 2016.
Have you all tried farro yet? I've shared a few recipes using it here (like this Garden Farro Salad with Feta and Italian Tuna and White Bean Farro Salad – you must make both!). Farro is amazing – and for so many reasons. It's a hearty whole grain with a lot of oompf to it, quite the opposite of quinoa or couscous. It's got so much texture and a nutty flavor that I love, which is why I enjoy it so much in salads like this.
Here's the other thing I love about it, it's got 7 grams of protein and 7 grams of fiber in it. It will fill you up and make you feel good. Salads like this are perfect option for lunches in my opinion. A no brainer.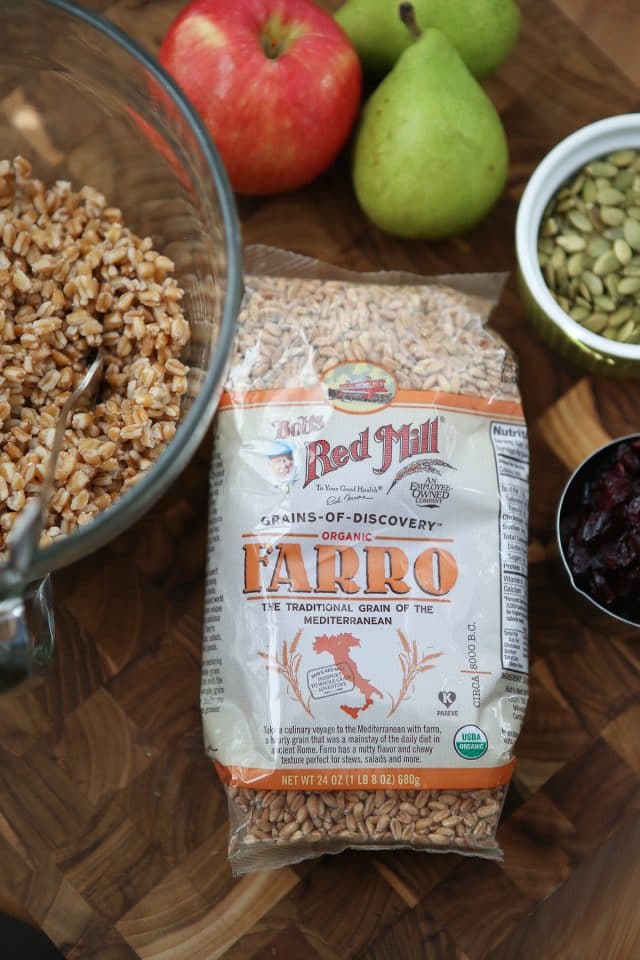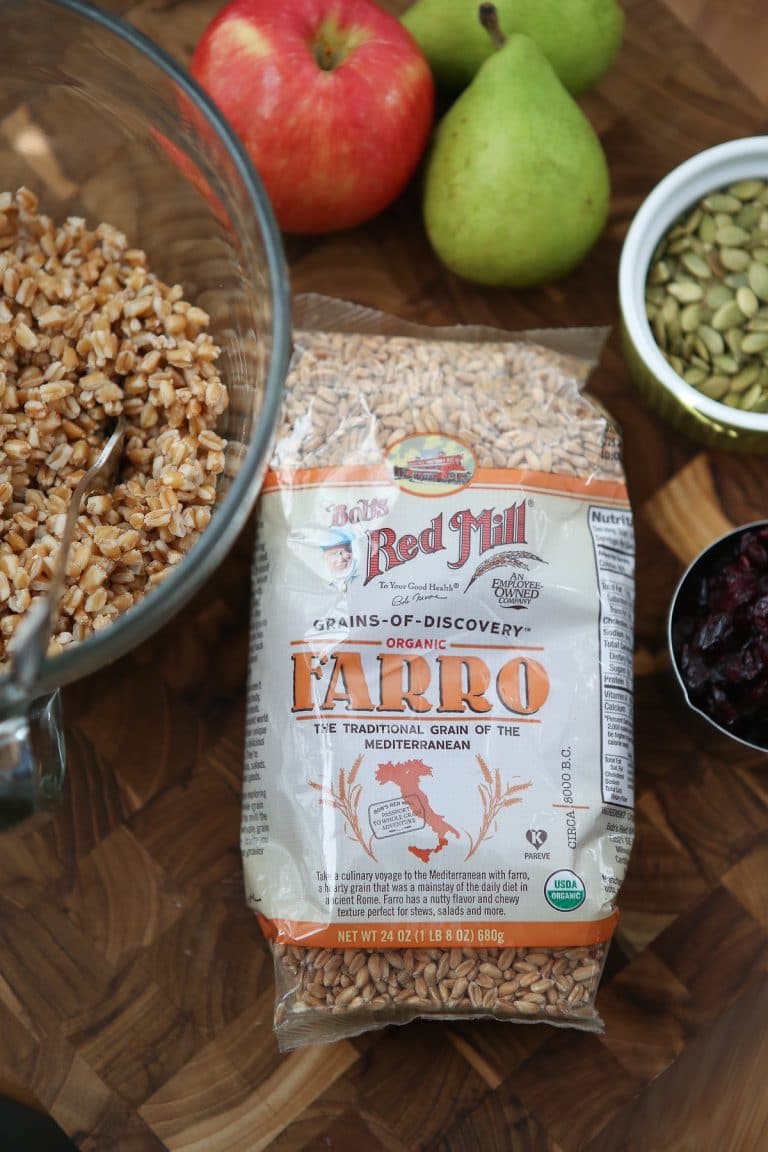 I mentioned this in my last post, but I feel like we are in a weird in-between place with produce seasons. Lots of apples and pears yes, but not a lot of other economical or seasonal options.
It may be where I shop so I'm determined to hit my favorite produce market more often to shake things up. I took advantage of what I had plenty of – apples, pears and clementines – plus a few other fall-inspired goodies (dried cranberries and pumpkin seeds) and pulled together this fresh and tasty Harvest Farro Salad.
Just in time for you to take it to a holiday potluck too!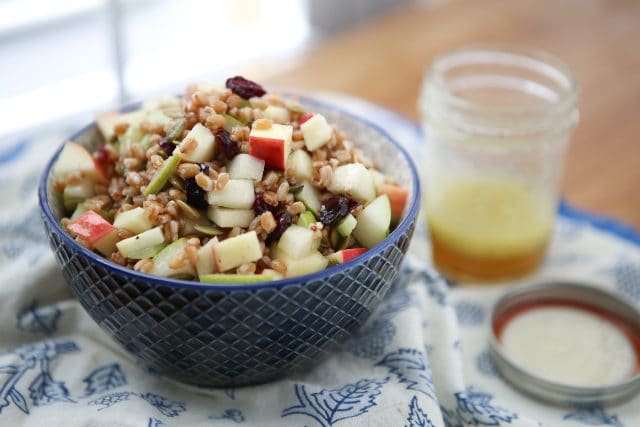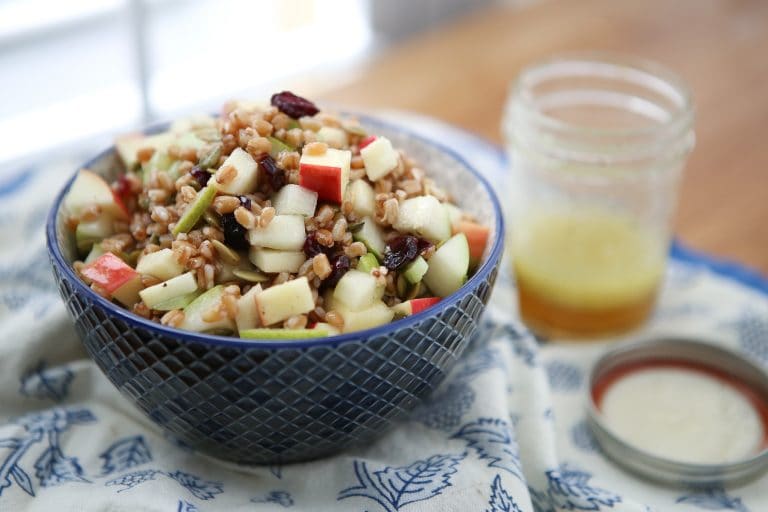 It's a nice break from the heavy comfort food we eat this time of year that's for sure. The brightness from the Clementine Vinaigrette (did you catch the video showing how easy this is to prepare?) pairs up perfectly from the sweetness of the apples, pears and cranberries.
You can add feta or even goat cheese to it if you want (originally that was in my plan), but I decided I wanted to keep it clean. But, the feta or goat cheese would be a tasty addition, especially if using this recipe for entertaining.
Love whole grain salads like I do? Check out these 12 Healthy Whole Grain Salad Recipes including farro, quinoa, wheat berries and brown rice!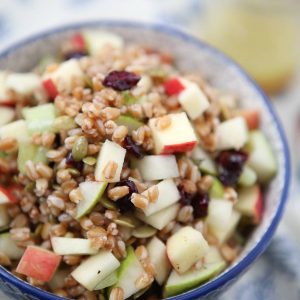 Ingredients:
1 cup Bob's Red Mill Farro, uncooked
1 large crisp apple, chopped small (I used Pink Lady)
1 large pear (or 2 small pears), chopped small
1 large celery stalk, chopped small
1/2 cup dried cranberries
1/2 cup pumpkin seeds
1/3 - 1/2 cup Clementine Vinaigrette
big pinch coarse salt and fresh ground pepper, to taste
Optional: crumbled feta cheese
Directions:
Prepare farro according to directions. Let cool completely in refrigerator for 1 hour.
Add chopped apple, pear, celery, cranberries and pumpkin seeds to cooled farro. Gently toss with Clementine Vinaigrette. Season with salt and pepper to taste. Serve immediately at room temperature or chilled.
If not serving immediately, you may need to add additional dressing to freshen it up before serving since dressing is usually absorbed into the grain. Be sure to add the dressing before refrigeration to prevent apples & pears from browning.
Follow AggiesKitchen on Instagram and show us what recipes you are making from the blog! Use the hashtag #aggieskitchen - I'd love to see what you are cooking up!
More farro to try:
Italian Tuna and White Bean Farro Salad
Black Bean Farro with Avocado | Reluctant Entertainer
Balsamic Chicken and Broccoli over Farro | Dine & Dish
Kale Salad with Farro and Honey Dijon Dressing | Rachel Cooks
Disclosure: This recipe was created in partnership with Bob's Red Mill, I was compensated for my time in creating this recipe and post. Thank you for supporting the brands that support Aggie's Kitchen!