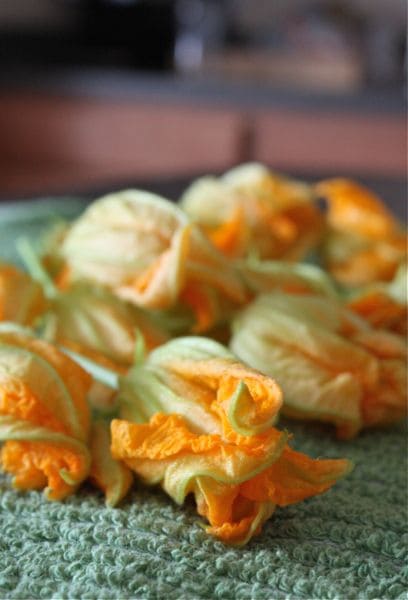 As I've mentioned, I have had some pretty awesome zucchini plants growing this year. I can't tell you how excited I was when I saw all these pretty golden flowers popping up in a sea of green leaves last month.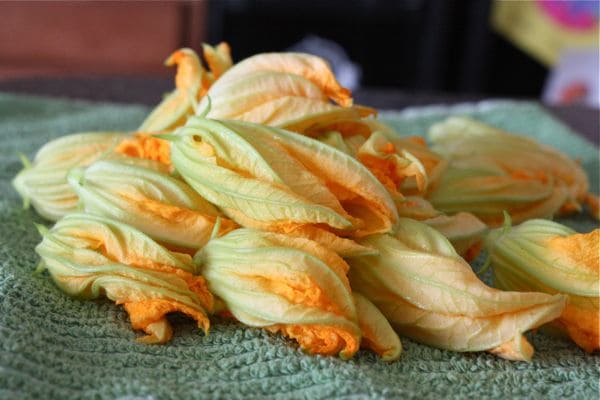 I grew up eating zucchini flowers. My grandfather was, and still is, a big time gardener. He was a farmer, as a boy and young man, along with his father living in Sicily. It's in his roots. I feel extremely lucky to have inherited that same passion for growing things from him, even though I'm still learning and not so good at it at times. But passion is definitely a gift, and I'll take it any way I get it.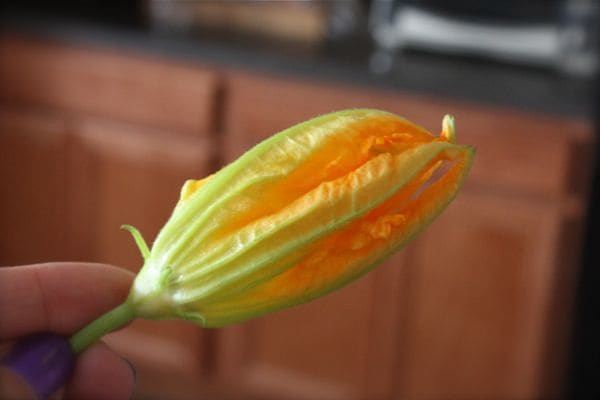 My grandparents cooked up their zucchini flowers very simply, usually quickly sauteed with eggs or into little fritters of some sort (usually ricotta). It was usually very simple and always delicious. And since you can only get the flowers from plants that are blooming, it was always extremely fresh and sort of a special treat.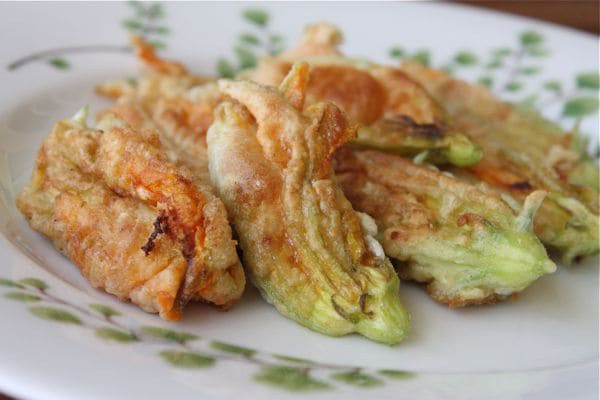 I tweeted and facebooked asking friends how they liked to enjoy their zucchini flowers. I got this idea of stuffing them with cheese from many…and could not resist. I cooked up them up one afternoon with my kiddos and was instantly hooked. These are Oh my Goodness so good. I made them two more times, each time with a different cheese – for my husband and for my family (grandparents, mom and brother)…sadly, I'm all out of flowers (well, very few), or else I'm sure these would be making an appearance a lot more often.
Hopefully I'm sharing this in time where most of you are starting to see these pretty flowers popping up in your gardens. When looking for the edible flowers, make sure you are picking ones that are on a stem, and not attached to a growing zucchini. Don't be turned off by any little buggies that you find, just make sure you clean them well. May take a few rinsings and soaking in cool water to get them clean. It's all worth it, I promise.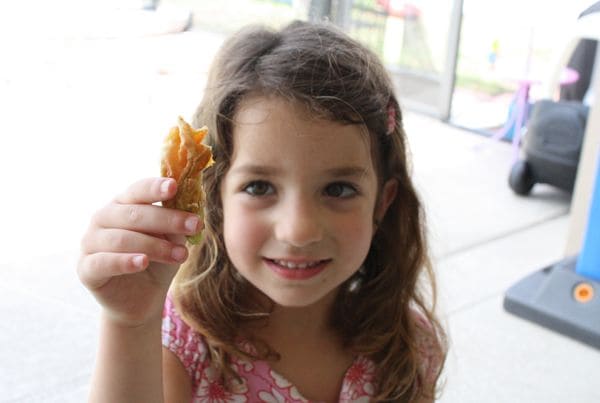 (My daughter…a little unsure at first. Her brother on the other hand was instantly hooked.)
| | | |
| --- | --- | --- |
| Cheese Stuffed Zucchini Flowers | | |
Author:
Ingredients
zucchini flowers, cleaned and dried well
2 eggs, whisked
flour, seasoned with salt and pepper
cheese of choice (I've made them 3 times using goat, feta, or mozzarella)
2-3 tablespoons light olive oil for frying
Instructions
To clean and stuff flowers: snap stems off flowers, rinse well under cool water, carefully open each flower and remove insides.
Set aside on dry towel to dry.
Set up your saute station: shallow wide bowl for whisked eggs, large plate for seasoned flour, large plate with paper towel for cooked flowers
Once flowers are completely dry, carefully open and stuff about a tablespoon of cheese into flour closing petals if you can. Use judgment on amount of cheese based on size of flower.
Heat oil in large non stick skillet.
Using your fingers, carefully dip each stuffed flower into egg mixture and let extra drip off.
Place egg covered flower into flour mixture and gently toss to coat, shaking off excess flour. Place into hot oil. Continue on the next few flowers, amount depending on size of your pan, you don't want to crowd them.
Once flowers are browned on bottom, about 3-4 minutes, carefully flip and cook other side. Cook for another 2-3 minutes or until browned and then take out and place on paper towel so that extra oil will be absorbed. Repeat until all flowers are cooked. You may have to carefully clean pan with a quick wipe from paper towel in between batches.
Serve warm and enjoy!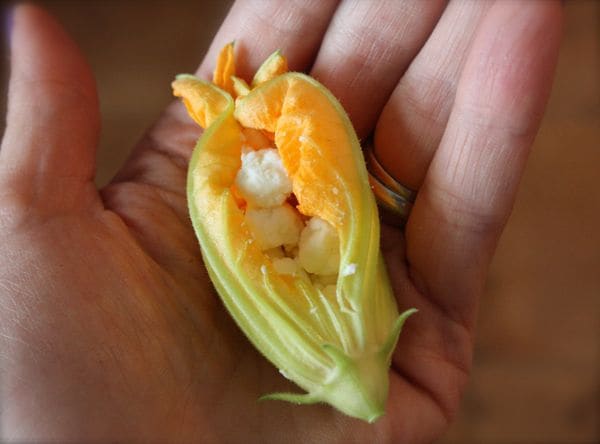 I just submitted this as an appetizer for "Get Grillin' with Family Fresh Cooking and Cookin' Canuck, sponsored by Ile de France Cheese, Rösle, Emile Henry, Rouxbe and ManPans."