Mediterranean Farro Salad with Arugula and Chickpeas
This Mediterranean Farro Salad with Arugula & Chickpeas is a hearty & healthy vegetarian whole grain dish. Great source of protein and fiber!
Click here to Pin this Mediterranean Farro Salad with Arugula and Chickpeas recipe!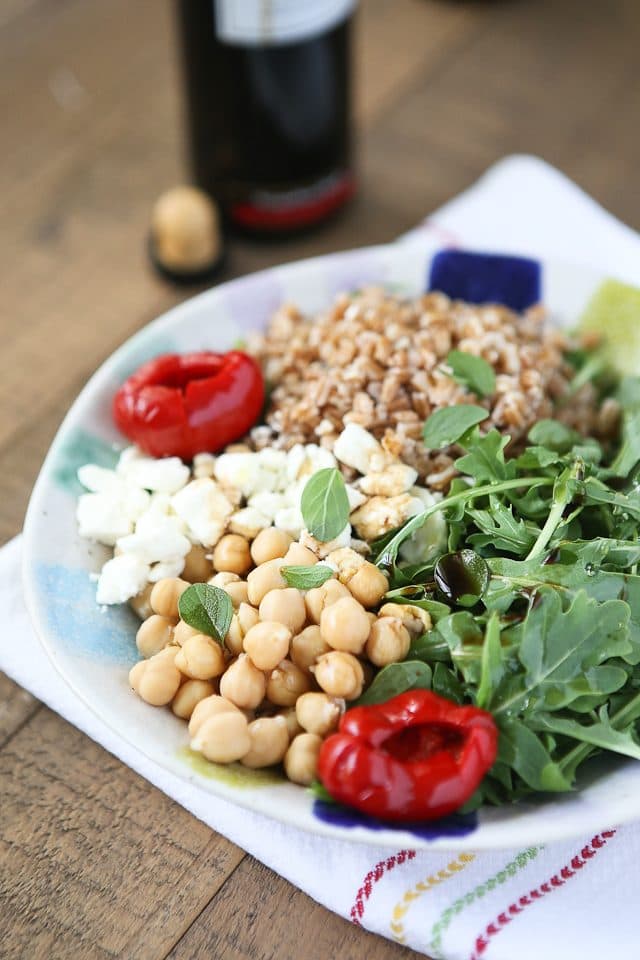 If I'm going to eat a salad a day successfully each week, I tend to pick my "salad of the week" and just go with it to keep things on the easy side. This particular Mediterranean Farro Salad with Arugula and Chickpeas was my salad of the week a couple of weeks ago and I'm ready for it to make a comeback this week. It's so good.
I am in love with farro and it's versatility. You can add it to soups like this Slow Cooker Chicken and Farro Chili or make an incredible grain salad like this Harvest Farro Salad. Either way it's always a great addition because it's such a hearty grain, filled with protein and fiber. It makes you feel good when you eat it.
My advice is to cook up a batch (it takes a bit of time, similar to brown rice) and store it in the fridge ready to go for salads like this one, or if you're into meal prep, prep your salads (minus the oil and vinegar) in containers and they will be ready to go when you are (I love these containers for salads to help me with meal prep).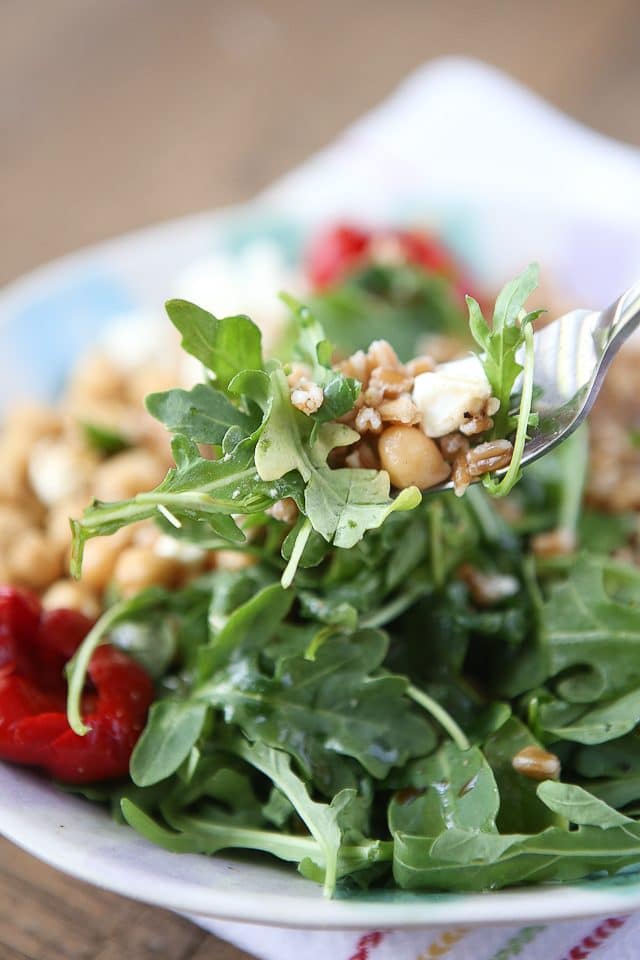 Arugula is in season right now, and if it's warm enough where you are living right now, so are fresh herbs. My littlest son and I recently got our our container herb garden back in business and I am loving being able to step outside and snip a few leaves to add to whatever I'm cooking. One herb I absolutely adore but I don't think  gets a lot of love is fresh oregano. Add it to anything Greek, or anything that includes roasted peppers and you will be blown away by the flavor. I added some fresh oregano leaves to the top of my Mediterranean Farro Salad and in seconds this salad was elevated with fresh flavor. Fresh herbs tend to do that.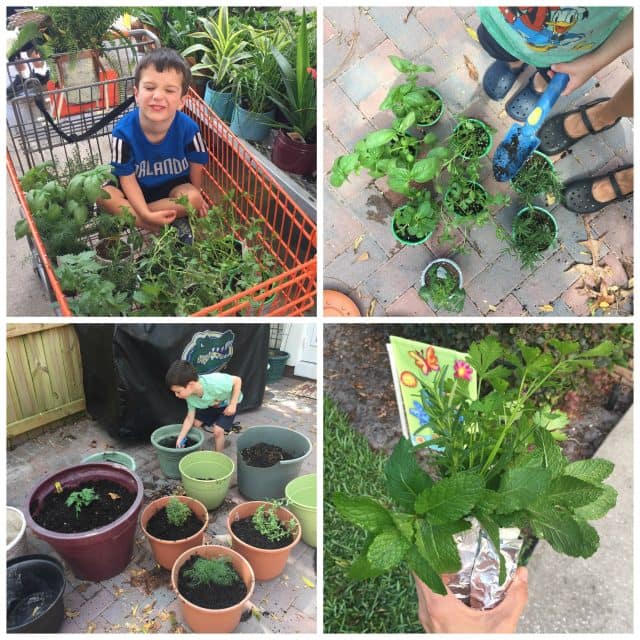 So much fun with this kid. <3
There is a lot more seasonal inspiration where this came from. Look below the recipe to see what's in season for May and what my #EatSeasonal friends cooked up for this month.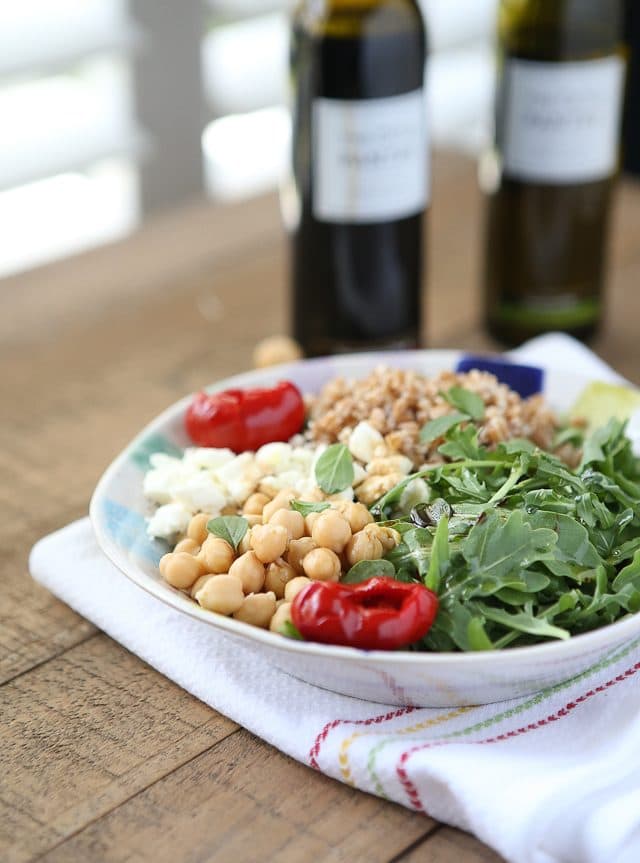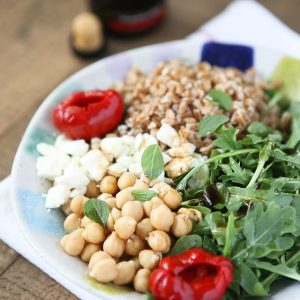 Ingredients:
2 cups baby arugula
1/2 cup cooked farro
1 oz crumbled feta (about 1/4 cup)
1/3 cup garbanzo beans (chickpeas)
2 sweet cherry peppers
a few splashes of balsamic vinegar
2 teaspoons olive oil
fresh herbs, for garnish (I used fresh oregano leaves from my container garden)
Directions:
Arrange ingredients into a large bowl or plate and drizzle with balsamic and olive oil. Sprinkle with a little salt and pepper to taste.
Nutritional Information (calculated from My Fitness Pal):  460 calories / 18g fat / 11g fiber / 16g protein
Follow AggiesKitchen on Instagram and show us what recipes you are making from the blog! Use the hashtag #aggieskitchen - I'd love to see what you are cooking up!
Love whole grain salads like I do? Check out these 12 Healthy Whole Grain Salad Recipes including farro, quinoa, wheat berries and brown rice!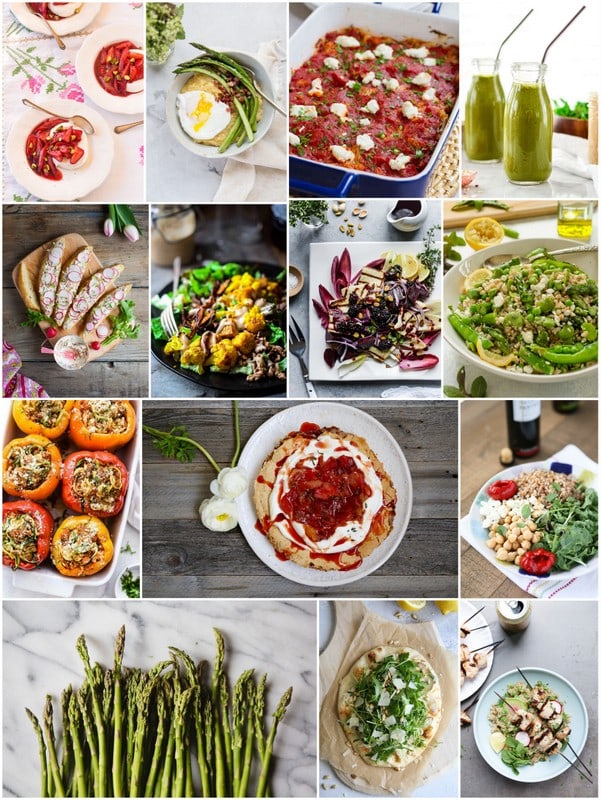 Roasted Rhubarb Crazy Berry Meringues by Letty's Kitchen
Polenta with Asparagus, Pancetta and a Poached Egg by Vintage Mixer
Baked Cauliflower Casserole with Goat Cheese by Cookin' Canuck
Date-Sweetened Chocolate Peanut Butter Oatmeal Smoothie by JoyFoodSunshine
Sea Salt Focaccia with Radish Ramp Butter by Simple Bites
Turmeric Roasted Cauliflower and Tempeh Power Salad {vegan} by Healthy Seasonal Recipes
Halloumi Salad with Beets and Blackberries by Kitchen Confidante
Spring Farro Salad with Feta, Lemon, and Mint by Flavor the Moments
Spiralized Zucchini, Quinoa and Turkey Sausage Stuffed Peppers by Foodie Crush
Chocolate Rhubarb Pavlova by Suitcase Foodist
Radish and Asparagus Breakfast Bowls by Food for My Family
Hummus and Salad Flatbread Pizza by Completely Delicious
Beer-Marinated Grilled Chicken Skewers with Spring Quinoa Salad by Floating Kitchen