Eat your Broccoli! Easy Roasted Broccoli Your Family Will Love
This super simple Roasted Broccoli has been a game changer as far as getting my kids to eat their veggies. I make broccoli this way at least once a week!
Click here to Pin this easy Roasted Broccoli recipe!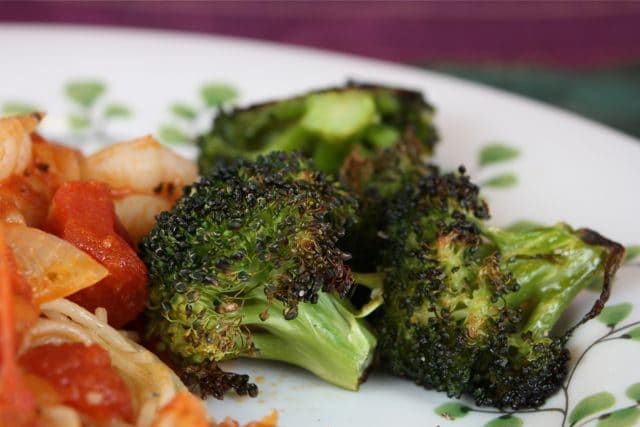 I debated posting this recipe, since it's such a simple one…but it's one of those recipes that is so good that I had to share "just in case" any of you have never tried roasted broccoli.  Since I did get a couple of emails asking how to roast broccoli, I decided that it was definitely a "blog-worthy" recipe.  So simple…so good.  If you are trying to make things a little more exciting in the veggie department, please try this one.
And I have to add that this recipe is definitely kid friendly…my kids gobble up their broccoli when I make it for them like this. Because I know this is a surefire way of seeing my kids eat their veggies, I like to make this roasted broccoli at least once a week.
I would highly recommend using a course salt and fresh ground pepper with this recipe, or change things up by adding some chopped garlic before roasting or sprinkling with grated Parmesan cheese when they come out of the oven.  Enjoy!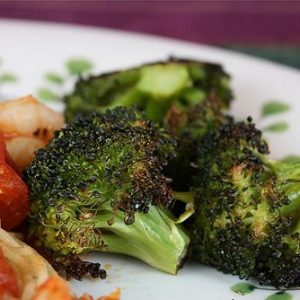 Ingredients:
1 head broccoli, cut in florets
1-2 tablespoons olive oil
big pinch sea salt or kosher salt
fresh ground pepper
1-2 garlic cloves, minced (optional)
red pepper flakes (optional)
Directions:
Toss broccoli florets with a little olive oil, salt and pepper (and some chopped garlic or red pepper flakes if you like). Roast in 400 degree oven for about 20 minutes or until slightly crisped and browned.
Follow AggiesKitchen on Instagram and show us what recipes you are making from the blog! Use the hashtag #aggieskitchen - I'd love to see what you are cooking up!
Love roasted vegetables like this roasted broccoli? Me too! Try these:
Honey Balsamic Roasted Brussels Sprouts
Honey Roasted Parsnips and Carrots
Garlic Parmesan Roasted Vegetables | Melissa's Southern Style Kitchen
Turmeric Roasted Cauliflower | Reluctant Entertainer
Roasted Tomatoes with Pesto | Taste & Tell