Strawberry Almond Baked Steel Cut Oatmeal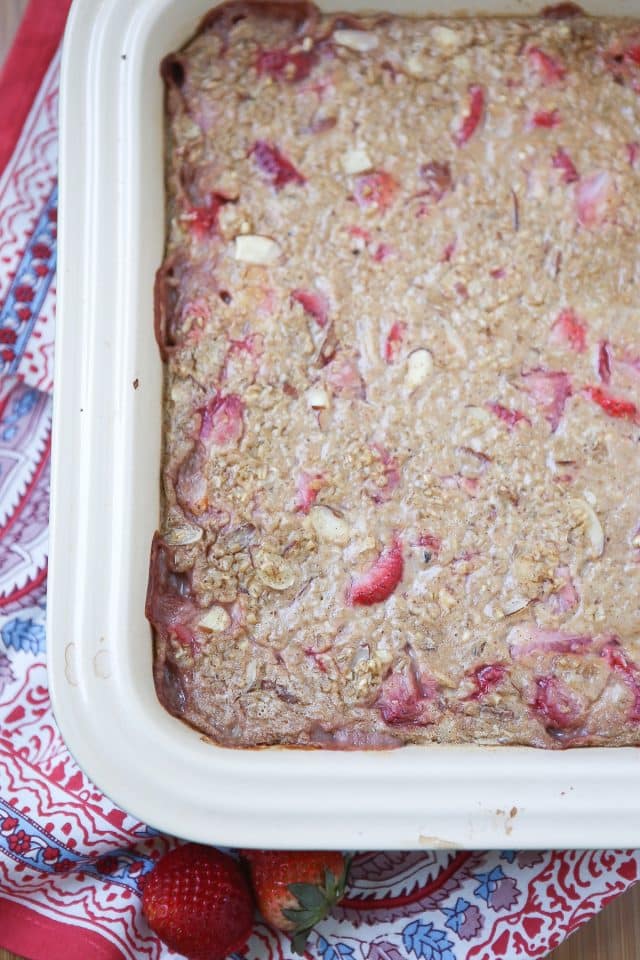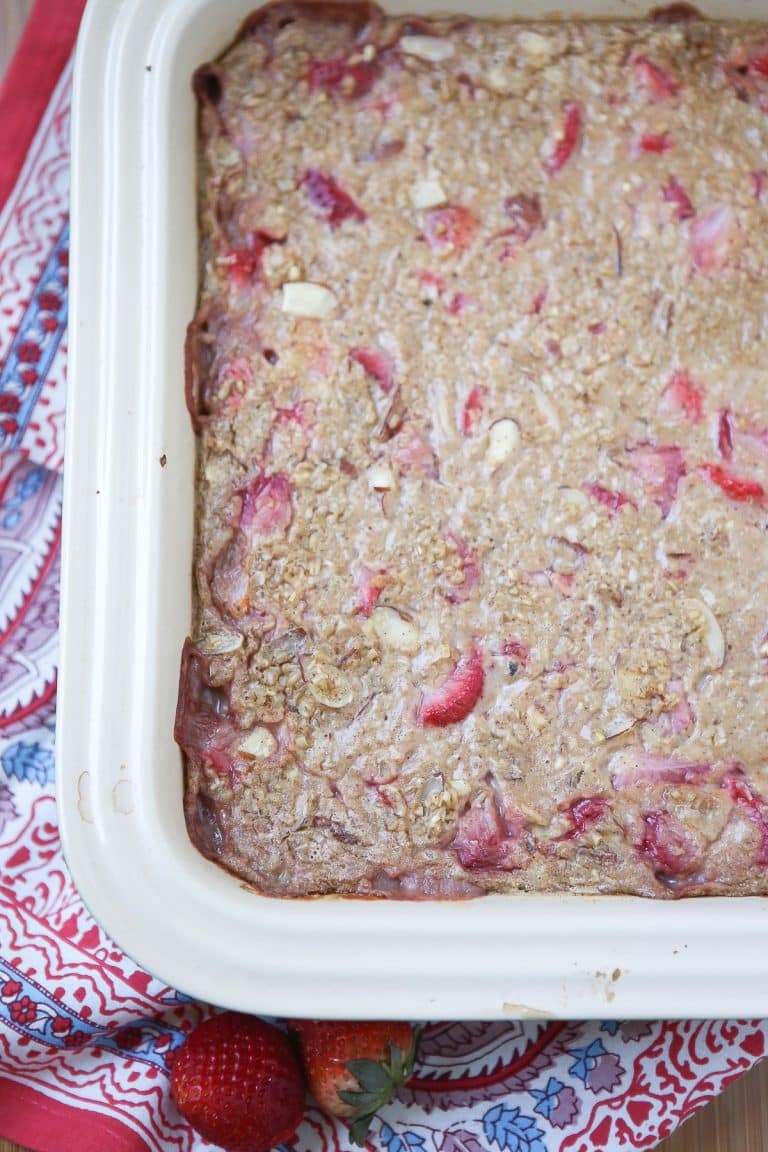 This recipe for Strawberry Almond Baked Steel Cut Oatmeal was created in partnership with Bob's Red Mill.
I've been wanting to make baked oatmeal for as long as I can remember. I could tell by the recipes I've found online that I would love it, mostly because of it's texture. I've mentioned before, I'm more of a savory breakfast girl (eggs!) but I do enjoy a bowl of oatmeal or overnight oats every now and then. It's so good for you and lucky for me, my kids love it too.
Baked oatmeal is exactly what it is – prepared oatmeal, baked instead of cooked on the stove top. I love using steel cut oats when I can, but I had a feeling that they could be tricky in a recipe for baked oatmeal because of their heartier texture and cook time. After doing a little research, I decided to follow Lisa's method of baking steel cut oatmeal, and it turned out wonderfully.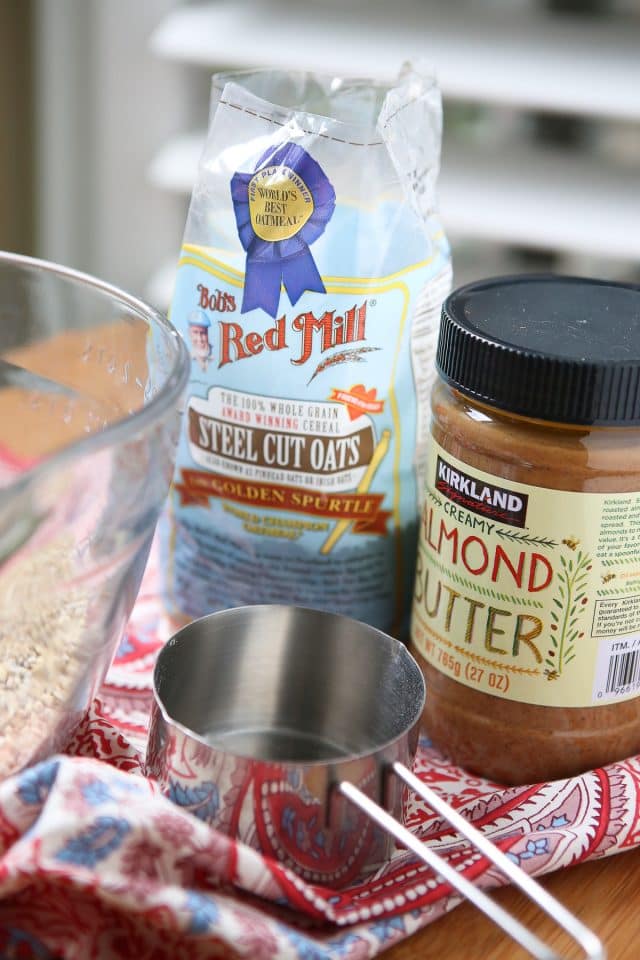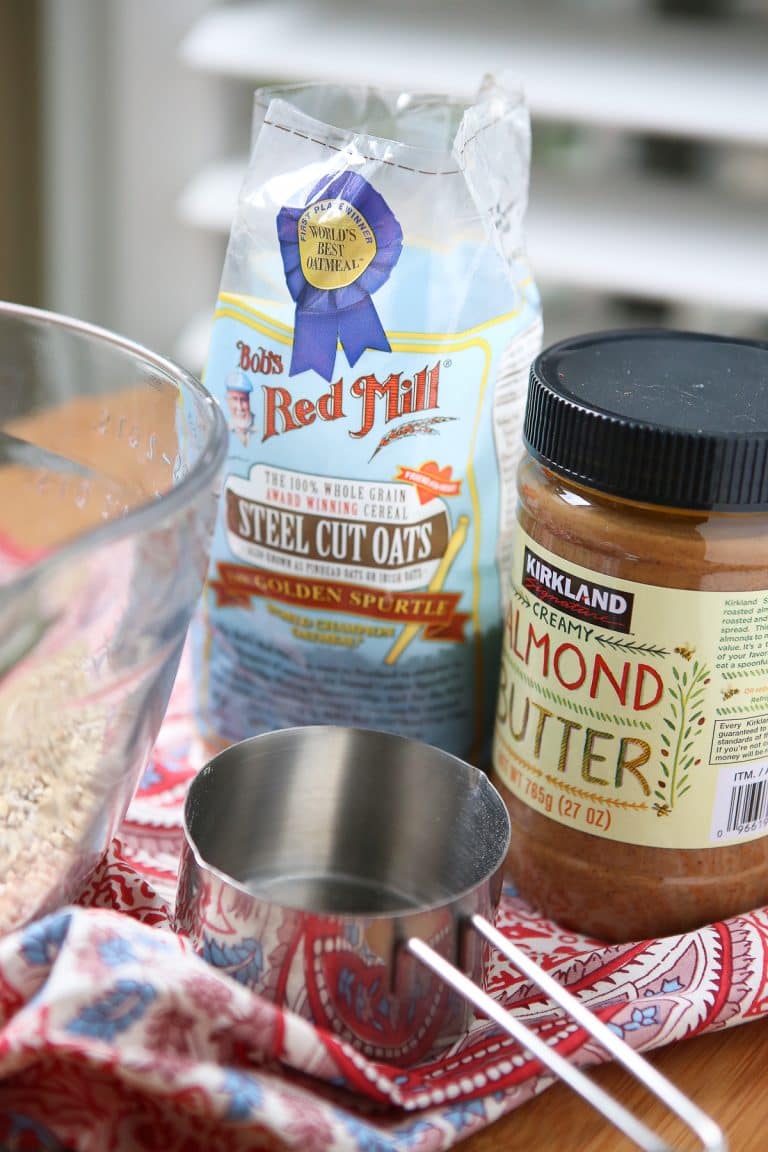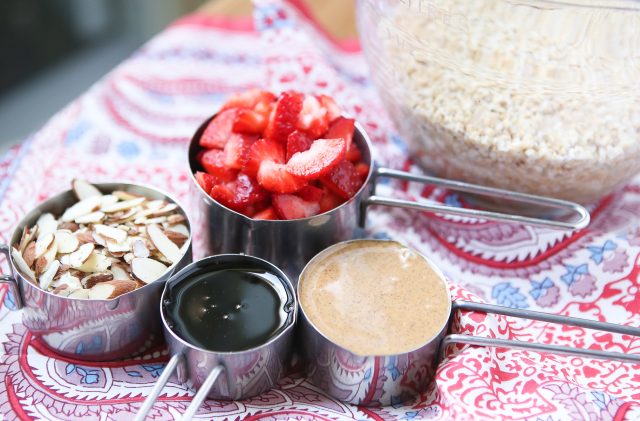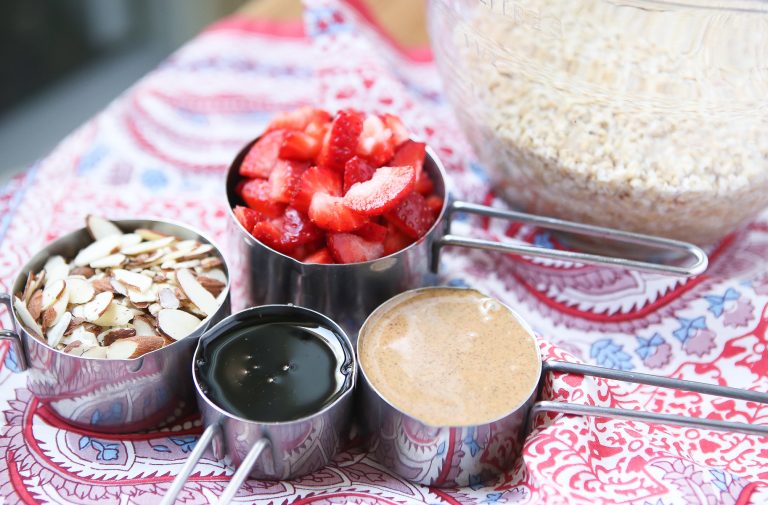 There is some prep time involved with this dish – soaking your steel cut oats in boiling water is key and you need about 45 minutes for that. The rest is easy, combine all of your ingredients in a bowl, then bake. Less than an hour later, you have breakfast for a large family or you have breakfast prepped for a few days (which is how we have been enjoying it).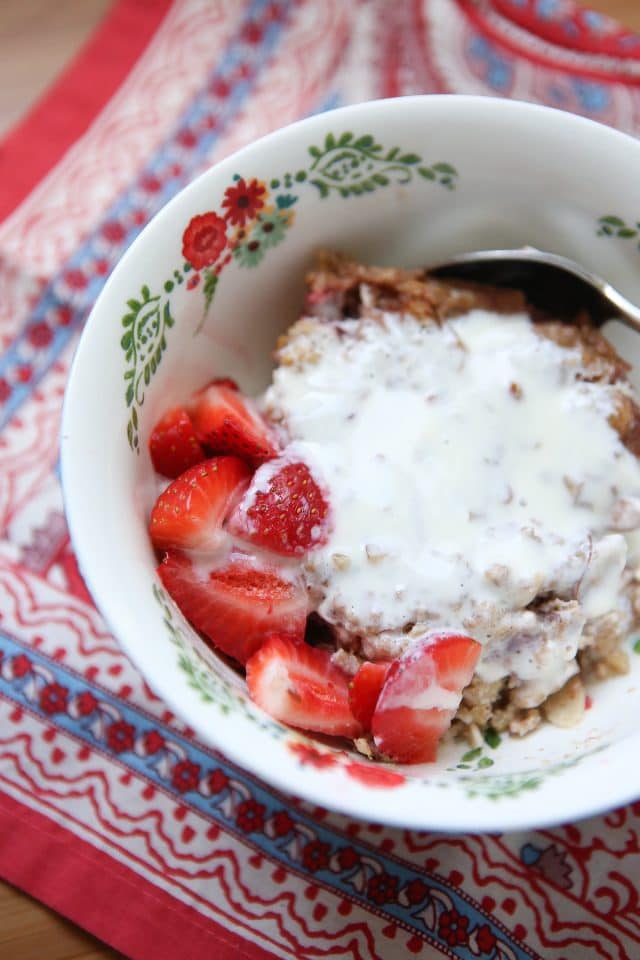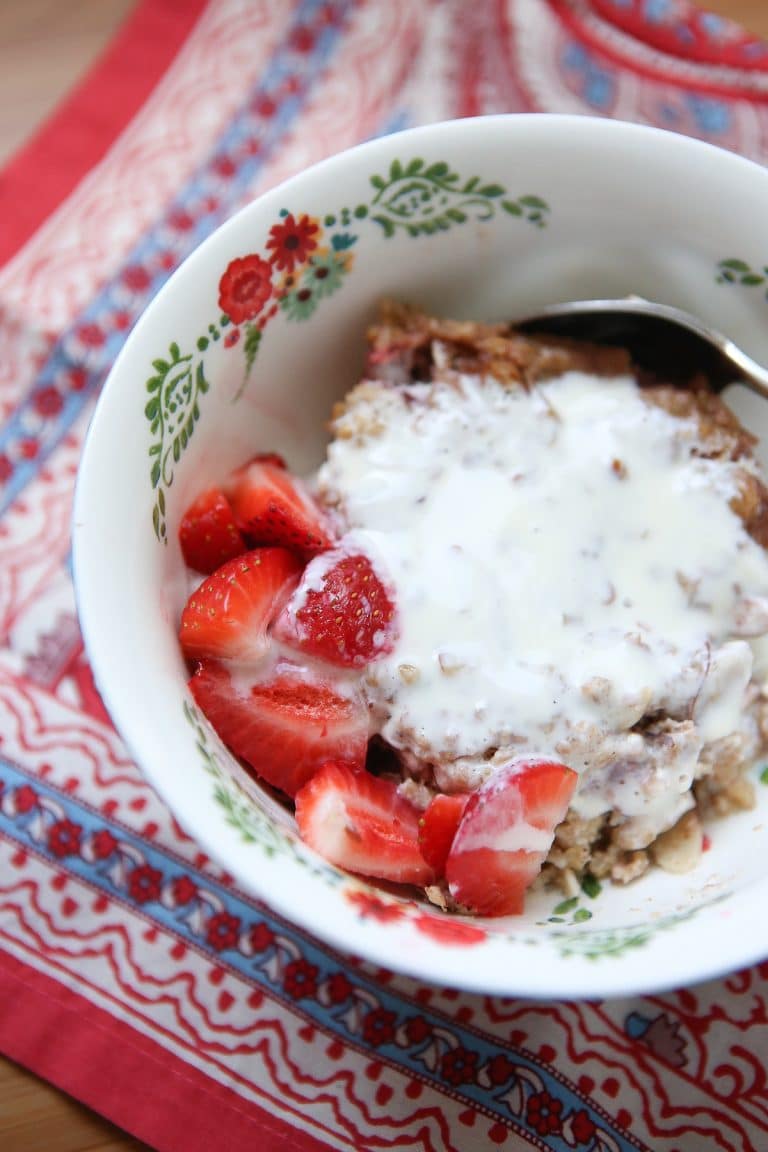 My breakfast: 1 serving (1/8 of the casserole) of baked oatmeal warmed in the microwave and topped with honey vanilla kefir and fresh strawberries. My kids have been having theirs with Greek yogurt and a variety of fresh fruit. Take note, the texture of baked oatmeal is more "cake-like" than creamy. You can add your milk of choice to the warmed up serving if you prefer it to be more creamy.
Having portions of this ready to go in the fridge is great for breakfast in the summer when everyone is waking up at different times and you're on a lazier schedule (at least that's in my house!).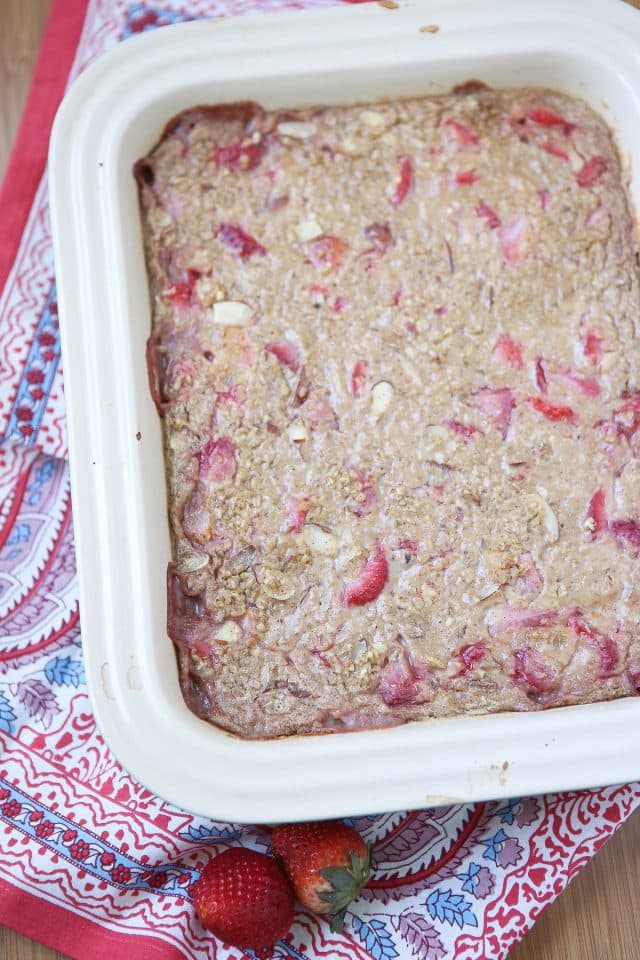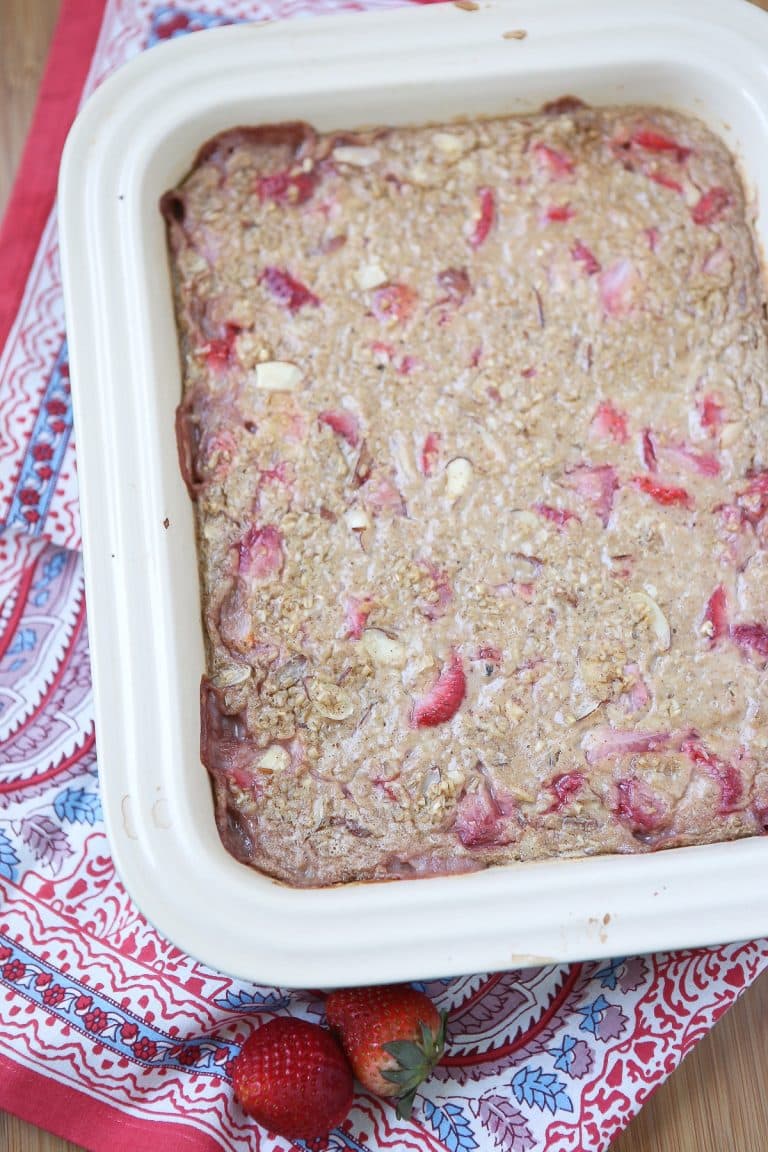 Hope you are having a great start to "summer"… my kids are officially on summer vacation – yay!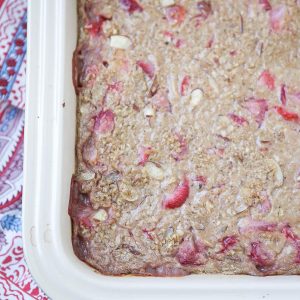 Ingredients:
3 cups boiling water
1/3 cup sliced almonds
1/2 cup almond butter
1/4 cup pure maple syrup
1/4 teaspoon coarse or kosher salt
1/2 cup unsweetened (or sweetened, your choice) shredded coconut
1 tablespoon pure vanilla
1 cup unsweetened coconut milk, found in dairy aisle (or other milk of choice)
1 heaping cup chopped strawberries
Directions:
Preheat oven to 350 degrees.
Combine boiling water and steel cut oats in large bowl and let soak for 45 minutes, until fully absorbed.
Stir sliced almonds, almond butter, maple syrup, salt, shredded coconut, vanilla and coconut milk to oatmeal mixture. Gently fold in strawberries. Pour into a lightly greased 9 x 13 casserole dish.
Bake at 350 degrees for 45-50 minutes, until oatmeal is set and bubbling at sides. Let cool slightly and serve immediately - or, let cool completely and divide into 8 servings by slicing into square/rectangle shape individual portions and refrigerating.
Individual portions can be reheated in a bowl by microwaving for 2 minutes. Serve with Greek yogurt and fresh fruit.
Follow AggiesKitchen on Instagram and show us what recipes you are making from the blog! Use the hashtag #aggieskitchen - I'd love to see what you are cooking up!
(Disclosure:  I am a brand ambassador for Bob's Red Mill and have received compensation for our partnership. Thank you for supporting the brands that support Aggie's Kitchen!)