Edamame Dip
A fun, flavorful appetizer of Edamame Dip to entertain your guests. Grab some pretzels and crackers and dig in!
Click here to pin this recipe!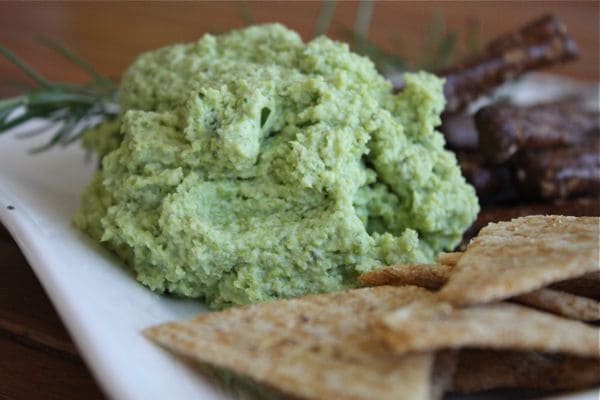 I'm a bit of a hummus addict. I seriously can't get enough of the stuff. I put it on everything…sandwiches, salads and just plain old on my plate with some veggies and crackers. Good stuff.
A few weeks ago I felt that I had had my share of hummus for a while. I don't know what it was, but I just got sick of it. I stopped buying it, stopped making it…I just needed a break. But I found myself missing something in the afternoons when I was getting that snack attack I always get around 4pm. I needed something crunchy, and something to dip that crunchy in. I needed a replacement for hummus.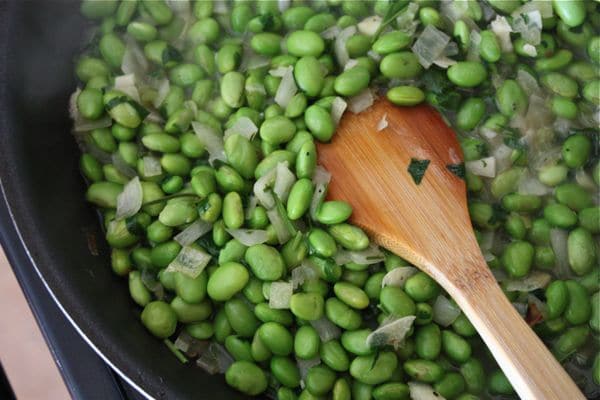 I had seen the words "edamame dip" around the web but had yet to try it myself. Using the bag of edamame that has been screaming at me from the freezer, some pantry items and some fresh herbs from the garden, I whipped up this recipe from Whole Foods one afternoon and served it to a friend of mine who was coming over for before-dinner glass of wine. A plate of this dip and some dippers, a glass of good vino and some happy kids splashing in the pool…we were set.
I'm happy to announce…edamame dip is my new friend.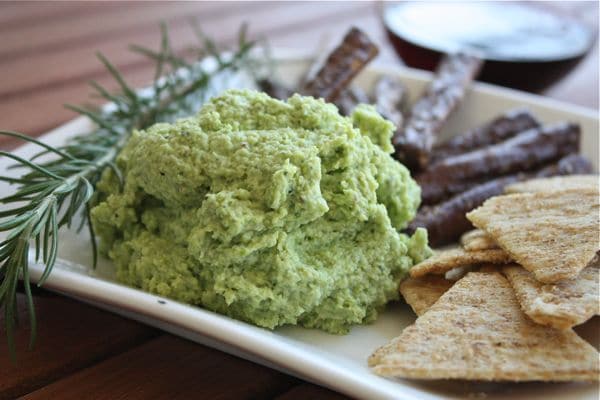 This dip has a very fresh flavor…a little bit sweet from the edamame, a little bit earthy from the herbs. Its not super creamy like hummus, but instead more on the smooth-chunky side if you know what I mean. I loved how it tasted and loved it's pretty green color even more.
Let me know if you try it. Enjoy!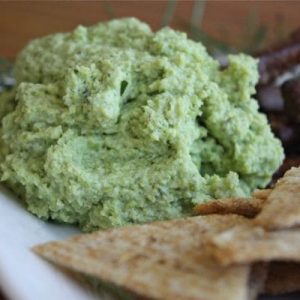 Ingredients:
1/2 cup plus 2 tablespoons extra virgin olive oil
1 medium onion, sliced thinly
3 cloves garlic, minced
3 tablespoons chopped fresh parsley
1 tablespoon chopped fresh rosemary
1 (16-ounce) package frozen shelled edamame
1 cup vegetable stock
Sea salt, to taste
1/2 teaspoons pepper
Directions:
For dip, heat 2 tablespoons olive oil in a sauté pan over medium heat. Add onion and cook, stirring occasionally, until softened and translucent, 8 to 10 minutes. Stir in garlic, parsley and rosemary and cook until fragrant, about 2 minutes. Stir in edamame, followed by stock. Cook until beans are tender and liquid has reduced considerably, 8 to 10 minutes. Let cool slightly.
Pour edamame mixture into a blender. Take care as the ingredients are hot - keep your hand over the blender lid. Purée ingredients, gradually pouring in remaining half cup of olive oil. When completely puréed, add salt and pepper. Taste and adjust seasoning.
Pour dip into a serving bowl. Cover and chill until ready to serve.
Follow AggiesKitchen on Instagram and show us what recipes you are making from the blog! Use the hashtag #aggieskitchen - I'd love to see what you are cooking up!
Grab some dippers and try out these healthy dips:
Healthy Honey Mustard Dip | Cupcakes & Kale Chips
5 Minute Black Bean Dip | Cookin' Canuck
Avocado-Cilantro White Bean Dip | Chelsea's Messy Apron