Zucchini, Red Onion and Black Bean Quesadillas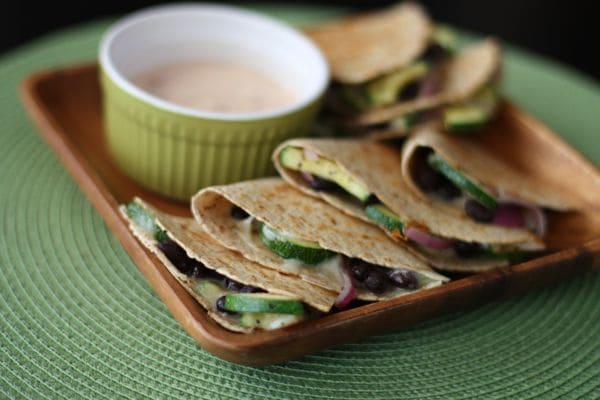 When it comes to building a quesadilla, I think it's pretty safe to say "anything goes". I think that's what I love the most about making them. They are basically just the vehicle for whatever ingredients you have on hand, and most of the time I would say, it's pretty hard not to get it right.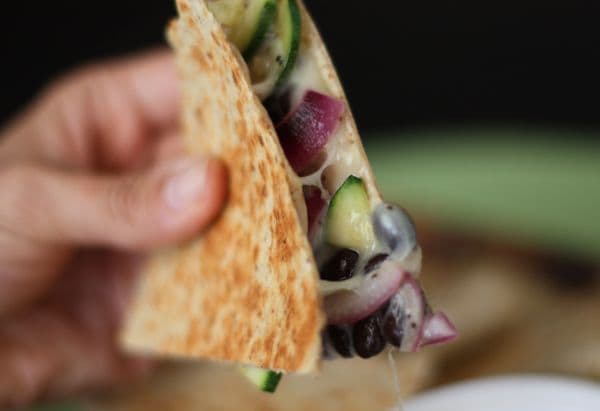 These particular quesadillas happened one afternoon around lunch time. It was one of those days where I found I had a little extra time to experiment and build on what I had in the fridge. I love those kind of days…and now that kids are in school during the day I hope to experience more of those moments (my favorite part of cooking is making something new and delicious!!)

I can see these quesadillas being served as lunch, a light meatless dinner or as snacky food to serve during game days. They are perfect for balancing out any menu where you want to include a meatless option for any guests that are vegetarian or who prefer something lighter. I served them with some of Bolthouse Farms Salsa Ranch dressing (LOVE!) but they would be great with Kalyn's kicked up Sriracha-Ranch Dipping Sauce or this Chipotle and Lime Sour Cream from Mother Rimmy. Or of course they would be delicious dipped in your favorite salsa.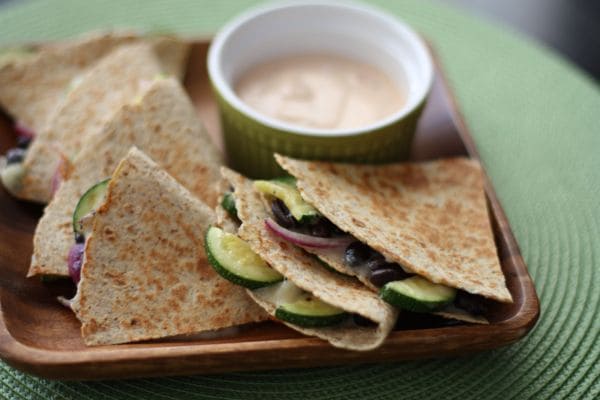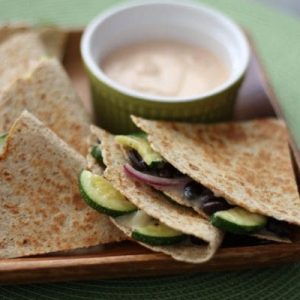 Ingredients:
1 zucchini, halved then sliced into "half moons"
1/2 red onion, halved, then sliced thin
1/4 teaspoon of cumin powder
1 teaspoon light oil or cooking spray
salt and pepper, to taste
1 can Bush's Black Beans, rinsed and drained
4 whole wheat tortillas (I used La Tortilla Factory Smart & Delicious, Low Carb High Fiber tortillas)
1 1/2 cups shredded cheese of choice (I used pepper jack, but cheddar, mozzarella or monteray jack would be great as well)
Directions:
Heat oil in a non stick skillet (or simply spray with cooking spray). Add zucchini and red onion to skillet, sprinkle with cumin, salt and pepper. Let vegetables cook over medium heat for up to 5 minutes, stirring occasionally, until softened. Set aside.
Using a large non stick skillet, heat tortilla over medium heat for about 30 seconds. Flip over and begin to build your quesadilla by layering with shredded cheese, zucchini and onion mixture, black beans, then again with shredded cheese. Make sure your ingredients are divided evenly for 4 tortillas before you begin.
Cook quesadilla on first side for about a minute, then gently flip over. Cook on second side for 2 -3 minutes or until cheese is melted through and tortillas are browned but not burned. Remove quesadilla from pan onto cutting board and let cool slightly before cutting. Cut into thirds and serve with sour cream, salsa or a combination of salsa and ranch dipping sauce. (Note: I used Bolthouse Farms salsa ranch dressing for dipping - delicious!)
Serve as a light meal or as an appetizer.
Follow AggiesKitchen on Instagram and show us what recipes you are making from the blog! Use the hashtag #aggieskitchen - I'd love to see what you are cooking up!
This post is sponsored by Bush's Beans. My thoughts and opinions are 100% my own.