Zucchini and Mahi Stir Fry
You have got to try this stir fry.
This is another one of
Mary Ann's
recipes that I have tried recently, I made this along side her
potstickers
one Friday night and I felt like we were eating guilt free take out. It was so much better than takeout because I knew exactly what was going in it and knew it was all so fresh. Look at all those veggies!
The original recipe calls for chicken, but I found some mahi mahi on sale that day and decided to make it a fish and veggie stir fry instead. Once everything was cooked I tossed the mahi, veggies and sauce with some cooked soba noodles.
This really was oh so good. I can't wait to make it again.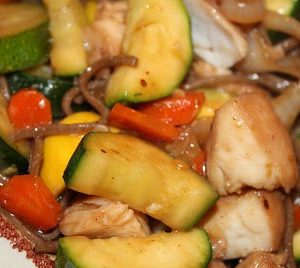 Ingredients:
Marinate:
1 pound cubed mahi mahi

(with fish only marinate for 20-30 minutes max)

1 Tbls oil

1 tsp sugar

2 Tbls soy sauce

2 large zucchinis, halved and sliced 1" thick

2-3 yellow squash, halved and sliced 1" thick

1 large onion, halved and sliced

1 large carrot, halved and sliced

1 tsp ginger root, minced

2 cloves garlic, minced
Directions:
Mix and set aside until needed- 1 Tbls cornstarch, ½ tsp salt, ¼ cup oyster sauce, ¼ cup water.

Heat 1 Tbls oil in wok until hot. Stir in half of the fish and cook until done. Remove fish and repeat with other half. Heat 1 Tbls oil in wok and stir in vegetables and flavorings. Stir fry veggies until tender and then add cooked fish. Stir in sauce mix, stir and cook until thickened. Serve with soba noodles or hot rice if desired.
Follow AggiesKitchen on Instagram and show us what recipes you are making from the blog! Use the hashtag #aggieskitchen - I'd love to see what you are cooking up!
(for a printable version of this recipe click here)
Last weekend we took advantage of one of the perks of living in Orlando…we spent my husband's birthday at Epcot. The weather couldn't be more perfect and we enjoyed visiting the countries and of course partaking in "modified" drinking around the world (we had the kids with us!).
In case you haven't heard…Disney is offering FREE admission to 1 of their parks on your birthday. What a great gift!
(Here are the kiddies having fun with some of their favorite Disney characters…)