Vegetarian Mediterranean Nachos with Roasted Red Pepper Hummus
Say hello to your new favorite appetizer! Mediterranean Nachos with Roasted Red Pepper Hummus is what you could call a beautiful mess of all the flavors I love in this world. Topped with Sabra Hummus, roasted peppers, olives, feta and fresh herbs, you can't go wrong with this one!
This recipe was created in partnership with Sabra in honor of National Hummus Day which is May 13.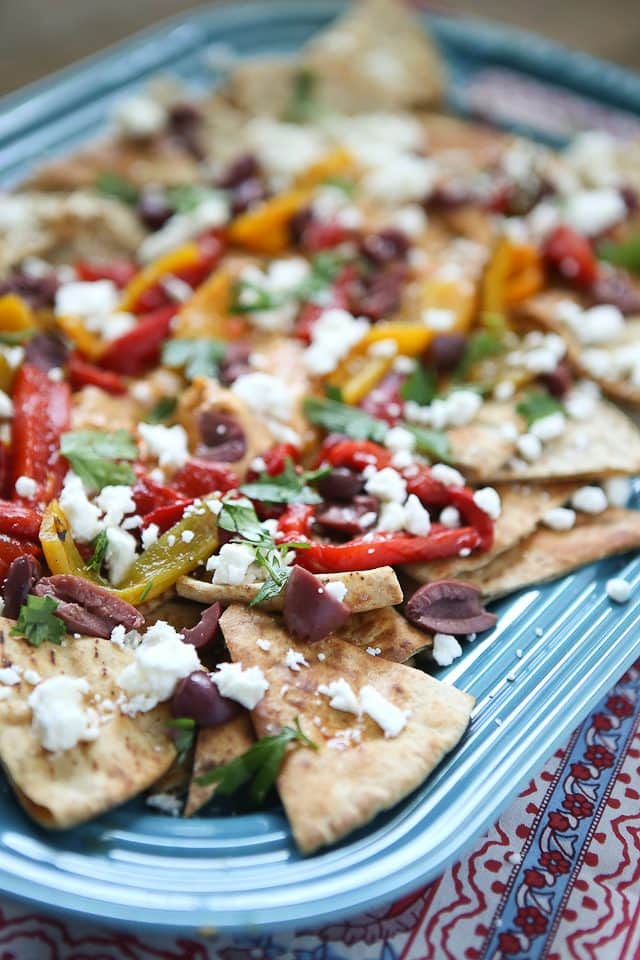 I don't know about you, but I would be totally okay with sitting down to a plate of these Mediterranean Nachos for an unofficial meal any night of the week. They would particularly be welcomed on a Friday or Saturday night, when I tend to lose my steam for putting together a real meal.
I like snacky food, I always have and I always will. There is not an appetizer plate I can resist and these "nachos" are officially on that list. The best part is how easy they are to put together (would I ever steer you to something complicated?) and how quickly they disappear once they are served.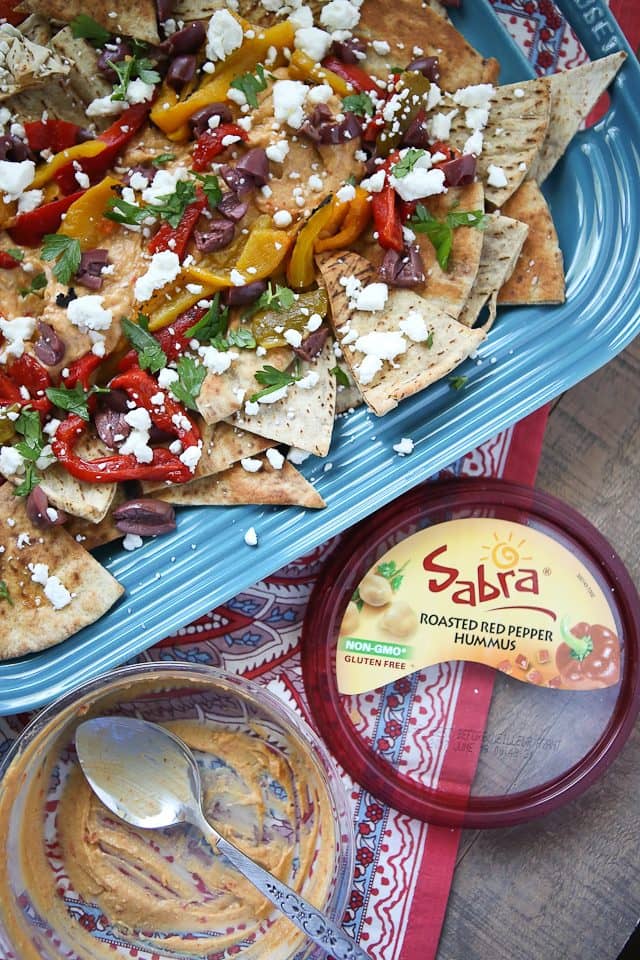 Part of the ease comes from using Sabra's hummus, which if it's not already obvious, has always been a favorite of mine. For these Mediterranean Nachos I went with the Roasted Red Pepper flavor, making sure I stirred all the peppers into the hummus before scooping them into the center of a plate of freshly baked pita chips. Then we loaded them with roasted red peppers (I picked up a jar from Trader Joe's that red and yellow peppers – so pretty), kalamata olives, feta and fresh parsley and oregano. The fresh herbs really brightened it up and if you didn't already know, fresh oregano pairs up so well with roasted peppers.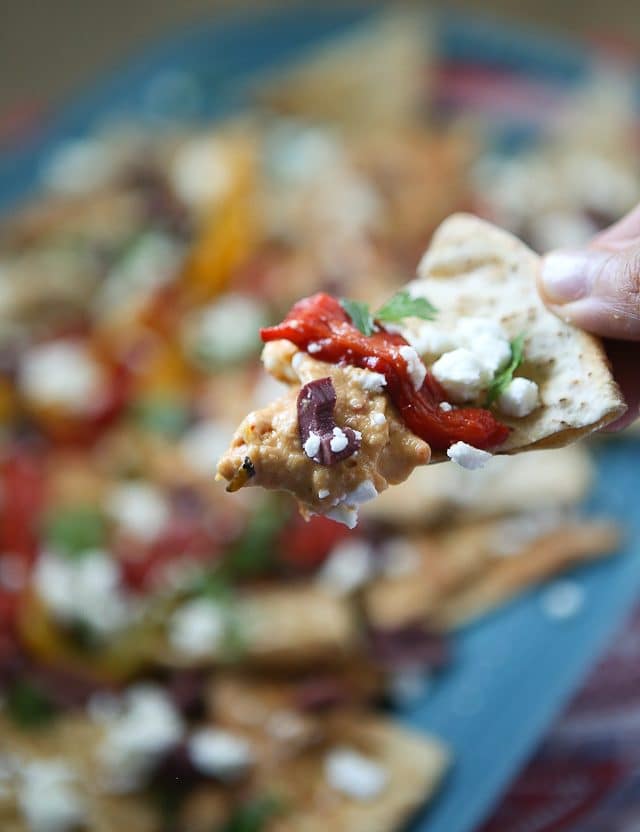 These vegetarian Mediterranean Nachos can easily become the unofficial meal whether you are sitting down with your family to watch a Friday night movie or are getting together with your neighbors with a glass of wine in your driveway on a beautiful spring night. I would be quite happy with either honestly.
Don't forget about National Hummus Day on May 13 – enjoy some hummus simply on it's own with pita chips and veggies or turn it into something a little special like this Vegetarian Mexican Baked Hummus Dip, these Hummus Veggie Tots or Buffalo Hummus Chicken Salad Rollups. So many creative and fun ways to incorporate hummus into your recipes!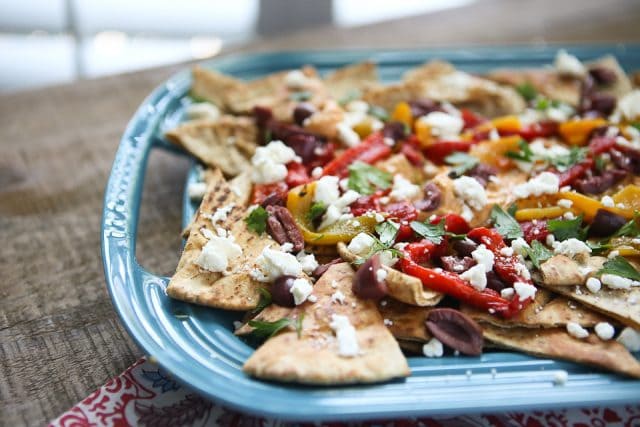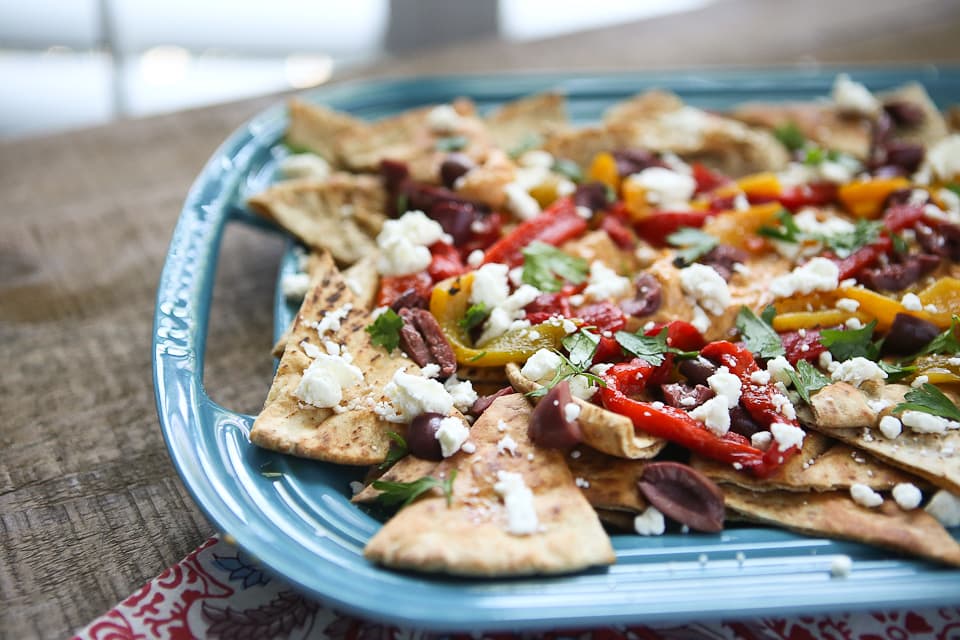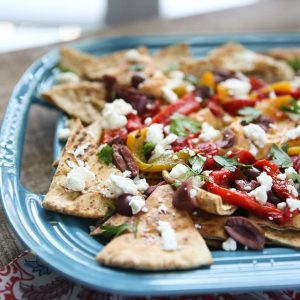 Ingredients:
1 container Roasted Red Pepper Sabra hummus (or any variety)
baked pita chips
2-3 roasted red peppers, cut into thin strips
crumbled feta
kalamata olives, chopped
fresh parsley and fresh oregano, roughly chopped
Directions:
Arrange baked pita chips loosely around the perimeter of a large serving plate.
Stir hummus, then scoop into center of pita chips. Top with sliced roasted peppers, feta, olives and fresh herbs.
Serve and enjoy!
Follow AggiesKitchen on Instagram and show us what recipes you are making from the blog! Use the hashtag #aggieskitchen - I'd love to see what you are cooking up!
More of my favorite recipes using hummus:
Sriracha Shrimp and Hummus Lettuce Wraps
Greek Salad and Hummus Pita Pizza
Disclosure: This recipe was created in partnership with Sabra. Thanks you for supporting the brands that support Aggie's Kitchen!