Tropical Overnight Oats
This Tropical Overnight Oats recipe is a combination of muesli, pineapple, raisins, coconut and almonds…this is the kind of breakfast you can't wait to wake up to!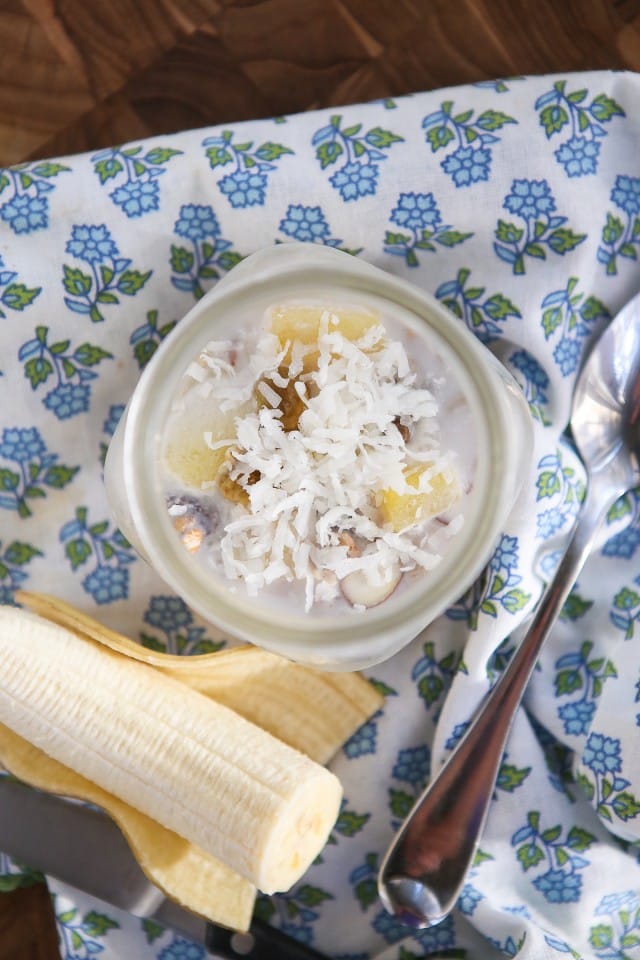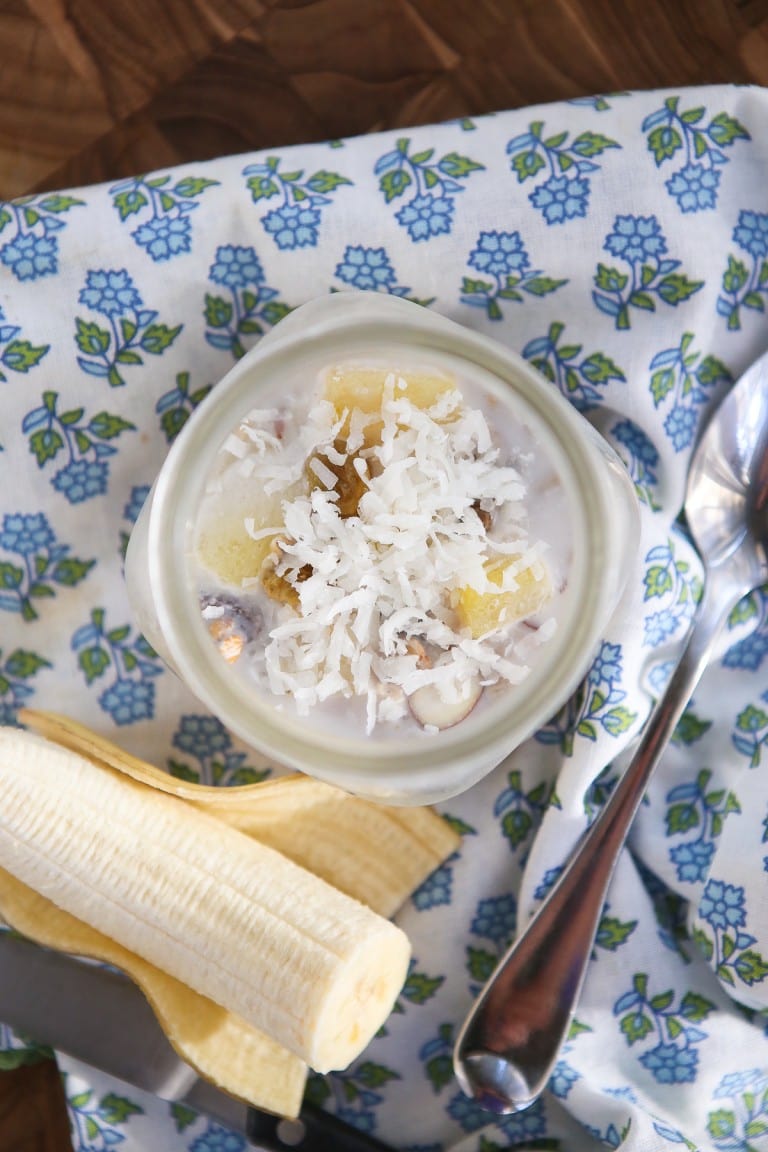 These Tropical Overnight Oats were created in partnership with Bob's Red Mill.
For the most part, I'm a savory egg and toast kind of breakfast girl. When the weather warms up though, I go through phases of cold and sweet fruit-filled breakfast cravings, specifically overnight oats like these Tropical Overnight Oats I've been enjoying this week. I don't remember exactly when I started making overnight oats, but I've been hooked for some time now. I love saving the last of peanut butter jars for an extra special breakfast concoction that I can't wait to dig into after I get home from the gym in the morning. Seriously so so good.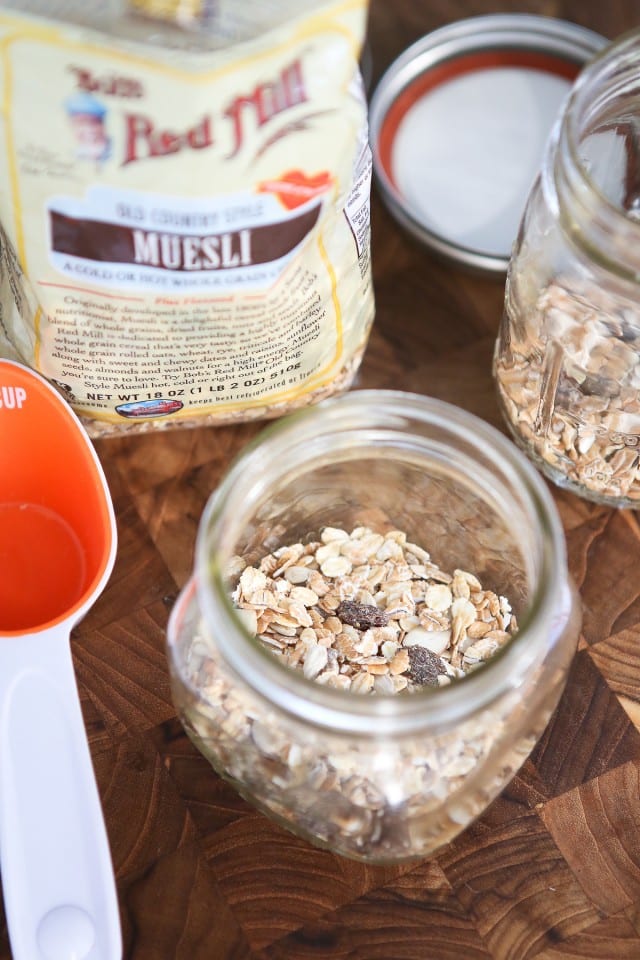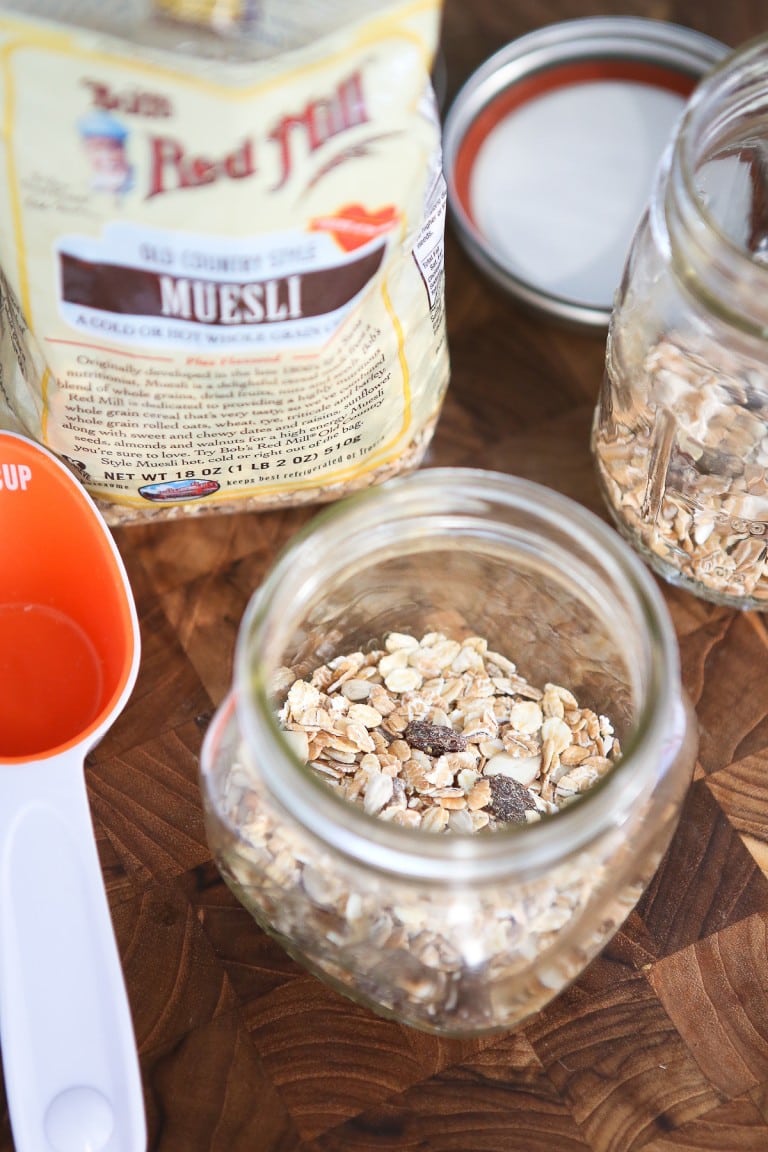 This particular combination of flavors here just can't be beat. I started with a scoop of my favorite Bob's Red Mill Old Country Style Muesli and added unsweetened coconut milk, plump Trader Joe's raisins and frozen pineapple chunks then topped with shredded coconut, banana and extra almonds. Is that not a tropical vacation in a jar for breakfast or what?
(If you wanted a little extra protein, a dollop of plain Greek yogurt would be a perfect addition.)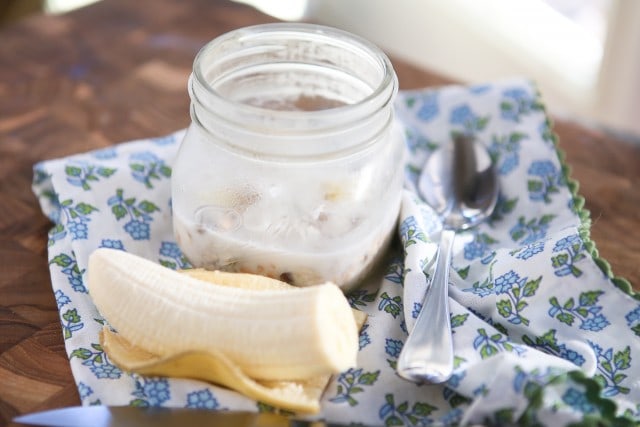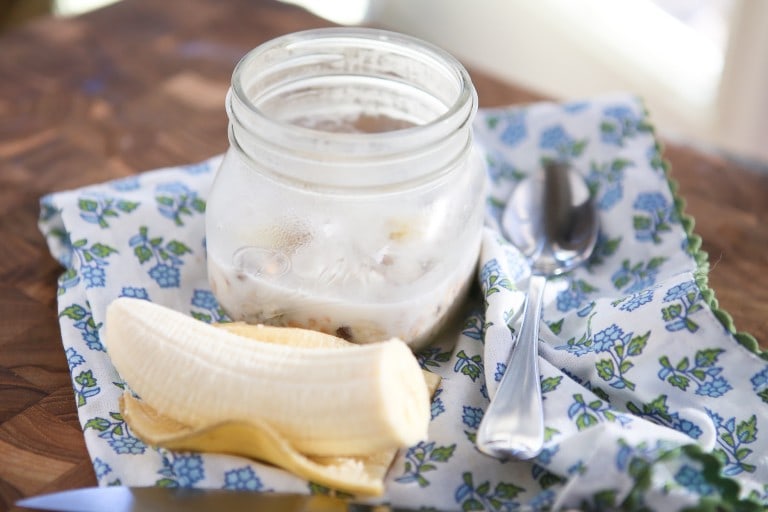 Speaking of jars…I know the trend is to use Mason jars for everything these days, but they really do come in handy. I love using them for overnight oats, salad dressings, smoothies and even storing homemade granola. It's a pretty useful container if you ask me!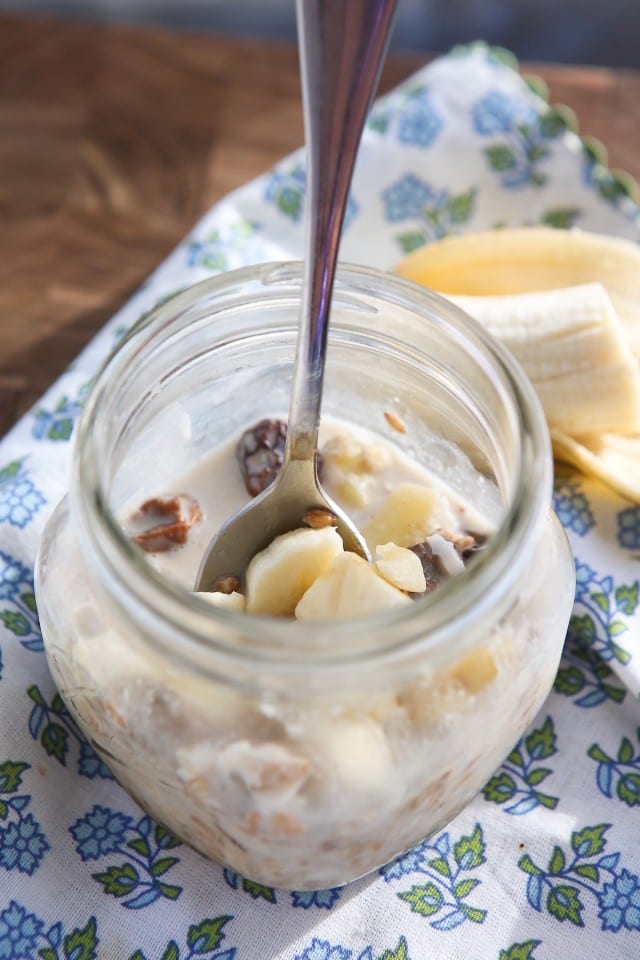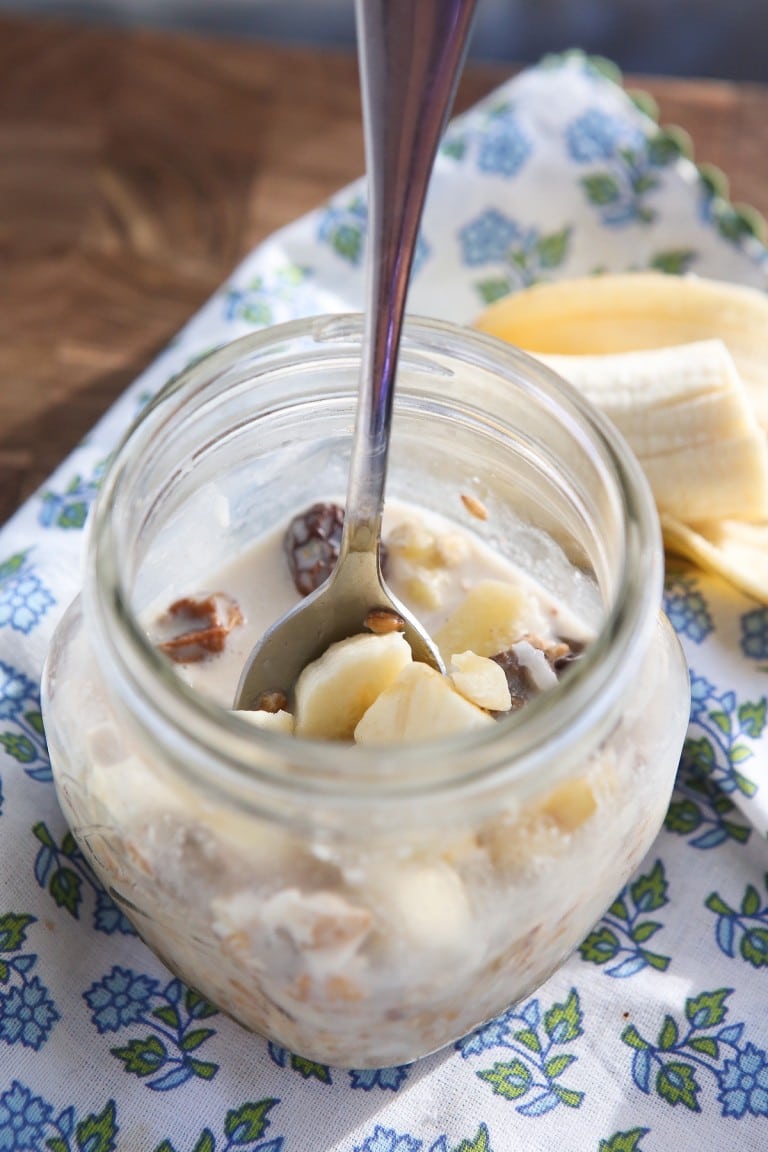 I'd love to hear from you…are you an overnight oats lover like me? What's your favorite combination?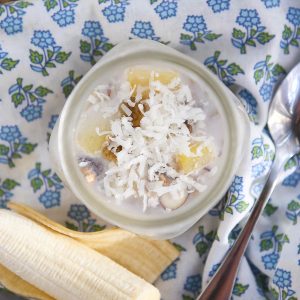 Ingredients:
2/3 - 1 cup unsweetened coconut milk (from the dairy aisle)
8 chunks frozen pineapple
2 tablespoons regular or golden raisins (I love TJ's raisin medley)
2 teaspoons Bob's Red Mill Unsweetened Shredded Coconut
1 banana
2 tablespoons sliced or slivered almonds, optional
Directions:
Divide muesli evenly into two jars or containers that can be sealed (1/3 cup each container). Add 1/3 - 1/2 cup (your preference) unsweetened coconut milk, 4 chunks frozen pineapple, 1 tablespoon golden raisins to each jar or container. Seal and place in refrigerator for at least 6 hours, or overnight.
When ready to serve, top each with 1 teaspoon coconut and half of a banana (cut into small pieces) and almonds (if using).
Follow AggiesKitchen on Instagram and show us what recipes you are making from the blog! Use the hashtag #aggieskitchen - I'd love to see what you are cooking up!
(Disclosure:  I am a brand ambassador for Bob's Red Mill and have received compensation for our partnership. Thank you for supporting the brands that support Aggie's Kitchen!)
If you like these Tropical Overnight Oats, you may like these too: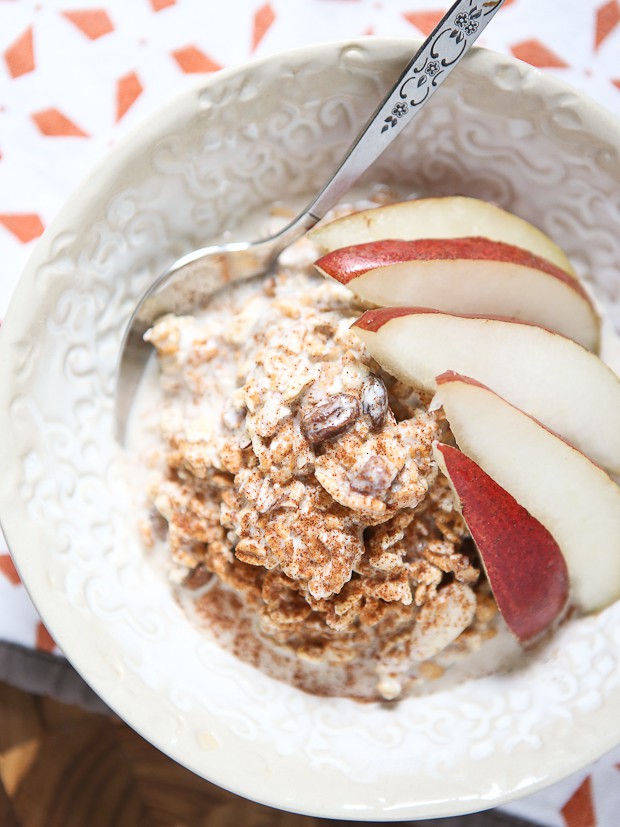 Bircher Muesli with Fresh Fruit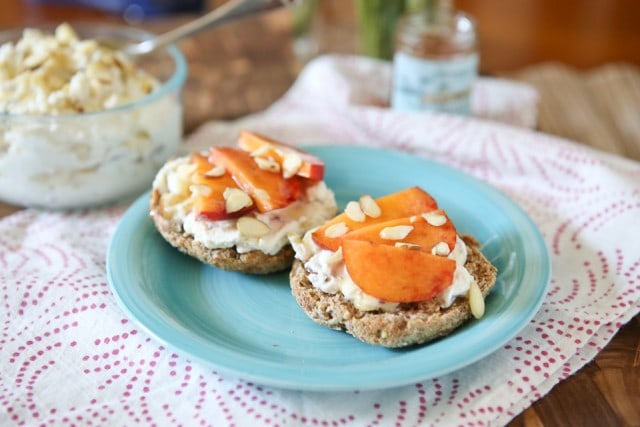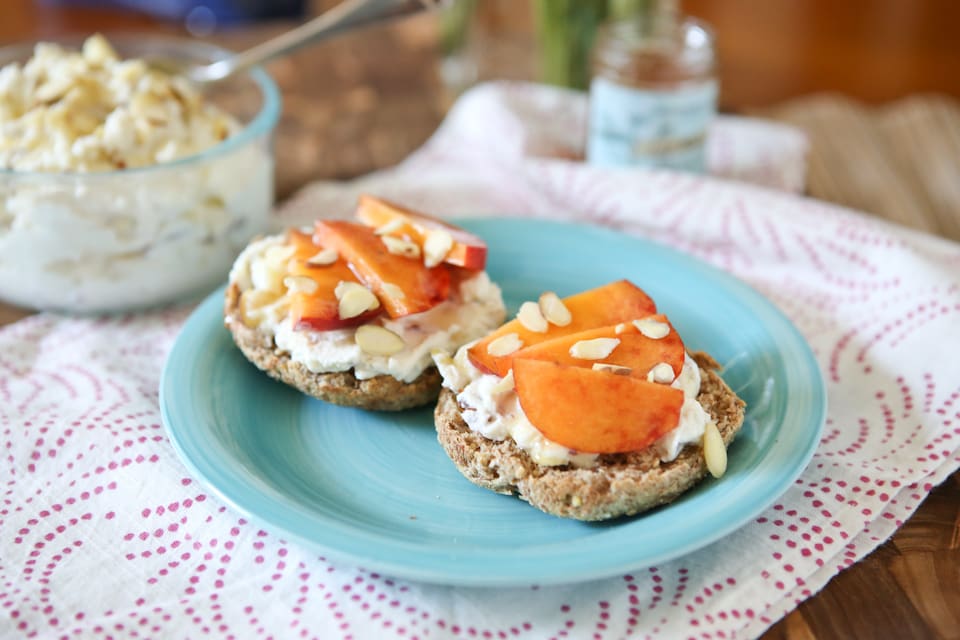 Honey Almond Ricotta Spread with Fresh Peaches