Perfectly Baked Italian Herb French Fries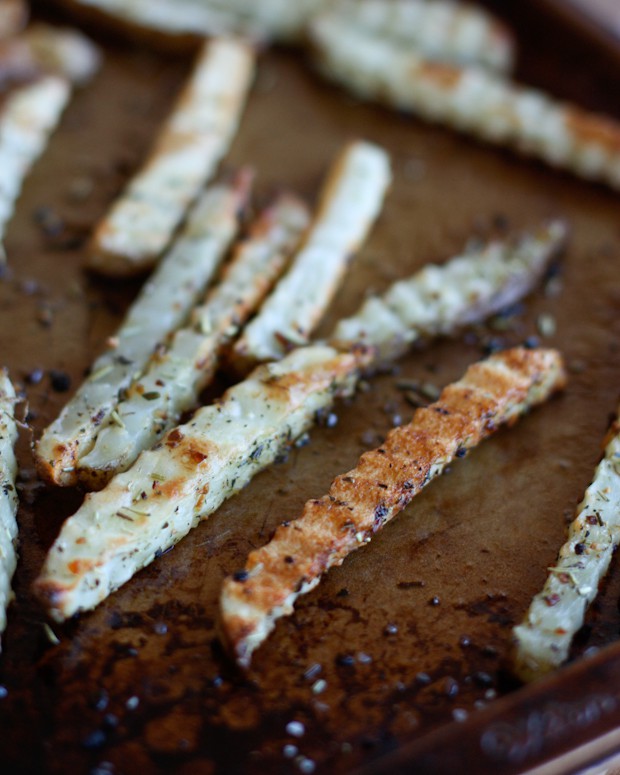 I'm a such a sucker for well cooked – fried or baked – french fries (who isn't?). It's definitely my favorite way to eat spuds, even though the fried version is unfortunately not the most nutritious. I have been baking fries for quite a while now when I need a fix, and I've finally gotten them to crisp up just how I like them. Not only do they turn out nice and crisp on the outside – and just right on the inside – but these baked Italian Herb French Fries are irresistibly seasoned too. They get gobbled up quick by the little hands (and big hands) in my home every time I make them.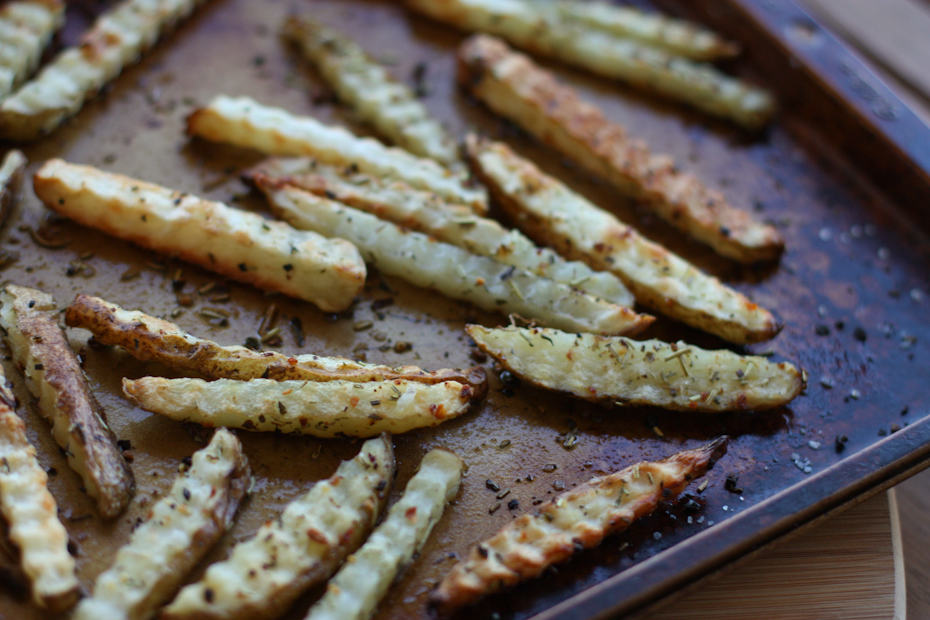 The trick to making these is cooking them at the right temperature as well as leaving them alone while baking. For some reason I always feel like I need to constantly check in on my fries and give them a toss or a shake. I learned to leave them alone (this may or may not have happened totally by accident) and by doing so their outsides got a chance to really brown up. I do give them a toss about 5 minutes before they are ready to come out just to make sure things even out a little more.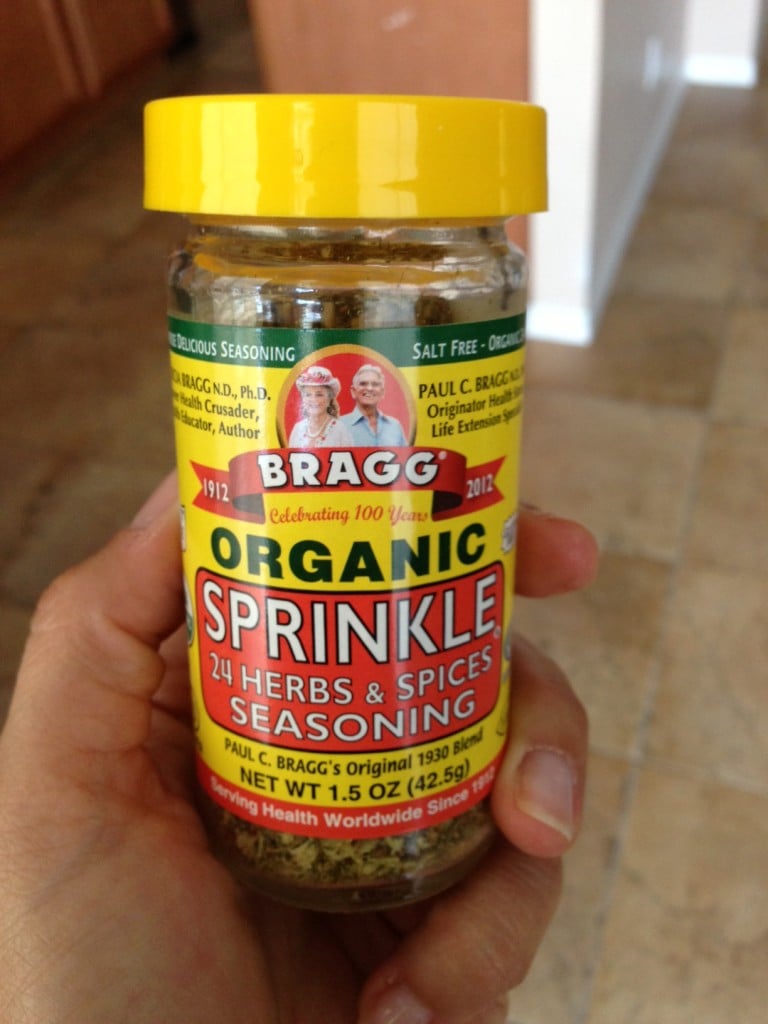 I've got to tell you…this crinkle cutter I picked up from a Pampered Chef party years ago makes these even a little more fun and delicious. 🙂 The Bragg's organic seasoning shown above has also become a favorite in this house. I've been putting it on everything – you can find it in a health food store or maybe your grocery store's organic section. Love this stuff!
Enjoy!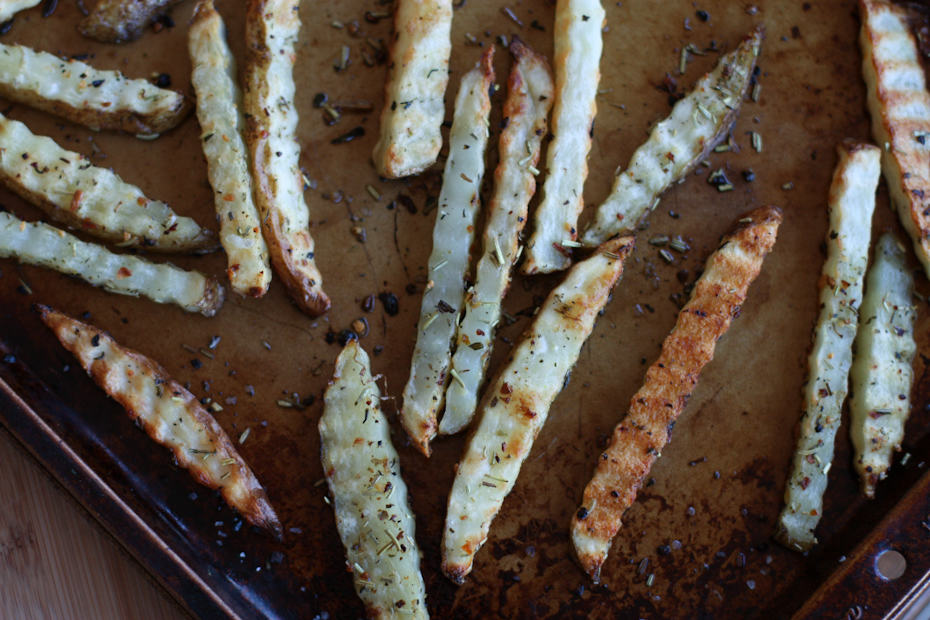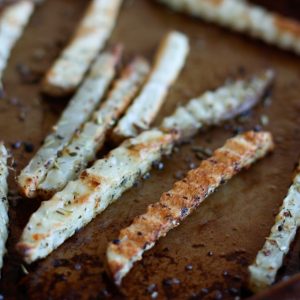 Ingredients:
2 large Russet potatoes, with skin on
1 1/2 teaspoon Italian Herb Seasoning (I love Bragg's organic sprinkle)
2 teaspoons grapeseed oil (canola or vegetable oil will work fine)
good pinch coarse salt and fresh ground pepper
Directions:
Preheat oven to 425 degrees.
Take your washed and dried potatoes and slice longways about 1" thick. Take those slices and cut into fries, keeping your size the same to ensure they cook up evenly.
Place cut fries into a pile on a large rimmed baking sheet. Drizzle with oil and seasoning and toss. Spread potato fries evenly across baking sheet. Liberally sprinkle with coarse salt and pepper.
Bake in 425 degree oven for 25-30 minutes. At 20 minutes check your fries and toss if starting to brown. Let cook for additional 5-10 minutes until they are browned and crisp.
Follow AggiesKitchen on Instagram and show us what recipes you are making from the blog! Use the hashtag #aggieskitchen - I'd love to see what you are cooking up!
Linking Up: I'm Loving It | Tidy Mom