Winter Kale Salad with Meyer Lemon Vinaigrette
You're going to want to make this salad. It's bright, it's filling, it's got crunch, and it's good for you.
It's pretty perfect actually.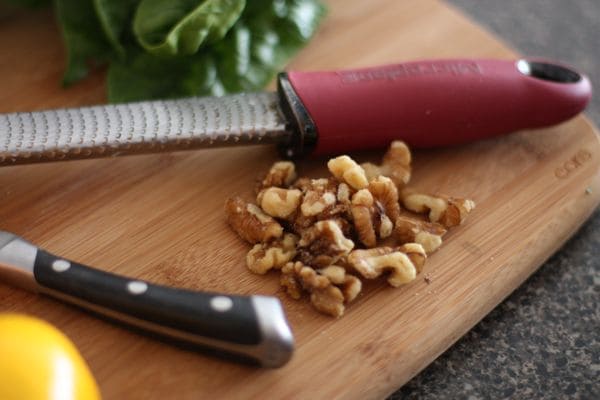 The kale I used for this salad isn't the kale I normally cook with. It's not the kale you find pre-cut in the bags, you might have to look a little harder for this kale, at least as far as I can tell. It's called lacinato kale and I'm pretty sure you can find it at a Whole Foods, or any farmers market or grocery that has a good selection of greens. Apparently, this kale goes by a few names…dinosaur kale, tuscan kale, cavolo nero and black kale. I've been getting bunches of it in my weekly CSA pickups, but I've also seen it at one of my smaller produce markets locally. Look for it, it's good.
I have nothing against curly kale, it makes awesome kale chips (if you haven't tried kale chips, you have to)…it's just not my favorite when it comes to salads. This lacinato kale has pretty much opened up a whole new world of kale salad for me. It's not as tough, and has a better, slightly sweeter flavor to it. It makes a great swap for fresh spinach in any salad in my opinion (I should mention…if you can't find this kale, just go ahead and make this salad with fresh spinach).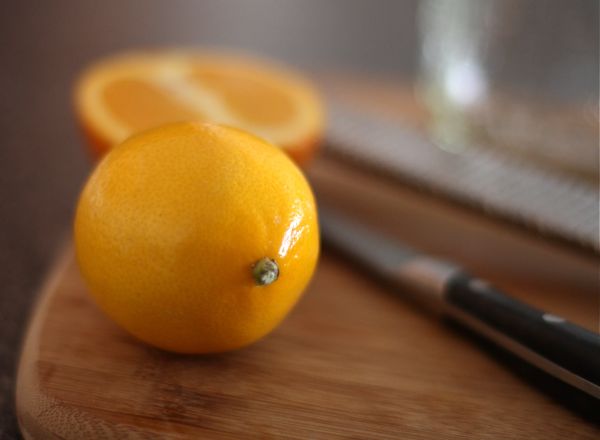 Let's talk about the vinaigrette now. I was recently sent a generous sample of meyer lemons from Dandy Fresh Fruits and Vegetables to play with and host a giveaway for my readers (see bottom of post for details!). I immediately knew I wanted to make a vinaigrette with them, among other things…(stay tuned for an arugula pesto recipe!). If you've never tried meyer lemons, you must. They are the perfect combination of sweet and sour, still tangy but bright and mild enough to use in so many ways (check out this post for 12 recipes using meyer lemons!)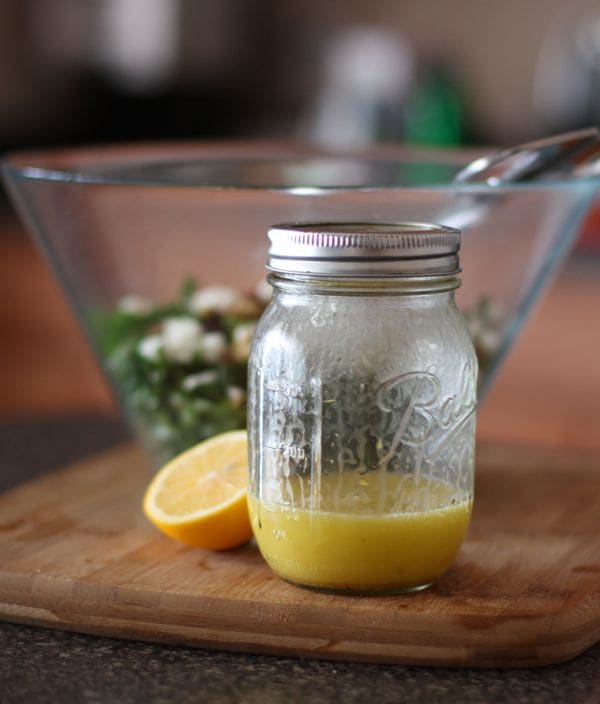 This salad is super simple to put together and will be sure to brighten up any winter day. Enjoy!!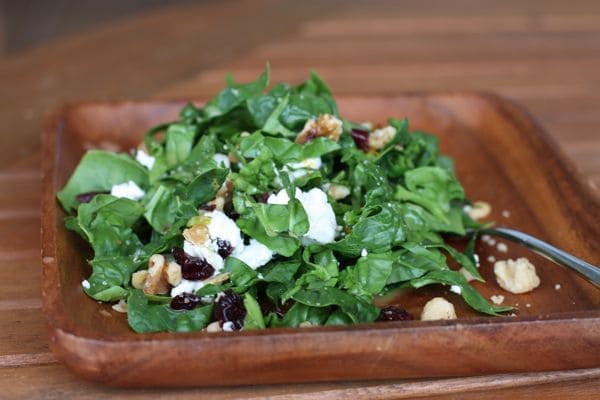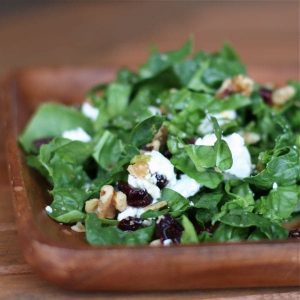 Ingredients:
For the salad:
bunch of lacinato kale (aka dinosaur kale, black kale, tuscan kale), cut into strips
handful of dried cranberries
handful of toasted walnuts, chopped
handful of crumbled goat cheese
For the vinaigrette:
1 meyer lemon, juiced
zest from 1 meyer lemon
1/2 orange, juiced
zest from orange
1 tablespoon honey
pinch salt and black pepper
1/2 cup extra virgin olive oil
Directions:
Prepare salad in large plate or bowl by combining kale, cranberries, walnuts and goat cheese.
In a jar or other container, combine juices of meyer lemon and orange, zest, honey, salt, pepper and olive oil. Shake vigorously until thoroughly blended. Spoon over salad and gently toss to combine.
Store vinaigrette in container in refrigerator for 3-4 days.
Follow AggiesKitchen on Instagram and show us what recipes you are making from the blog! Use the hashtag #aggieskitchen - I'd love to see what you are cooking up!
***********************************************************************************************
(GIVEAWAY CLOSED)
Congratulations to winners Sherri and Elena!
Now for the giveaway…Dandy will provide TWO winners with a bag of their own meyer lemons along with a $25 gift certificate to Williams-Sonoma. Here's how to enter:
Giveaway:
Two lucky readers will each win a bag of meyer lemons and a $25 gift certificate to Williams-Sonoma courtesy of Dandy Fresh Produce
Starts today, Sunday, January 29 and ends Friday, February 3 at 12 noon (EST)
(Sorry, giveaway open to US readers only. Two winners will be chosen randomly using Pick Giveaway Winner plugin application – winners will be notified by email and have 48 hours to claim prize or another winner will be selected.)
To enter into the giveaway:
Leave a comment on this post telling me if you've ever tried meyer lemons and if so, how you use them in your recipes!
Additional Entries can be earned by:
(leave a separate comment after you complete each item, each comment will count as an entry)
1. "Like" Dandy Fresh Fruits and Vegetables on Facebook. (if you already follow, leave a seperate comment letting me know, that counts as an entry!)
2. Follow Dandy Fresh Produce on Twitter (if you already follow, leave a seperate comment letting me know, that counts as an entry!)
1. "Like" Aggie's Kitchen on Facebook. (if you already follow, leave a seperate comment letting me know, that counts as an entry!)
2. Follow @AggiesKitchen on Twitter (if you already follow, leave a seperate comment letting me know, that counts as an entry!)
3. Share about giveaway on Twitter: I want to win meyer lemons & a Williams-Sonoma gift card from @aggieskitchen & @dandy_fresh http://su.pr/1LZPtr #giveaway
4. Share about giveaway on Facebook with link to this post.
5. Subscribe to Aggie's Kitchen RSS feed.
(and of course…I'm required to tell you…)
Disclaimer: I have received product and compensation for this giveaway but as always my opinions on this blog are always my own.