Whole Wheat Rotini with Meyer Lemon and Arugula Pesto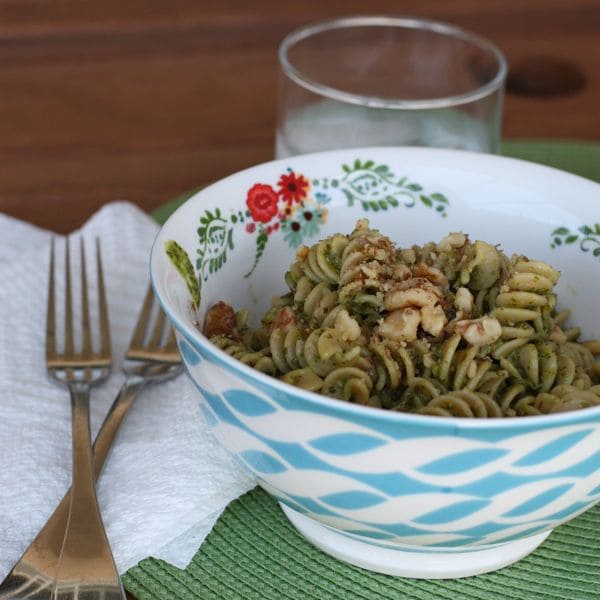 I'm a sucker for anything lemony. Bonus if it's Meyer lemony. This pasta dish tastes so fresh and springy, I pretty much insist you make it if you are having any kind of spring fever these days (apparently a lot of you are according to all of your comments on my Brookside Chocolate giveaway – last day to enter tomorrow btw).
Yes, I have spring fever. Although I live in Florida and have barely experienced a "real" winter this year (best winter ever as far as I'm concerned), I still find myself craving spring. For me, spring isn't just about the temperature or the weather, though I would probably not be feeling that way if I was getting snow piled on me right now like some of you (if you're over it, I am so sorry!!). My spring fever hits when I'm ready to get my hands dirty planting up my herbs and veggies. I love seeing and smelling everything green, I love pops of color from budding flowers, and I love hearing birds chirping away (I heard some this morning as I was waking up and that's when I realized I've been missing them!). I'm ready for the pool and ocean water to warm up for some swimming. Some new flip flops and a pretty pedicure are on my radar too. Spring is most definitely my favorite time of year. And for us Floridians, we know "spring" tends to be short lived before summer temps creep in around April…so for the next month, I'll be savoring every outdoor moment.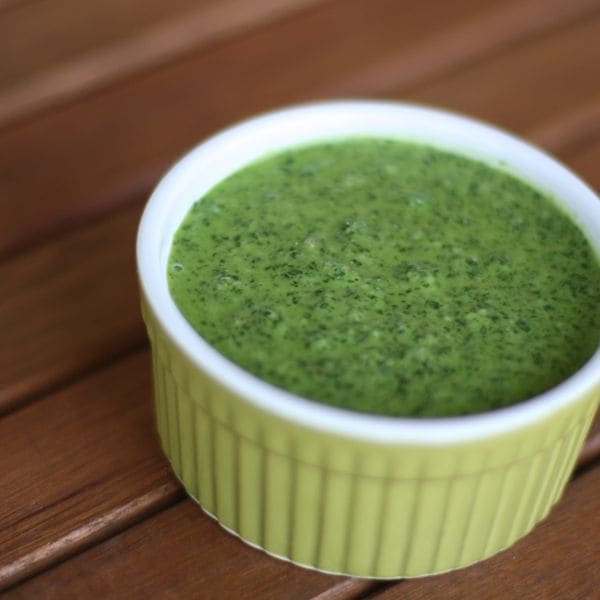 Since I have no basil planted yet, I found arugula to be a great substitution in this pesto sauce. It adds a peppery kick to the nuttiness of the walnuts, brightened up by the fresh taste of Meyer lemons. Enjoy your pasta warm off the stove top or chilled as a pasta salad.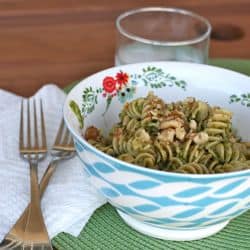 Ingredients:
13 oz whole wheat rotini pasta (or your favorite pasta)
1-2 tablespoons olive oil
Meyer Lemon, Arugula and Walnut Pesto (see below)
chopped walnuts, for serving
freshly grated Parmesan cheese, for serving
For the pesto sauce:
2 cups arugula, rinsed and dried well
1 meyer lemon, juiced
zest from 1 meyer lemon
3 garlic cloves, smashed
1/3-1/2 cup freshly grated parmesan cheese
big pinch salt and fresh black pepper
1/3 -1/2 cup extra virgin olive oil
Directions:
Prepare your pesto sauce by adding arugula, meyer lemon juice, zest, garlic, and parmesan cheese in a food processor and pulse several times. Add salt and pepper. Drizzle in olive oil a little at a time while continuing to process sauce until smooth. Taste for salt and pepper and adjust if necessary. Set aside.
Cook your pasta according to directions. Drain pasta and add back in pot (or in serving bowl). Drizzle with olive oil, then add desired amount of pesto to warm pasta and toss well until fully coated.
Serve pasta with chopped walnuts and additional grated Parmesan cheese.
Follow AggiesKitchen on Instagram and show us what recipes you are making from the blog! Use the hashtag #aggieskitchen - I'd love to see what you are cooking up!