White Bean and Spinach Soup….and a Bush's Beans giveaway
I don't know about you, but I've been eating and drinking pretty indulgently lately.  That's what it's like around this time of year.  And it's all good.So to counteract all the "good stuff", I am finding myself making what I like to call "detox soups" on Sundays.  Sundays are a good day to start over, with a good clean healthy soup.  And I always make plenty to have in the fridge for the rest of the week for lunch or a quick dinner.  This White Bean and Spinach Soup carried me through last week while I was mentally and physically preparing for my first half marathon (that I completed on Saturday!).  This soup hit the spot every time I ate it.  And it is oh so good for you too.  Can't beat that.
This soup was inspired by a recipe I found in my new favorite cookbook, The New Enchanted Broccoli Forest by Mollie Katzen.  I'm totally in love with Mollie Katzen cookbooks, her recipes are mostly vegetarian (from what I can tell), clean, and just full of fresh and wholesome ingredients.  Even if you are not vegetarian, there are plenty of feel good recipes in her books.  I've checked out a couple from the library but this is the first one I bought.  Can't wait to cook my way through it…oh and did I mention how cute the book is too?  All the recipes are in handwritten font, with cute handwritten drawings and notes scattered throughout the pages.  Love love love Mollie Katzen! 🙂
The recipe suggests topping this soup with freshly grated nutmeg and a generous sprinkling of parmesan cheese.  I highly recommend both.  At first I wasn't too sure about the nutmeg, but nutmeg, spinach and parmesan are really a great pairing so how could it not be good right?  It was wonderful.  I actually used grated asiago cheese instead of parmesan because it is what I had on hand. Delicious.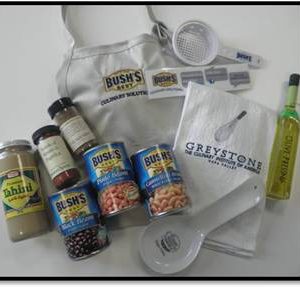 Ingredients:
2 tablespoons olive oil
2 onions, chopped
1 bay leaf
3 stalks celery, minced
2 tsp salt (or more to taste)
6 cups of water (or vegetable/chicken broth)
2 cans cannellini beans, rinsed and drained
6 cloves garlic, minced
1 bag fresh spinach
fresh ground black pepper
toppings: freshly grated nutmeg and lots of parmesan (or asiago) cheese
Directions:
In a large pot, heat oil and add onion, garlic, bay leaf, celery and salt. Cook over low heat for about 10 minutes, then add water. Cover and bring to a boil. Lower heat to a simmer and cook for about 20 minutes until the vegetables are tender.
Add beans and spinach to broth (if all spinach doesn't fit, just add in a little at a time until it wilts down). Add salt and black pepper to taste. Serve hot with freshly grated nutmeg and parmesan or asiago cheese.
Follow AggiesKitchen on Instagram and show us what recipes you are making from the blog! Use the hashtag #aggieskitchen - I'd love to see what you are cooking up!
*************************************************************
GIVEAWAY NOW CLOSED
You all know my love for beans…it's pretty obvious since I use them often in my recipes.  I use them especially more now for protein this past year since I've cut down a lot of my meat consumption.  They are easy to use, convenient and quick…and so good for you.
The nice people at Bush's Beans wants to treat one of you to a great giveaway….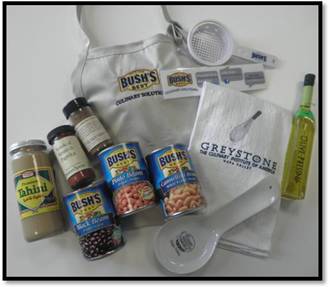 Giveaway starts today, Monday December 6, and will end on Wednesday December 8 at midnight (eastern standard time). Leave a comment on this post for an entry.  I will choose a winner using a random number generator and will announce the winner on Thursday December 9.  Sorry, but this giveaway is open to US addresses only.
Giveaway will include:
·         Bush's Beans items: apron, coupons, bean strainer and mints, recipe bookmark
·         Spices/ingredients for recipes: Tahini paste, cumin, smoked paprika
·         Culinary Institute of America/Napa items: Spoon rest, dish towel, Olive Press citrus olive oil
Bonus Entries can be earned by:
1. Become a fan of Aggie's Kitchen on Facebook.  "Like" Aggie's Kitchen then come back to this page and leave a separate comment telling me you did so.
2. Follow @AggiesKitchen on Twitter, then come back to this page and leave a separate comment telling me you did so.
3.  Become a fan of Bush's Beans on Facebook.  "Like" them and then come back and leave a separate comment telling me you did so.
Good Luck!!