Tomato and White Bean Soup with Smoked Sundried Tomatoes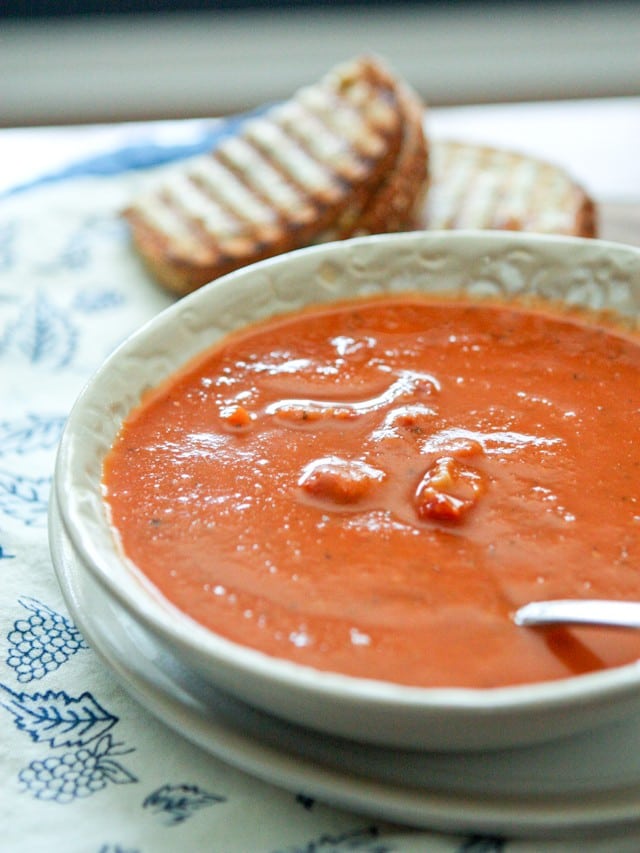 One of my daughter's favorite soups to order out is creamy tomato soup. It's one of my favorites too and after sharing with her the art of dunking grilled cheese (or paninis) into a bowl she asks for it all the time. I really don't make tomato soup often enough, but a couple of weeks ago when Florida got hit with it's 2-day winter freeze, this Tomato and White Bean Soup was exactly what we needed to warm us up. It definitely hit the spot.
Speaking of my daughter and her favorite things…my sweet girl turned 8 last Thursday and we have been celebrating her with some of her favorite things all weekend long. She's growing up so fast and it's just crazy to me that she was just ONE year old when I started this blog. She wasn't even walking yet! 7 years later she is my little foodie in the making. She has the biggest heart, loves her brothers, and is just full of spunk…she's a very funny girl and likes to crack us up – we sometimes refer to her as a mini Kristen Wiig.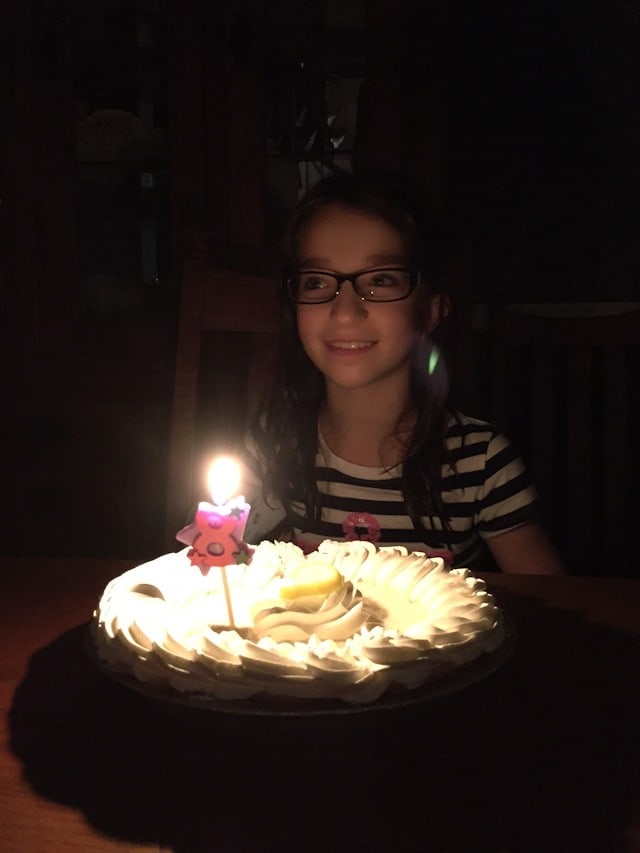 Her birthday dinner request? This manicotti (minus the butternut squash) she helped me make a few months ago and key lime pie. That's my girl.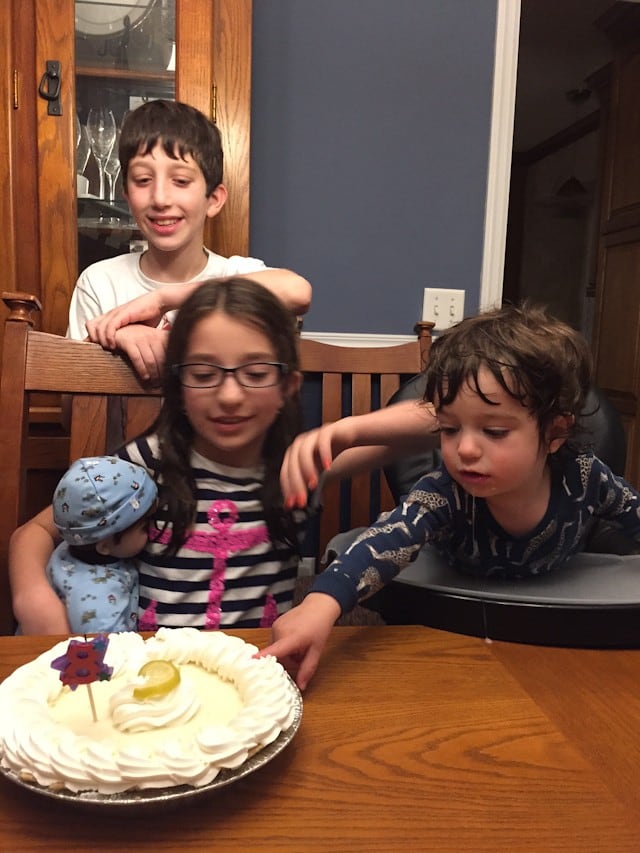 Yea…nothing is safe around this little guy lately. He's a mess.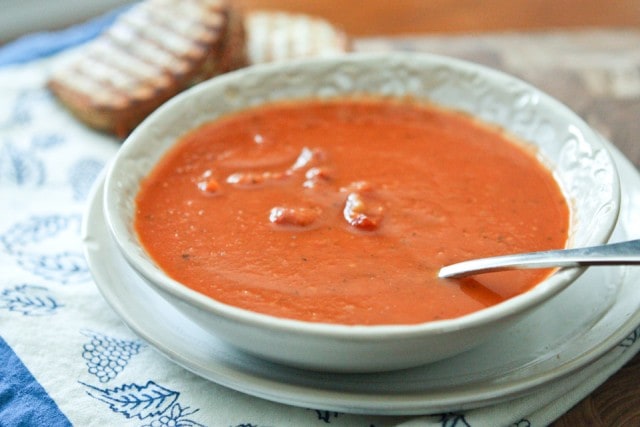 Back to this Tomato and White Bean Soup. There are a couple of special things I added to this soup I should mention – white beans and smoked sundried tomatoes. The white beans were added earlier on in the cooking process and pureed (using this handheld immersion blender) with the whole tomatoes to make it a little creamy, and the sundried tomatoes were added towards the end, giving them just enough time to plump up a bit and add some flavor.
I have to say, it turned out so delicious. Such a perfect soup to make ahead for busy nights to serve alongside a sandwich or crusty piece of whole grain bread. You'll most likely already have most all of the ingredients already in your pantry (you may have to go to the store for the sundried tomatoes).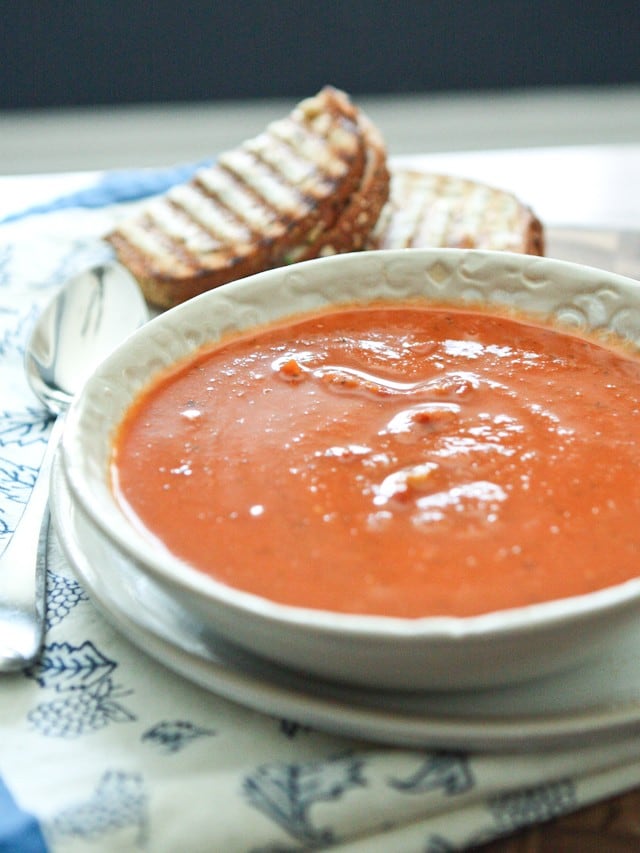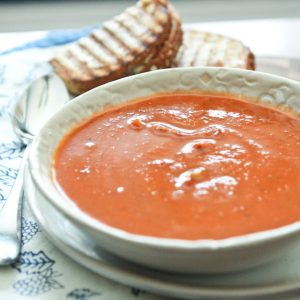 Ingredients:
3 onions, chopped
1 tablespoon olive oil
1 tablespoon butter
1/2 teaspoon dried thyme
1 teaspoon dried basil
2 28 oz cans whole peeled plum tomatoes
1 32 oz carton low sodium chicken stock (or vegetable stock to keep it vegetarian)
1 15 oz can Bush's Cannellini Beans
1/3 cup julienned smoked sundried tomatoes
Directions:
Add onions, olive oil and butter to a large soup pot over medium heat. Let onions cook for about 7-10 minutes until soft and fragrant. Add dried thyme and basil to onions and season well with salt and pepper.
Add 2 cans of whole peeled plum tomatoes (with juices) to pot. Let cook for about 5 minutes to let tomatoes soften. Add chicken or vegetable stock and beans (with liquid) to tomatoes and bring to a low simmer. Let simmer for about 15 minutes.
Using a hand immersion blender, carefully puree soup directly in pot until smooth. Add sundried tomatoes to soup. Let cook for about another 5 minutes, taste for salt and pepper and adjust if necessary.
Follow AggiesKitchen on Instagram and show us what recipes you are making from the blog! Use the hashtag #aggieskitchen - I'd love to see what you are cooking up!
(Disclosure: There are affiliate links in this post. I make small earnings through any purchases made through these links. Thank you for supporting Aggie's Kitchen!)