Starting the new year off right… Green Lightning Shrimp
I really love starting a new year. It's that feeling of starting
fresh, feeling rejuvenated and ready to conquer anything (that might be taking it too far, but you catch my drift.). I don't really make resolutions, only because they are basically the same ones every year. Eat healthy, exercise more, get organized, practice patience. Those have been around for quite a few years now. They aren't going anywhere.
We had a pretty lazy New Year's. I felt the urge to clean, and also nap. Lucky for us, the kids let us nap by taking a good long one of their own. Tomorrow though…I am hitting the gym, hard.
Dinner tonight was awesome. My neighbor told me about this shrimp recipe a couple of months ago and I couldn't wait to make it. You gotta love the name too. The shrimp marinated in a mixture of garlic, cilantro, jalapenos, green onions, lime juice and olive oil, then were grilled.
Oh my…my year could not have started any better.

I didn't feel the need to use as much butter as noted in the recipe. But other than that I pretty much followed it exactly. I served the shrimp with some Maryland Style Crab Cakes and a simple salad of thinly sliced cucumber, celery and red onion dressed in vinegar and chopped cilantro.
(For a classic

Maryland Style Crab Cake

recipe, click here.)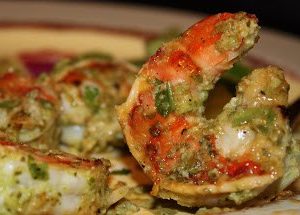 Ingredients:
2-1/2 pounds jumbo shrimp
1 bunch cilantro, rinsed, stemmed, and coarsely chopped (about 1 cup)
4 to 8 jalapeno peppers, seeded and coarsely chopped (for hotter shrimp, leave the seeds in)
1 bunch scallions, both white and green parts, trimmed and coarsely chopped
5 cloves garlic (3 cloves coarsely chopped, 2 cloves minced)
1-1/2 teaspoons coarse salt (kosher or sea)
1 teaspoon freshly ground black pepper
1 teaspoon ground cumin
1/2 cup extra-virgin olive oil
1/2 cup fresh lime juice
8 tablespoons (1 stick) salted butter
Lime wedges, for serving
Directions:
About 12 long (10- to12-inch) metal or bamboo skewers
1. Rinse the shrimp under cold running water and then drain and blot them dry with paper towels. Peel and devein the shrimp. Thread the shrimp onto 2 parallel skewers, using 2 skewers for each kebab. Arrange the kebabs in a nonreactive baking dish.
2. Set aside 3 tablespoons of the cilantro for the garlic cilantro butter. Place the remaining cilantro, the jalapenos, scallions, chopped garlic, salt, black pepper, and cumin in a food processor and finely chop. With the machine running, add the olive oil and lime juice through the feed tube and puree to a bright green paste. Pour this marinade over the shrimp and let them marinate in the refrigerator, covered, for 30 minutes, turning the kebabs several times so they marinate evenly.
3. Melt the butter in a saucepan over medium heat. Add the minced garlic and the 3 tablespoons of reserved cilantro and cook until the garlic is fragrant and sizzling, but not browned, about 2 minutes. Keep the garlic cilantro butter warm until ready to use.
4. Set up the grill for direct grilling and preheat to high.
5. When ready to cook, brush and oil the grill grate. Drain the marinade from the shrimp kebabs and discard the marinade. Place the shrimp kebabs on the hot grate and grill until just cooked through, 1 to 3 minutes per side, basting with the garlic cilantro butter. When done, the shrimp will turn pinkish white and feel firm to the touch. Transfer the grilled shrimp to a platter or plates, pour any of the remaining butter sauce over them, and serve with the lime wedges.
Follow AggiesKitchen on Instagram and show us what recipes you are making from the blog! Use the hashtag #aggieskitchen - I'd love to see what you are cooking up!
I wish you all a healthy and happy 2009!!